For 1 Year, 100 Movies, contributor/filmmaker Trey Hock is watching all of AFI's 100 Years, 100 Movies list (compiled in 2007) in one year. His reactions to each film are recorded here twice a week until the year (and list) is up!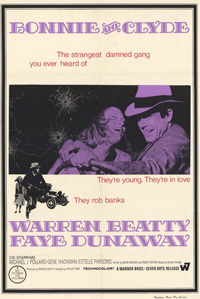 I sometimes suffer from a reverse nostalgia, when it comes to certain experiences. Instead of longing to revisit a certain moment in time, and building it up in my mind as greater than it actually was, I will tear that experience down and convince myself that I didn't enjoy it at all. This seems to be my fate concerning Arthur Penn's "Bonnie and Clyde."
For some silly reason, I am always surprised at how great this film is and how much I enjoy it. I have watched it now a number of times, in film classes and out. Each time I see it coming I think, "Not again." But every single time I am captivated by just how ahead of its time "Bonne and Clyde" was.
Obviously this is the story of Clyde Barrow (Warren Beatty) and Bonnie Parker (Faye Dunaway). When the two meet, Clyde is a small time criminal out on parole, and Bonnie is a West Dallas waitress looking for more to life. Bonnie is trapped by her surroundings and Clyde just might offer her a way out.
This scene is shot in the style of early B movies or exploitation films of the late 50s and early 60s. We start on the topless and pouty lipped Bonnie, and if she didn't meet Clyde thirty seconds into the scene, she might end up indulging in the crazed behavior of a teen gripped with the lust and passion that overwhelms the wayward user of marijuana in "Tell Your Children." Penn uses this style to comment on the young movie viewer of the late 60s, and this intent will become clearer as the film progresses.
Clyde is largely ineffectual, but Bonnie can goad him into action. When Bonnie questions Clyde's criminal nature, Clyde pulls out his pistol as proof of his intent.
The thin fingers of Bonnie Parker wind themselves slowly around the barrel of Clyde's revolver. Both look at each other before Bonnie questions Clyde's ability to put his weapon to use.
Bonnie falls in with Clyde, and the sexual tension that they built up, while fondling each other's hardware, falls flat when they attempt to consummate their new relationship.
Clyde is no lover boy. The suggestion of his impotence coupled with Bonnie's sexually powerful nature creates fantastic and uncomfortable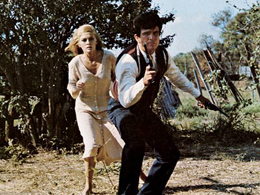 tension. It's not often that a gun-slinging protagonist has trouble performing his bedroom duties. Luckily both Bonnie and Clyde have the violence and adrenaline surrounding their bank robberies to work out a little of their frustration.
Soon Bonnie and Clyde meet up with C.W. Moss (Michael J. Pollard), an awkward mechanic who signs up as the getaway driver, as well as Buck (Gene Hackman) and Blanche (Estelle Parsons), Clyde's brother and sister-in-law.
Though their bank robberies are only somewhat successful and often poorly executed, the mystique and folklore that builds around the Barrow Gang continues to grow.
The gang itself revels in the robbery and getaway as if it were a day at the amusement park, and those would be victims embellish their role in the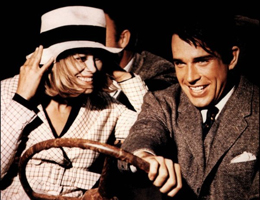 holdup to increase their own importance in the papers. This comment on the media's role in building this duo of Bonnie and Clyde as folk heroes fighting for common people is poignant as ever.
In spite of the constructed fame that surrounds them, The Barrow Gang are killers and thieves. The violence that surrounds them is stunning and vivid, and Bonnie, through a series of portentous encounters, begins to realize the fate that awaits them.
The first of these encounters is with Velma Davis (Evans Evans) and her fiancé Eugene Grizzard (Gene Wilder). Clyde steals Eugene's car, then offers Eugene and Velma a ride. (Sound starts at 11 seconds.)
When Bonnie discovers that Eugene is an undertaker, and the Barrow Gang has been riding with a servant of death, Eugene and Velma must be ousted immediately.
Bonnie becomes homesick and the gang goes to Texas so that she may visit her mother. When Clyde talks of life after crime and settling down near Bonnie's mother, her mother warns against it, claiming that a settled life would surely mean a quick death for her daughter.
Life on the run is proving less and less safe as well. When a local police officer sees the pistol in Moss' jeans, he suspects that the gang may be holed up nearby. A huge group of lawmen descend upon the gang and take them unawares. They escape with significant injuries, but are cornered in a clearing the next day.
This scene, though ugly and brutal, may not carry the shock and revulsion that is was capable of stirring in 1967, but it still is an aggressive and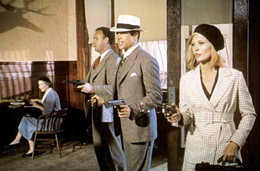 relentless scene. The goal is to show actual violence, bloody and unattractive, instead of the bloodless, dance like fall of a victim that was so common in scenes of the mid-sixties. It is also important that we have become attached to the people who are being brutally shot down. It stirs our own complex emotions as we watch characters we've come to appreciate being killed, even though we understand that those same characters are murderers, who are reaping their just rewards.
All of their endeavors were simply an attempt to transcend the boundaries of the lives they were offered. Clyde, when he first brought Bonnie on as an accomplice, just wanted to give her a life beyond that of a West Dallas waitress. Though Clyde strives for this transcendence, Bonnie achieves it when she writes a poem, "The Story of Bonnie and Clyde," which is published in the papers.
Both Bonnie and Clyde understand that they mean something more in the narrative that develops around them in the newspapers. This poem is Bonnie's attempt to guide that narrative, and write the elegy that will follow them after the violent death that surely awaits them.
There have been a number of films that focus on how the media can glorify criminals. "Natural Born Killers" always comes to mind, but Oliver Stone's film lacks the subtlety and grace that Penn gives "Bonnie and Clyde." Never are Bonnie or Clyde flat or simple. They are capable of love, pain, violence, laughter, impotence and rage. They are often difficult to understand, because they are real.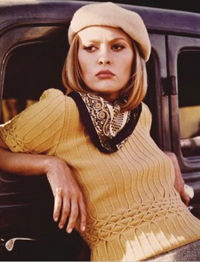 Penn also did not suffer from the need to explain his motives for the excessive violence in his film. By making an excessively violent film, which was styled like many other violent B movies of its era, Penn can comment on the consumption of violence as entertainment. It is his way of saying to the audience, "Alright, you want it? Here it is." The blood and bullets don't carry quite the shock that they used to, but the way the scenes are presented still makes them disturbing.
The mix of violence, humor and drama confused many critics at the time. A young Roger Ebert understood the importance of "Bonnie and Clyde," but many others balked at this film. Bosley Crowther, the then critic for the New York Times, had this to say about "Bonnie and Clyde."
This blending of farce with brutal killings is as pointless as it is lacking in taste, since it makes no valid commentary upon the already travestied truth. And it leaves an astonished critic wondering just what purpose Mr. Penn and Mr. Beatty think they serve with this strangely antique, sentimental claptrap.
Crowther and other critics of the time may have missed the artistry in "Bonnie and Clyde," but history has shown it to be a fantastic film that is both thoughtful and entertaining with characters that are complex and compelling. "Bonnie and Clyde" is an easy choice, which fits snuggly in top 50 of the AFI list.
Up next #41 "King Kong" (1933)
1 Year, 100 Movies #43 Midnight Cowboy (1969)
1 Year, 100 Movies #44 The Philadelphia Story (1940)
1 Year, 100 Movies #45 Shane (1953)
1 Year, 100 Movies #46 It Happened One Night (1934)
1 Year, 100 Movies #47 A Streetcar Named Desire (1951)
1 Year, 100 Movies #48 Rear Window (1954)
1 Year, 100 Movies #49 Intolerance (1916)
For links to #50-59, click on 1 Year, 100 Movies #50 The Lord of the Rings: Fellowship of the Ring (2001)
For links to #60 – 69, click on 1 Year, 100 Movies #60 Duck Soup (1933)
For links to #70 – 79, click on 1 Year, 100 Movies #70 A Clockwork Orange (1971)
For links to #80 – 89, click on 1 Year, 100 Movies #80 The Apartment (1960)
For links to #90 – 100, click on 1 Year, 100 Movies #90 Swing Time (1936)