For 1 Year, 100 Movies, contributor/filmmaker Trey Hock is watching all of AFI's 100 Years, 100 Movies list (compiled in 2007) in one year. His reactions to each film are recorded here twice a week until the year (and list) is up!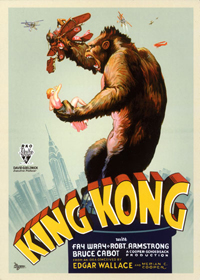 There aren't many films that are more culturally important than "King Kong." This single film established the genre of Kaiju, or the big monster movie. Toho created "Godzilla" in direct response to "King Kong," but the influence of "Kong" goes further than that.
Any science fiction spectacle film, which includes a foreign "other" can trace its lineage to "Kong." Any space explorer film, which encounters an unknown and hostile alien life form, is just "King Kong" in space. Ridley Scott's "Alien" is a perfect example, or "LOST" with its tribe of others and its smoke monster is just a modern day mash-up of "Kong."
But it doesn't end there. "Kong" also is a special effects extravaganza and firmly established the fact that movie viewers love seeing their stuff get smashed. When Kong rampages through New York, wrecking subway cars and destroying marquees, we get excited. This visual destruction allows us a cathartic release, and continues on today in any of the films by Michael Bay or Roland Emmerich.
Let's not forget that "Kong" made the B movie starlet, who looked hot, could act scared and scream well, a commercially viable part of mainstream film. Fay Wray is our original Queen B, our original Queen of Scream, and without her Jamie Lee Curtis doesn't exist.
Okay, that is more than enough introduction. Let's just get to "King Kong."
Released in 1933 and directed by Merian C. Cooper and Ernest B. Schoedsack, "King Kong" is the story of Carl Denham (Robert Armstrong) an enthusiastic motion picture man, who is looking for a girl to star in his new adventure picture.
Denham runs across Ann Darrow (Fay Wray), when she tries to steal an apple from a nearby street vendor. Denham invites Darrow to share a meal at a nearby diner. (Sound starts at 10 seconds.)
The early moments in the film are just vehicles that push the plot toward Kong, and it's a good thing because the acting is stiff and almost boring. Wray is pretty, and Armstrong can play the bullish fast-talker, but both create characters that are condemnably two-dimensional.
Darrow's camera test continues the steady march of explication, and gives Wray a chance to dust off those vocal chords.
Looking at Fay Wray in her sheer costume, it's no wonder that she inspired the admiration and jealousy of Dr. Frankenfurter.
We've got all the set-up, the references to Beauty and the Beast, the look far above the height of a human, and the scream. Now the island is just up ahead.
The ship's crew encounters an indigenous tribe of people on the island. They are performing a ritual sacrifice and become angry when they are interrupted. The crew goes back to the ship, but the tribesmen kidnap Darrow and offer her as the sacrifice to the spirit of the island, Kong.
As far as its special effects are concerned, "Kong" pulls out all the stops that 1933 had available. From multiple exposures and composited images to large sets and extravagant painted backgrounds to stop motion animation and enormous puppets, King Kong and it's team of special effects artists lead by Willis O'Brien used every trick they had.
The effects are sometimes jerky and mechanical, and even audiences in 1933 found the movements of Kong and the dinosaurs awkward, but once you get used to the movements, their unnatural quality gives them an additional creepiness that would be lost with the more fluid motions that modern effects can create.
A perfect example of this creepiness occurs when Kong turns over a log bridge, and sends men falling into a deep gorge.
Here each shot reinforces the special effects. The men clinging to the log sells the shots of the miniature men falling into the chasm, the real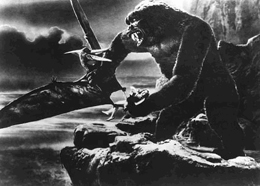 weight that the dummies have gives them a fall, thud and bounce that I find disturbing.
Intercutting between an animated shot of Kong, and a shot, which is a composite of the men on the log and the animated Kong in the background, again sells Kong as a real presence in the scene. Finally the huge puppet arm gives John "Jack" Driscoll (Bruce Cabot) something physical to fight against.
The filmmakers knew that Kong was their draw, so once he shows up around 40 minutes in, Kong rarely leaves the screen. Kong fights a T-rex and a giant snake, before Driscoll can catch up to him and Darrow.
With moments like this one, it is not difficult to envision Kong's island as the forebear to Godzilla's Monster Island, or Isla Nublar in "Jurassic Park."
Driscoll and Darrow escape, but Kong pursues them and is captured. Denham chains Kong and takes him back to New York. There he escapes during an exhibition, grabs Darrow, and heads to the Empire State Building.
The resolution is very manly and midcentury American. We've brought this dangerous outsider into our midst, and it acted in a dangerous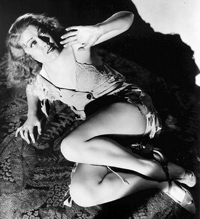 fashion consistent with its nature. Let's shoot it dead. Kong's almost human features allow for us to feel for him, when he falls. The jerkiness of the fall adds to its disturbing quality.
So is "King Kong" a great film? Well it is still fun to watch and works in the same manner that it did in 1933. This was never a film that had great acting, and exceptional story. The filmmakers always intended "Kong" as a special effects spectacle, a film that would dazzle and amaze.
In that sense, "Kong" could be one of the most important films ever made. It could be the single film responsible for moving special effects driven films, which lack well developed story and characters, from the B film slot to the A film position. In that case, any summer blockbuster that bills itself as a must-see-spectacle owes a substantial debt to "King Kong."
Next on the list "The Sound of Music" (1965)
1 Year, 100 Movies #42 Bonnie and Clyde (1967)
1 Year, 100 Movies #43 Midnight Cowboy (1969)
1 Year, 100 Movies #44 The Philadelphia Story (1940)
1 Year, 100 Movies #45 Shane (1953)
1 Year, 100 Movies #46 It Happened One Night (1934)
1 Year, 100 Movies #47 A Streetcar Named Desire (1951)
1 Year, 100 Movies #48 Rear Window (1954)
1 Year, 100 Movies #49 Intolerance (1916)
For links to #50-59, click on 1 Year, 100 Movies #50 The Lord of the Rings: Fellowship of the Ring (2001)
For links to #60 – 69, click on 1 Year, 100 Movies #60 Duck Soup (1933)
For links to #70 – 79, click on 1 Year, 100 Movies #70 A Clockwork Orange (1971)
For links to #80 – 89, click on 1 Year, 100 Movies #80 The Apartment (1960)
For links to #90 – 100, click on 1 Year, 100 Movies #90 Swing Time (1936)