For 1 Year, 100 Movies, contributor/filmmaker Trey Hock is watching all of AFI's 100 Years, 100 Movies list (compiled in 2007) in one year. His reactions to each film are recorded here twice a week until the year (and list) is up!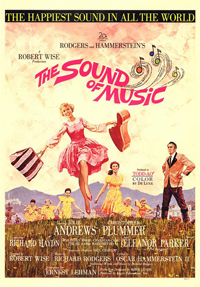 "The Sound of Music" is one of those films, which has the wonderful ability to draw untarnished praise, or highly combustible ire. Though some critics at the time of its 1965 release praised the film's vistas and infectious songs, many others panned it as a formulaic and manipulative rehashing of a mediocre stage musical.
For me "The Sound of Music" comes along with a huge amount of nostalgic baggage. Along with "Mary Poppins," which also starred Julie Andrews and was released one year before "Music," this musical was a mainstay of my early childhood. It was one of a small handful of films, whose bright colors and catchy tunes, could distract and appease my 6 or 7 year-old self.
In spite of my own tendency to embrace this film, I can understand the inclination to catch it in your critical crosshairs. The doe-eyed stare of this film can enrage the more cynical of us, if only for the way "Music" so willingly embraces innocent pleasures.
I will share two small excerpts from reviews, which I find fascinating. The first is from Bosley Crowther, the critic for the New York Times in 1965.
Mr. Wise seems to run out of songs toward the end of the picture and repeat two or three of the more familiar ones. But the same must be said of "The Sound of Music." It repeats, in style — and in theme.
However, its sentiments are abundant. Businesswise, Mr. Wise is no fool.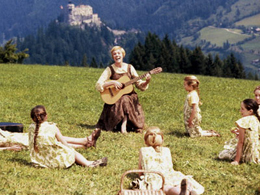 Crowther was already on the leeward side of his career, and was increasingly out of touch, but Pauline Kael, who wrote her review of "Music" for McCall in 1965, was an up-and-comer, and was often in sync with the changing film sensibilities of the 1960s and early 70s.
Whom could this operetta offend?
Only those of us who, despite the fact that we may respond, loathe being manipulated in this way and are aware of how cheap and ready-made are the responses we are made to feel.
Now there are aspects of both of these reviews that I agree with. For those of you who are familiar with the stage musical, you will know that Robert Wise's film version of "The Sound of Music" is a largely faithful interpretation, and of course the producers behind the film expected to cash in on the popularity of the stage version that came before.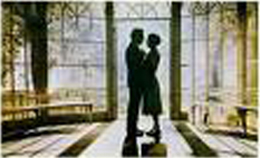 I also will readily agree that "The Sound of Music" is a highly manipulative film. It pushes us towards emotions and makes us feel for its characters in an often-forceful way. These two critics illustrate the difficulty with developing instructive and fruitful criticism, and I think both suffer from the same problem. Neither critiques "The Sound of Music" from the standpoint of what the film proposes to be.
One can't argue for or against the value of a chophouse horror film, if you're judging it by the standards used for a romantic comedy. Of course there should be some consistency of standards, but there are also aspects of tone and style that are specific to individual genres. "Music" is a big-ol' Rogers and Hammerstein musical, and Robert Wise embraces this. He knowingly and overtly uses heavy manipulation with his use of shot composition and stunning locations.
And he's not trying to hide any of this from the viewer. How could you with an opening scene like this?
Julie Andrews, as the postulant Maria, gives a fantastic performance. Her songs are huge and rangey affairs, but Andrews' Maria always maintains a humility and approachability. Though big and rafter rising, there is no sense of diva in Andrews' performance.
Though the songs often take center stage, there is more to "Music" than just singing. There is often compelling action between charming characters. Maria, who is having difficulty conforming to the ways of her convent, is assigned to be the governess of the Von Trapp children, the seven offspring of the widowed Captain Von Trapp (Christopher Plummer).
We can already see the conflict between Maria's brash honesty and Captain Von Trapp's stiff military structure, and the banter between Andrews and Plummer is grin-inducing at the very least.
When Capt Von Trapp leaves to visit the Baroness Schräder (Eleanor Parker), the woman he is courting, Maria takes the opportunity to inject joy back into the Von Trapp children's world. Upon his return, Capt Von Trapp expresses his disappointment, which leads to a series of razor-tounged retorts from Maria.
Andrews plays Maria brilliantly, shifting from playful to stern, from angry to hurt with ease and grace. Plummer's performance is stiffer and less subtle than Andrews', but his character of Capt Von Trapp allows for a certain amount of stiffness.
The opposition to Von Trapp's stern rule slowly melts away his protective armor. Maria's effervescent and joyful ability to love and guide changes the tone of the Von Trapp house, and wins the heart of Capt Von Trapp.
As Maria innocently winds her way into Capt Von Trapp's heart, we find ourselves looking for moments of interaction, and cheering for a union between the two.
It's amazing what a little dance number can do to bring two people, each promised to another, together and ramp up the sexual tension. This scene progresses the relationship between Von Trapp and Maria visually and with almost no dialogue. Sure, Wise employs his soft filter when Maria and Von Trapp pause to stare into each other's eyes, but if ever there was a moment of misty emotions, this is it.
The Baroness Schräder sees what is coming and attempts to thwart it, but soon she and Von Trapp must accept the inevitable.
Now if this were a completely fictional musical comedy, then your ending would be just around the corner. We'll have a wedding and all of the emotional conflict will be resolved.
But "Music" is based on the true story of the Von Trapp family, which allows the musical writer, and filmmaker to complicate the story. Now instead of just getting married, they must also escape from the Nazis and an Austria that has become complicit with the Third Reich.
It won't be as simple as just leaving either. Capt Von Trapp is a decorated naval officer in Austria and has been commissioned to the Third Reich's fleet. The Von Trapp family attempts to sneak away, but they are discovered. (Sound starts at 3 seconds.)
And with that, the Von Trapps must sing their way out Austria and the grip of the Nazis.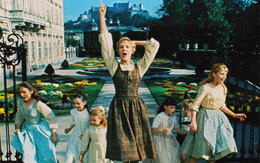 With such lessons, it is easy to become cynical. "The Sound of Music" is a manipulative film musical, which finds the most complete and happy resolution possible.
Still I would offer that Wise's ability to apply film techniques, in such a way as to get even the grumpiest, most film savvy viewers smiling or humming along, illustrates a mastery of the medium.
Ultimately the goal of "The Sound of Music" is to manipulate a viewer into a moment of happiness, and the film doesn't hide its methods or intent. To hate this film, would be like hating an accomplished masseuse, who says that they are going to give you an exceptional, stress-relieving backrub, then delivers on that promise. Anyone who hates "Music" (or great backrubs) is just trying too hard to be cynical or stern.
Sometimes it's okay to allow ourselves to be tricked into a little happiness.
Up next #39 "Dr Strangelove" (1964)
1 Year, 100 Movies #41 King Kong (1933)
1 Year, 100 Movies #42 Bonnie and Clyde (1967)
1 Year, 100 Movies #43 Midnight Cowboy (1969)
1 Year, 100 Movies #44 The Philadelphia Story (1940)
1 Year, 100 Movies #45 Shane (1953)
1 Year, 100 Movies #46 It Happened One Night (1934)
1 Year, 100 Movies #47 A Streetcar Named Desire (1951)
1 Year, 100 Movies #48 Rear Window (1954)
1 Year, 100 Movies #49 Intolerance (1916)
For links to #50-59, click on 1 Year, 100 Movies #50 The Lord of the Rings: Fellowship of the Ring (2001)
For links to #60 – 69, click on 1 Year, 100 Movies #60 Duck Soup (1933)
For links to #70 – 79, click on 1 Year, 100 Movies #70 A Clockwork Orange (1971)
For links to #80 – 89, click on 1 Year, 100 Movies #80 The Apartment (1960)
For links to #90 – 100, click on 1 Year, 100 Movies #90 Swing Time (1936)