For 1 Year, 100 Movies, contributor/filmmaker Trey Hock is watching all of AFI's 100 Years, 100 Movies list (compiled in 2007) in one year. His reactions to each film are recorded here twice a week until the year (and list) is up!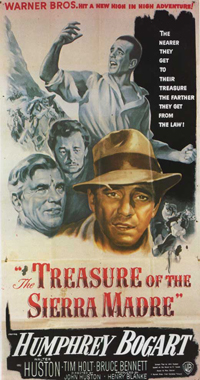 We all know, at least intuitively, that solid, well-developed characters with real flaws and internal conflict make great stories. If a character is so well written as to become a real person, then all you have to do is drop them into the right landscape, and surround them with other characters, and something interesting is bound to happen. That character's own desires and shortcomings dictate the direction of the story, and the author or filmmaker must bend to the character's will.
Fred C. Dobbs (Humphrey Bogart) in John Huston's "The Treasure of the Sierra Madre" is a character that creates story and conflict around him.
Until "Sierra Madre" Humphrey Bogart had always played the leading man. Sure he was often cast as a tough and somewhat world-weary character, but those characters were always good-natured at heart. The role of Dobbs was Bogart's first truly flawed character, and became a defining performance in an already stellar career.
Huston and Bogart had collaborated before, and when the idea for "Sierra Madre" began to come together, both took to it. Bogart, a short and awkward looking gentleman himself, believed in the character of Dobbs and enjoyed Dobbs' seedier qualities. Huston wanted to explore how greed coupled with rugged geographic desolation could change otherwise good men.
The story begins in Tampico, Mexico where the out-of-work, and destitute Dobbs meets Bob Curtin (Tim Holt).
So iconic was this panhandling Dobbs that he would pop-up in the Looney Tunes of the late 1940s.
Both Dobbs and Curtin are just looking for work, and when some finally comes along, it turns out to be a scam. Curtin and Dobbs get away with a few dollars, but that's barely enough for a couple of beers and two cots in the local hostel. Curtin and Dobbs get their cots and listen to Howard (Walter Huston), an old prospector, as he talks of his search for gold. (Sound starts at 5 seconds.)
With this scene you can already see the hints of what is to come. Dobbs and Curtin shake down the crew leader for their money, and return to Howard. All three men head off into the mountains of the Sierra Madre in search of gold.
Howard is spry and capable, and his experience as a prospector soon puts the men on the trail to a significant find. The men begin to dig away at the mountain and amass their riches. As they do, the jovial and almost brotherly quality of their partnership begins to slowly dissolve. The early rumblings come when Dobbs asks Howard to split "the goods" three ways. (Sound starts at 7 seconds.)
Though many people will discuss "Sierra Madre" as an incredible study of character, it is much more than that. It is also an adventure film, which places three treasure seekers amongst bandits, wanderers and Federales. Its influence extends from 1948 all the way into the 1980s, when another hat wearing adventurer went Into South America in search of treasure.
This scene may not be a shot for shot homage to the previous scene, but its tonal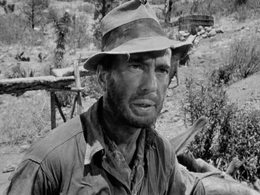 similarities are striking, as if both moments were cut from the same cloth. Just watch the shots of the treasure hunters' faces as the stare intensely at their quarry, and I think you'll see what I mean.
Steven Spielberg wanted to make Indiana Jones a darker and more flawed character, and used Dobbs as a reference. Even though George Lucas talked him out of that idea, many of the "Sierra Madre" visual references seem to have stuck. At the very least you can see Huston's influence on Spielberg.
Dobbs paranoia and suspicion of Howard and Curtin continues to grow. He is certain that both men are after his hidden loot and it seems that his worries are confirmed when he discovers Curtin searching under rocks nearby.
As I mentioned before, the turmoil doesn't just arise from within. Soon bandits beset the men, and Gold Hat (Alfonso Bedoya), the leader of the bandits, delivers the most famous, and oft misquoted line in "Sierra Madre."
The bandits are driven off by some pursuing Federales, but Dobbs, Howard and Curtin soon decide to collect their take and leave. As they head to Durango, a group of local townspeople approach them for help. It seems that one of their children has nearly drowned and is unresponsive. Howard helps the child and then must spend time with the village, in order to accept their gratitude.
Meanwhile Dobbs and Curtin continue on with the entire find, but on the trail, Dobbs develops another scheme.
You can see why people praise Bogart's performance so highly. His controlled madness, the effect that the wilderness has on him and his desperation once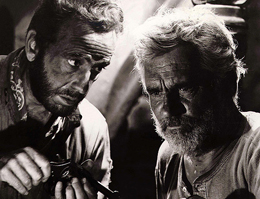 disarmed all are perfectly executed. Walter Huston may have won the Academy Award for Best Supporting Actor for the gravitas and hard-fought wisdom that he brought to the role of Howard, but Bogart gives us a fantastic portrayal of the slow poisoning descent into paranoia that stems from greed.
After shooting Curtin and leaving him for dead, Dobbs flees with the entire find. Curtin crawls off into the brush and searches for help. Soon Gold Hat and his remaining group of bandits come across Dobbs. They recognize him and decide to steal his belongings. When Dobbs fights back, they cut him down with a machete.
The bandits take the mules and the animals' pelts, but mistake the gold for sand. They pour it all out to make the traveling easier. Curtin is able to contact Howard and by the time they reach their stolen goods, the gold is lost, reclaimed by the land from whence it came.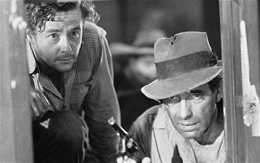 "Sierra Madre" keeps the focus on how the pursuit of riches changes the three prospectors. Each has a slightly different emotional change, but all are touched by the lure of their gold. Once the gold is lost and its spell broken, Howard can return to the small Mexican village, a hero, and Curtin can look towards a future as a farmer.
Though it was made in 1948, "The Treasure of the Sierra Madre" has a contemporary feel. It doesn't wrap things up in a trite summation. Instead the ending is messy and our characters are almost entirely unredeemed. Dobbs dies because of his greed and Howard and Curtin are left to laugh as their fortune blows away on the winds.
A stunning and stark film, "Sierra Madre" will most certainly hold a spot on AFI's list for some time to come.
Up next #37 "The Best Years of Our Lives" (1946)
1 Year, 100 Movies #39 Dr. Strangelove (1964)
For links to #40-49, click on 1 Year, 100 Movies #40 The Sound of Music (1965)
For links to #50-59, click on 1 Year, 100 Movies #50 The Lord of the Rings: Fellowship of the Ring (2001)
For links to #60 – 69, click on 1 Year, 100 Movies #60 Duck Soup (1933)
For links to #70 – 79, click on 1 Year, 100 Movies #70 A Clockwork Orange (1971)
For links to #80 – 89, click on 1 Year, 100 Movies #80 The Apartment (1960)
For links to #90 – 100, click on 1 Year, 100 Movies #90 Swing Time (1936)