For 1 Year, 100 Movies, contributor/filmmaker Trey Hock is watching all of AFI's 100 Years, 100 Movies list (compiled in 2007) in one year. His reactions to each film are recorded here twice a week until the year (and list) is up!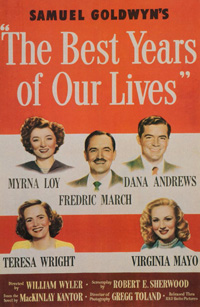 To discuss #37 on AFI's list of greatest American films, I'm going to go a little literary on you folks. #37 "The Best Years of Our Lives" is a film about World War II, but there are different ways of telling a story about war.
One can focus on the anticipation and preparation before, the excitement and fear during the battles, or the dull pain and echoes of trauma that continue after the fighting is over. The need for a before story and an after story is summed up nicely by Chris Hedges, a veteran war correspondent, in his book War Is a Force That Gives Us Meaning.
"It is his hero's heart that Odysseus must learn to curb before he can return to the domestic life he left twenty years earlier. The very qualities that served him in battle defeat him in peace. These dual codes have existed, perhaps, since human societies were formed, and every recruit headed into war would be well-advised to read The Iliad, just as every soldier returning home would be served by reading The Odyssey."
"The Best Years of Our Lives" is William Wyler's film about three service men returning home after their years away fighting in WWII. Fred (Dana Andrews), the young Army Captain, Al (Fredric March), the middle-aged Sergeant, and Homer (Harold Russell), the wounded double amputee with hooks now instead of hands, must make their way through an emotional odyssey of their own.
Like the grasshoppers in Ernest Hemingway's "Big Two Hearted River" which have lived in a burned and blackened world so long that they have turned black themselves, these men worry that the landscape of war has changed them, and each expresses concern or hesitation about reentering their former lives. (Sound starts at 5 seconds.)
Here we see Homer's ability to strike a match and light a cigarette. Homer has been well trained on the use of his new hands. He is not shy about his injuries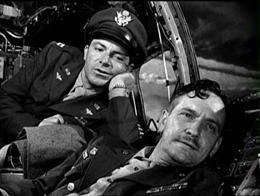 around his fellow soldiers, but they share his reservations about the reactions that they all will receive from loved ones who remained in Boone City during the war.
You can see that there is a somewhat antiquated or "gee shucks" quality to the delivery of some of the dialogue. Fortunately this aspect of "The Best Years of Our Lives" doesn't extend to the content of the story, which explores the physical and psychological tolls that face each of these three men. There is a refreshing frankness that is surprising considering that the film was released in 1946, little more than a year after World War II had ended.
Fred goes to the department store he used to work at. He was a soda jerk before he joined the Army, but Fred doesn't want his old job back. He is looking for something that's a step up. Still his old employer insists that Fred talks to the new management. (Sound starts at 18 seconds.)
The reception for the returning veterans is outwardly warm; everyone gets very excited about the various accolades bestowed upon Fred. Behind the scenes the reactions are more varied. Jobs are more difficult to come by with the return of so many potential workers.
Very few people know how to react to the veterans who have come back. Some resent them for taking jobs, or pity them for their losses, or like Marie (Virginia Mayo), Fred's young wife, force them to stay in the role of war hero so they can be paraded around like a trophy. (Sound starts at 4 seconds.)
Fred needs to move on, but in a way that doesn't force him to forget what he has come through. Marie's comment about being back where they started is a reference to the war, but it also cuts into the growing pressure that Fred feels in regards to his lack of employment.
Homer, the amputee, is perhaps the most complex character in "The Best Years of Our Lives." He struggles not only with the way others stare or overtly look away. Homer doesn't want the pity of others, but there are certain obvious limitations that come with the loss of his hands. He must learn to accept others and himself. Since his physical loss is an external representation of the psychological injury, he is forced to confront it in a way that Al and Fred are not, but his reactions sometimes explode, unbidden, to the surface.
Harold Russell lost his hands while in the military. Wyler saw an Army training film that Russell starred in, and cast him in the part of Homer. For a largely untrained actor, Russell is compelling, and the sincerity that comes through his performance makes the character of Homer more endearing and real.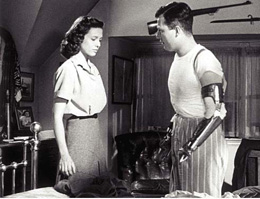 Russell was awarded an honorary Academy Award for his portrayal of Homer Parrish. Though he was nominated for Best Supporting Actor, no one at the Academy thought it was likely that he would beat out the other nominees including Charles Coburn or Claude Rains, but Russell surprised everyone and took home the award for Best Supporting Actor as well. He is still the only person to ever win two Academy Awards in the same year for the same role.
Homer and Wilma (Cathy O'Donnell) eventually find their common ground. Homer finds a way to accept Wilma and let her in, and Wilma finds that she is strong enough to accept Homer for the man he is now.
Fred on the other hand must face the reality that he is broke and married to a person he doesn't care for. Marie wants the fun-loving flyboy she married too quickly a few years back, but with the money gone and few job prospects in sight, Fred doesn't feel like going out on the town. (Sound starts at 9 seconds.)
As Fred struggles with his crumbling marriage, Al, a successful banker, must deal with the pressures from his bank to deny loans to the returning veterans. At a dinner for his fellow bankers, Al gets a little tipsy and perhaps a little more honest than he should. (Sound starts at 4 seconds.)
This speech is inspirational and heartwarming, but Al's apparent drunkenness and his small digressions keep it from becoming a cloying and reductive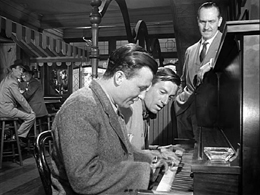 summation of the conflict between his conscience and his job. Later when he talks to his wife, Milly (Myrna Loy), they both speculate on how secure his job is after his speech. Al says that all will be fine, until he approves another small loan for a G.I. with insufficient collateral. This perception and understanding keep the moment from becoming idealistic grandstanding.
The most poetic visual moment comes near the end of the film. Fred's marriage has fallen apart, he has fallen in love with Al's daughter, Peggy (Teresa Wright), but Al, out of concern for his daughter, has asked Fred to stay away. Fred decides that it's time to leave Boone City.
He goes to the airport and gets a ticket on the first plane out of town. As he waits for his flight, he wanders through the salvage yard full of disassembled and gutted aircraft from the war. (Sound starts at 18 seconds.)
Fred walks amongst the discarded aircraft. They are like him and many of the other returning veterans, equipment that has lost its usefulness. The planes and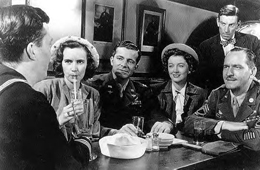 Fred are empty shells of what they once were, though Fred didn't suffer the physical loss that Homer faced, Fred must contend with a psychological amputation, the loss of a dream, the loss of his ability to return home whole.
"The Best Years of Our Lives" tells a tale of the struggles that face those returning from war. It is hopeful, but honest. It does not allow us to forget the real sacrifices that were made, but it also points to a future that holds opportunity for recovery and love.
I was genuinely surprised at the poignancy of "The Best Years of Our Lives," and feel that like The Odyssey or any of Hemingway's tales of World War I, this film will remain topical and fresh as long as there are soldiers returning home from war.
Next on the list #36 "The Bridge on the River Kwai" (1957)
1 Year, 100 Movies #38 The Treasure of the Sierra Madre (1948)
1 Year, 100 Movies #39 Dr. Strangelove (1964)
For links to #40-49, click on 1 Year, 100 Movies #40 The Sound of Music (1965)
For links to #50-59, click on 1 Year, 100 Movies #50 The Lord of the Rings: Fellowship of the Ring (2001)
For links to #60 – 69, click on 1 Year, 100 Movies #60 Duck Soup (1933)
For links to #70 – 79, click on 1 Year, 100 Movies #70 A Clockwork Orange (1971)
For links to #80 – 89, click on 1 Year, 100 Movies #80 The Apartment (1960)
For links to #90 – 100, click on 1 Year, 100 Movies #90 Swing Time (1936)