For 1 Year, 100 Movies, contributor/filmmaker Trey Hock is watching all of AFI's 100 Years, 100 Movies list (compiled in 2007) in one year. His reactions to each film are recorded here twice a week until the year (and list) is up!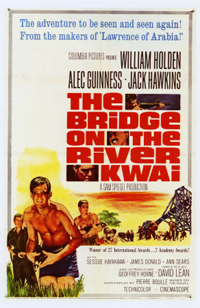 I understand that some of the most inspirational stories are stories of incredible conflict, and that war provides exceptional and violent conflict. That said there are a ton of war films on AFI's list. I've just made it through "The Best Years of Our Lives," a film about veterans returning home to Boone City from the Pacific theater in World War II and now I'm on to #36, another film set in the Pacific during the Second World War, "The Bridge on the River Kwai."
First I should discuss a somewhat irksome technicality that AFI seems to exploit in order to get this film (and at least one other) on its list of 100 greatest American movies. This is in all respects a British film, except maybe for funding and distribution. Director David Lean along with an outstanding international cast make it difficult to call "Kwai" an American film. Still I guess it was funded and distributed largely by Comlumbia Pictures, and I can't blame AFI for wanting to include the "Kwai" on the list of great movies.
Though "Kwai" takes place during WWII and the conflict in the Pacific, it isn't at its heart a story about war. Instead this film is about three men, and their commitment to etiquette and protocol, even when such commitments become a kind of insanity.
An early scene that shows the madness of military protocol is also one of the film's most famous.
Col. Nicholson (Alec Guiness) and his men march into the prison camp, whistling their battalion song. Though they are prisoners of war and many lack shoes and proper clothing, they march with pride into the work camp. Though Shears (William Holden), an American prisoner already at the camp, looks on and shakes his head at the absurdity of this display, Nicholson surveys his men, taking in every missing boot or tilted hat, not as a pitiable hardship, but as an embarrassing blemish on his battalion.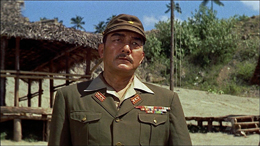 Alec Guinness' is outstanding in his portrayal of Nicholson. His stubbornness and inability to see truth beyond the rules he was ordered to follow make Nicholson both pitiable and frightening. Guinness would claim the Academy Award for Best Actor, and as we continue our way through "Kwai" it should become evident that the award was well deserved.
Nicholson very quickly runs afoul of Col. Saito (Sessue Hayakawa), the camp's commander. The two men engage in a battle of wills. Nicholson insists on strict adherence to the Geneva Convention, which states that officers cannot be forced to perform manual labor. Saito insists that all men will work on the bridge that is to span the nearby River Kwai. For his disobedience, Nicholson and his officers are thrown into the oven, a small metal box on the edge of the camp.
Shears and two other prisoners attempt an escape, but only Shears manages to make it out alive. The other two are killed and Shears is presumed drowned by the prison guards.
Maj. Clipton (James Donald) appeals to Saito on behalf of Nicholson, but Saito explains that additional punishments can be employed, if Nicholson refuses to cooperate. (Sound starts at 15 seconds.)
"This is war, not a game of cricket."
Saito, though he too is stubborn and corrupted by his desire to complete the bridge, is able to see Nicholson's relentless clinging to the rules as madness. The concept of madness and rules permeates "Kwai." Most of the time it is impossible to distinguish between what constitutes a rule to govern civil society and madness itself, and the elegance of the comparison comes from Lean's masterful direction.
In the end Nicholson's will prevails, and Saito allows Nicholson's officers to work in an administrative capacity.
From his quick delivery of "many thanks" to the buttoning up of his shirt before returning to his troops, Alec Guinness gives a subtle and multilayered performance. The reception of Nicholson by his men is a great moment, and for a time the viewers are lead to believe that Nicholson's rules may not be madness after all.
Shears makes his way to a nearby village and finally to a British military hospital, where he recovers. The British command in the area have a plan to attack the proposed bridge over the Kwai, and want Shears to join the small force, lead by Maj. Warden (Jack Hawkins), that will go and blow it up. Shears attempts to get out of the mission by revealing that his rank may not be what he claimed it was. (Sound starts at 15 seconds.)
Shears is always pragmatic and practical. He can sometimes be callous, but never cruel. His bravery comes from his compassion and humanity, not rules. We've

come across Holden further down the list, in "Network" and "The Wild Bunch." Each time he gave a warm, and human performance that embraces a character's flaws as well as their strengths. His portrayal of Shears is no different.
As Warden assembles the rest of his team, Nicholson takes over the bridge building operations. He believes that the work can restore order to his battalion and give his men a sense of purpose, but Clipton points out that they are building a bridge for the enemy and might reconsider doing as good a job as they are.
Here we see that the same rules that served Nicholson and helped him break the will of Saito, now blind him from the reality that he is helping to build a bridge that will supply the enemy and transport him and his men to the next work camp. Nicholson's comment to Clipton that he has a lot to learn about the military is both hilarious and horrifying.
Warden, Shears and Lt. Joyce (Geoffrey Horne) set out to destroy the bridge. On their way they encounter a Japanese patrol, and Warden is shot in the foot. He insists that Joyce and Shears continue on with their Siamese guides, but Shears won't hear of leaving Warden behind. (Sound starts at 19 seconds.)
"How to die like a gentleman, how to die by the rules, when the only important thing is how to live like a human being."
Shears gives us someone to look to, someone who will forego rules for the people around him, someone who will sacrifice himself and his mission for the others in his group. Shears is not perfect, but as Nicholson illustrates, the pursuit of perfection and order is madness in the jungles of Ceylon.
The strike force arrives and plants its explosives, but Nicholson discover them before they can blow up the bridge. His fervor for his bridge drives Nicholson to turn on his own men and defy the will of the British military.
This scene epitomizes Lean's strength in his direction. From the recognition of Shears and Nicholson for each other, to the sparse and ambiguous dialogue, this moment and the entire film pose a multitude of questions, but Lean refuses to take a side or give us any easy answers.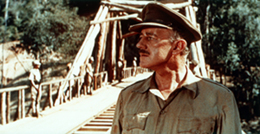 There has been much discussion of the meaning behind Clipton's proclamation of "madness" after the bridge blows up. Is it the needless loss of life that troubles him, the pointless fervor that claimed Nicholson and leads to this destruction, or is it simply the outcome of rules applied when and where they have no meaning?
I would say that Lean gives us a single word that covers all those meanings and perhaps quite a few more.
"Kwai" may be almost three hours long, but this human story is so engaging that it feels much shorter. It is a fantastic piece of filmmaking and illustrates a wonderful use of war as a setting and not as a centerpiece. "Kwai" slipped 23 spots from #13 to #36 from the 1998 list to the 2007 revision, and I must say that with as enjoyable as this film is I have no idea why anyone would move it out of the top 20.
Next up #35 "Annie Hall" (1977)
1 Year, 100 Movies #37 The Best Years of Our Lives (1946)
1 Year, 100 Movies #38 The Treasure of the Sierra Madre (1948)
1 Year, 100 Movies #39 Dr. Strangelove (1964)
For links to #40-49, click on 1 Year, 100 Movies #40 The Sound of Music (1965)
For links to #50-59, click on 1 Year, 100 Movies #50 The Lord of the Rings: Fellowship of the Ring (2001)
For links to #60 – 69, click on 1 Year, 100 Movies #60 Duck Soup (1933)
For links to #70 – 79, click on 1 Year, 100 Movies #70 A Clockwork Orange (1971)
For links to #80 – 89, click on 1 Year, 100 Movies #80 The Apartment (1960)
For links to #90 – 100, click on 1 Year, 100 Movies #90 Swing Time (1936)