For 1 Year, 100 Movies, contributor/filmmaker Trey Hock is watching all of AFI's 100 Years, 100 Movies list (compiled in 2007) in one year. His reactions to each film are recorded here twice a week until the year (and list) is up!
Sometimes you just need a break from all the war that AFI's list can dish out. Luckily the next few films are all war free, and #35 couldn't be a more welcomed film at the moment.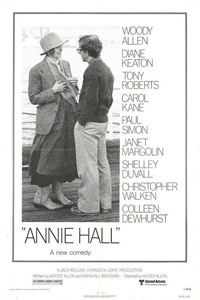 I am always happy to revisit "Annie Hall." It is one of the few films for which my wife, Jaime, and I share a strong affection, and it is easily one of my favorite films of all time.
"Annie Hall" also has a quality to it that you see occasionally whenever a director, in this case Woody Allen, is building a significant body of work. This quality is a sense that this single film will forever change the way we see this director and their other work.
The films before "Annie Hall", films like "Sleeper," or "Bananas," were built around the laugh or the joke. They were funny, but lacked substance. After "Annie Hall," Allen's films are still funny, but can drift into sentimentality or a constructed sincerity. At the fulcrum or pivot point in Allen's developing career as a film director comes "Annie Hall," and it is a perfect blend of genuinely funny mixed with sincere and heartwarming.
Narrated by Alvy Singer (Woody Allen), our charming neurotic middle-aged two-time divorcee, "Annie Hall" explores the difficulty of relationships. It shows us that they are never as bad as we thought they were, once we've broken up, nor are they as good as we think they will be, while we are in them. They are difficult and yet desirable. The narrated romantic comedy would become almost its own genre, inspiring films like "When Harry Met Sally" and more recently "(500) Days of Summer," but this form takes its shape with "Annie Hall."
At the center of "Annie Hall" is the relationship between Alvy and the wonderfully awkward titular character, Annie Hall (Diane Keaton). The film starts after the two are dating and already the everyday march of minor annoyances are encroaching in on them. Even when they try to do something as simple as see a movie, every little thing seems to come between them, from Annie's "depression" to the overly loud and opinionated gentleman behind them in line.
Obviously "Annie Hall" won't be short on laughs. Alvy's reveal of Marshall McLuhan is a great moment, and this type of quirky play with the reality within the film keeps moments light and fresh, that would otherwise be awkward or troubling to watch.
Alvy and Annie didn't always have a stale and humdrum relationship. It used to be sweet and exciting. In this scene, we see the first conversation between the two of them and Annie's endearing weirdness shines through.
Both Keaton and Allen's performances are wonderful. They were friends in real life and the vibrancy and comfort of that real relationship shines through on screen. There are of course questions about the autobiographical nature of "Annie Hall," but regardless, Allen and Keaton's short-lived romance and enduring friendship are part of what makes "Annie Hall" so special. It was obviously noticed by the Academy since Allen won the Academy Award for Best Director and Keaton won the award for Best Actress.
But as with all relationships, even when we're most in love, difficulties are just around the corner. (Sound starts a 3 seconds.)
The cracks in the foundation begin to form and grow. It's only a matter of time until Alvy and Annie breakup, then get back together, then breakup again. Annie moves to Los Angeles to record an album, and Alvy in an impulsive moment of panic flies to LA to plead for her to return with him.
This moment is desperate and tragic, but still funny. Alvy's need to crack wise about LA keeps the moment from drifting too far into the sentimental. Though we'd like a different ending we understand that Annie and Alvy can't go back.
But we never remember our actual relationships as they really were. There are embellishments and mental augmentations to make them more wonderful or more tragic. Even Alvy indulges in this practice, but knowingly so.
So we have a play that embellishes a relationship in the film that is to a large extent an embellishment of a relationship that really existed. These multiple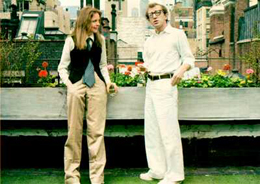 layers add a complexity that blurs the line between what's real and fictional in a truly satisfying way.
And we have an ending that leaves us with the pleasant melancholy that comes from a chance lunch with a former boyfriend or girlfriend, as well as an incredible summation of the craziness of relationships and why we just can't seem to live without them.
Most of us just need the eggs.
Up Next #34 "Snow White and the Seven Dwarfs" (1937)
1 Year, 100 Movies #36 The Bridge on the River Kwai (1957)
1 Year, 100 Movies #37 The Best Years of Our Lives (1946)
1 Year, 100 Movies #38 The Treasure of the Sierra Madre (1948)
1 Year, 100 Movies #39 Dr. Strangelove (1964)
For links to #40-49, click on 1 Year, 100 Movies #40 The Sound of Music (1965)
For links to #50-59, click on 1 Year, 100 Movies #50 The Lord of the Rings: Fellowship of the Ring (2001)
For links to #60 – 69, click on 1 Year, 100 Movies #60 Duck Soup (1933)
For links to #70 – 79, click on 1 Year, 100 Movies #70 A Clockwork Orange (1971)
For links to #80 – 89, click on 1 Year, 100 Movies #80 The Apartment (1960)
For links to #90 – 100, click on 1 Year, 100 Movies #90 Swing Time (1936)