For 1 Year, 100 Movies, contributor/filmmaker Trey Hock is watching all of AFI's 100 Years, 100 Movies list (compiled in 2007) in one year. His reactions to each film are recorded here twice a week until the year (and list) is up!

In 1975, "One Flew Over the Cuckoo's Nest" took home the Big Five at the Academy Awards. It won Best Picture, Milos Forman won in the Best Director category, Jack Nicholson won Best Actor for his portrayal of the wayward anti-hero R.P. McMurphy, Louise Fletcher won for her unflinching performance of Nurse Ratched, and finally Lawrence Hauben and Bo Goldman won the award for Best Adapted Screenplay. The last time a sweep of the coveted Big Five had happened was 41 years earlier, when "It Happened One Night" took all five in 1934.
With all of the accolades the film garnered and the established place the film holds in our cultural landscape today (it was #4 on my Top 10 Movies as Good or Better Than Books They're Based On), one would think that "Cuckoo's Nest" was always a foregone conclusion, but it's critical reception in 1975 was ambivalent at best and openly hostile at its worst.
Milos Forman's direction is a common focus of negative criticism in all of the reviews of "Cuckoo's Nest." Even Roger Ebert and Pauline Kael, who both were warmer to the film than others, called Forman's approach "literal minded" and stated that the viewer "can see the machinery [of the film] working." In some of the more aggressive reviews, everything is questioned, from Nicholson's performance to the adaptation of the original novel.
Perhaps there was confusion surrounding Forman's intent and execution. Forman was a Czechoslovakian director, who had fled the Russian invasion, and perhaps the idea of a director, who was largely unaffected by the American counterculture of the 60s, directing "Cuckoo's Nest" was off-putting. Maybe 1975 was still too close to Ken Kesey's 1962 novel, but something threw all of these critics way off base.
I think that "Cuckoo's Nest" is a masterfully directed interpretation of Kesey's novel that remains largely faithful, and transforms it into a story that is more timeless than the original. I believe that Forman, because of his background in Czechoslovakia was exactly the director, who was needed.
"Cuckoo's Nest" begins when R.P. McMurphy (Jack Nicholson), a criminal sentenced to a work camp, gets transferred to the regional psychiatric hospital. It is assumed that McMurphy is faking his mental illness in order to get an easier assignment for the remainder of his sentence. McMurphy is established as a bright, and belligerent outsider, who immediately becomes skeptical of the treatment, which is offered to the psych patients. The group therapy led by Nurse Ratched (Lousie Fletcher) is particularly harmful. (Sound starts at 3 seconds.)
We can see that Nurse Ratched, with her calm demeanor and perfectly pressed nurse's uniform, is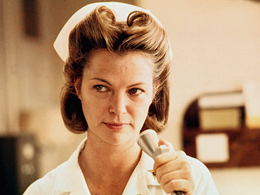 able to instigate this chaos from behind the rigid structure she is a part of. Her assessment of the events is that these outbursts are helpful and part of the process, but we can see that the patients are wounded by the therapy.
One of the things about "Cuckoo's Nest" that still amazes me is the fact that Forman never tries to convince us that these mental patients are or aren't crazy. Instead he just presents them all as people stuck in a detrimental situation. McMurphy sees each one as an individual, and unlike the nurses and orderlies, who enforce the rules, McMurphy refuses to dismiss anyone as crazy or lost. One of his friends is the apparently deaf and speechless Chief (Will Sampson).
One of the complaints from critics in 1975 was that Forman often sacrificed human moments in order to make a larger statement, but this scene is a great example of Forman's ability to do both at the same time. He is obviously critiquing a system that is complacent and hurtful, but he is also building a wonderful human relationship between McMurphy and Chief.
McMurphy decides to continue his mission to harass and annoy Nurse Ratched. The two begin a battle of the wills, and each make only small advances. Nurse Ratched has protocol and the strength of the orderlies on her side. She can fix the odds so that the house always wins. When McMurphy asks to watch the World Series, he needs only one more vote to get the television turned on, but Nurse Ratched has no intention of turning on the set.
This scene shows that McMurphy's greatest weapon is his own imagination and the will to right the wrongs committed by the staff at the hospital. His joy is not selfish, but tied to the men that surround him. There is also embedded tragedy in this scene. If one must rely on their own imagination to overcome actual wrongs, then the reality of the situation is still stark and hope is limited.
McMurphy continues to work on Nurse Ratched, but soon finds out that his assignment to the hospital from the work camp comes with unintended and unpleasant consequences.
Even in this moment, which arises from McMurphy's disappointment in the guys for not warning him about Nurse Ratched's power over his future, McMurphy still shows a deep concern for those around him. He is astonished that many of the patients are voluntary and encourages them to leave. McMurphy sees them as no more or less insane then anyone outside the hospital.
The moment escalates and Cheswick (Sydney Lassick), Chief, and McMurphy are forcibly taken off for shock treatment. While waiting for their turn on the table, Chief reveals his secret.
Our silent narrator finally has his voice. Though McMurphy talks of escape, he plans a final party for the boys on the floor. Chief warns McMurphy of the consequences that await him, but McMurphy won't be dissuaded.
Chief's warning is prophetic, and when the day staff returns to find the aftermath of the party, McMurphy has crossed the final line. Billy Bibbit (Brad Dourif), the stuttering woman-shy young patient, kills himself when Nurse Ratched tells him that she must inform his mother about his carousing with Candy, a prostitute and friend to McMurphy. Even at this moment, McMurphy stays to defend the other patients, instead of fleeing. When he attacks Nurse Ratched, he dooms himself.
McMurphy is taken away for treatment. Though it is unlikely that he will ever return to the ward, his legend lives on with the men. When McMurphy does return, Chief rushes to greet him.
Chief won't let McMurphy live on as a lobotomized shell. Instead he suffocates McMurphy with his pillow and allows his legend to continue. Chief then throws a marble sink through the window and escapes.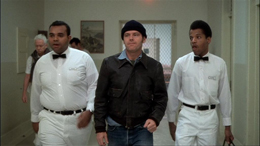 Some view "Cuckoo's Nest" as a straight allegory of the free-spirited rebel against a corrupt and violent establishment. The book was full of such allusions, but it also came out in the early 1960s, when such thinly veiled counterculture parables would be readily accepted.
The mid 70s were a different moment entirely. Some critics accuse the film for offering a flat and outmoded representation of the struggle between the system and the individuals caught within it. I whole-heartedly disagree. The 60s of Kesey's novel were the American 60s. Because the director, Forman, didn't participate in the growing countercultural movement embodied by R.P. McMurphy of the novel, Forman was able to tap into the more timeless and human questions that arise.
Instead of a preachy and didactic film about "the man," Forman gives us a human drama about a man who tries to take on an unjust system, and what happens to such individuals. We as viewers can draw connections to other stories or moments in our own lives, but that doesn't make "Cuckoo's Nest" stiff and formulaic. It makes it personal and powerful.
Next on AFI's list #32 The Godfather Part II (1974)
1 Year, 100 Movies #34 Snow White and the Seven Dwarfs (1937)
1 Year, 100 Movies #35 Annie Hall (1977)
1 Year, 100 Movies #36 The Bridge on the River Kwai (1957)
1 Year, 100 Movies #37 The Best Years of Our Lives (1946)
1 Year, 100 Movies #38 The Treasure of the Sierra Madre (1948)
1 Year, 100 Movies #39 Dr. Strangelove (1964)
For links to #40-49, click on 1 Year, 100 Movies #40 The Sound of Music (1965)
For links to #50-59, click on 1 Year, 100 Movies #50 The Lord of the Rings: Fellowship of the Ring (2001)
For links to #60 – 69, click on 1 Year, 100 Movies #60 Duck Soup (1933)
For links to #70 – 79, click on 1 Year, 100 Movies #70 A Clockwork Orange (1971)
For links to #80 – 89, click on 1 Year, 100 Movies #80 The Apartment (1960)
For links to #90 – 100, click on 1 Year, 100 Movies #90 Swing Time (1936)