For 1 Year, 100 Movies, contributor/filmmaker Trey Hock is watching all of AFI's 100 Years, 100 Movies list (compiled in 2007) in one year. His reactions to each film are recorded here twice a week until the year (and list) is up!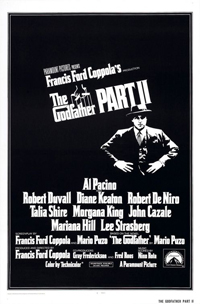 AFI's 100 Years, 100 Movies list puts me in a somewhat awkward position with this post. #32 is the only sequel on the list, and the film that preceded it is further up the list. Comparisons are almost inevitable, so I've decided to dive in and go for it. If you're lost, then you really should brush up on your movie watching.
A little ways back we encountered Frank Capra, one of two directors to have at least three films on the list and all of those listed films in the top 50. Now it's time to welcome the other director, Francis Ford Coppola. Coppola ups the ante, though. All of his three films that appear on AFI's list are in the top third, a truly astonishing achievement.
1974 saw the release of "The Godfather Part II" which continued to explore the Corleone family, and focused on Michael's (Al Pacino) continued descent into the "family" business. The film also shows us the early days of Vito (Robert De Niro), Michael's father.
Whereas the corrupting influence of unwanted power dominates "The Godfather," the two themes that run throughout "The Godfather Part II" are strength and loyalty to one's family. We see both emerge early on when Michael discusses business with Frankie Pentangeli (Michael V. Gazzo).
The ease with which both Pacino and Gazzo control their characters is apparent in this scene, and why both of them received Oscar nominations, Gazzo as a supporting actor and Pacino as a lead.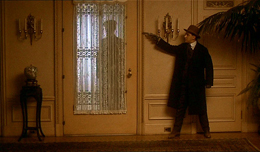 We can see that Michael is obsessed with loyalty and his own strength, but here those two things are thrown into conflict. Frankie is a family member, and is requesting protection from a rival family. Though that request is reasonable, times are changing, and Michael needs to present a strong façade to his enemies. This means maintaining a continued business relationship with Hyman Roth (Lee Strasberg).
The relationship between Michael and his brother, Fredo (John Cazale), creates an acute conflict between Michael's obsession with strength and his ties to his family. Fredo, having been overshadowed by his younger brother, accepts a business offer from Hyman Roth, but this results in an assassination attempt on Michael and his wife, Kay (Diane Keaton). Michael only becomes aware that Fredo was the leak in the family when Fredo forgets to cover his tracks in regards to his associations with Roth.
Everyone shows the scene where Michael kisses Fredo, and I agree that moment is powerful and aggressive. But that moment wouldn't have the weight it does without this scene. Michael doesn't have more than a word or two of dialogue, but Pacino gets a ton of mileage out of his glances from Fredo to his bodyguard. This is a moment of awareness, heartbreak and vicious resolve.
We know that Fredo's time is limited, and Michael's violence against his own family will continue to grow. Coppola uses Vito's story as a comparison to Michael's. Vito also resorted to violence when necessary, but in regards to his own family he was always loving and kind.
Vito is shown as strong and brutal, but for his family not towards his family. Michael struggles with that line, and as he descends into the grip of his own power, he seeks out the advice of his mother.
"The Godfather Part II" is a much darker film than the first, and here we see how Coppola uses light and shadow to reinforce the psychological descent of Michael.
Michael begins to use family against family. This is at the heart of the next two scenes. In the first, Frankie is scheduled to testify against Michael in a congressional hearing. Michael flies Frankie's brother in to remind Frankie that he is family, and reestablish worn loyalties.
Frankie protects his family and Michael by lying on the witness stand. Again we see the subtlety, which Gazzo employs to shade the character of Frankie. From the look Frankie gives his brother and Michael to the way his demeanor changes as he becomes more comfortable with the lies he proclaims, these moments are telling and powerfully understated. At the heart of Frankie's transformation is Michael's willingness to use one brother against another.
The next scene that shows Michael's ability to use family against family involves his wife, Kay.
Once Kay reveals that she had an abortion, Michael goes into a rage. He uses their children against her, and as punishment for her choice, Michael will keep the children from Kay.
As "The Godfather Part II" moves towards its conclusion, Michael destroys all of the emotional ties around him, leaving him alone with his power, alone with the business. Coppola makes clear the distinction between a more innocent Michael and later Michael, fully transformed into a lonely Don and absent his family, in this final scene. (Sound starts at 18 seconds.)
The scene is stark and beautiful. Michael is left silent and alone.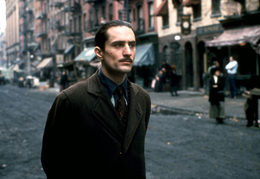 Some will claim that "The Godfather Part II" is one of the rare sequels that out-performs the original. In regards to the awards that it captured, that is the case. "The Godfather" claimed three Academy Awards, including Best Picture and Best Actor, and "The Godfather Part II" received six Academy Awards, including Best Picture, Best Director and Best Adapted Screenplay.
When discussing story and character, I feel that, though "The Godfather Part II" is an excellent piece of cinema, it is a lesser film than its predecessor. Whereas the story in "The Godfather" is perfectly structured, the story in "Part II" gets somewhat loose and a tad muddled. There are moments where the believability of the performances given by a stellar cast is the only thing that holds the story together.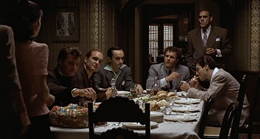 "The Godfather" doesn't leave the viewer with a clear-cut moral. The lesson learned is unclear, and most questions are only vaguely answered. "The Godfather Part II" ends with a clear condemnation of Michael. There is little ambiguity in the film's final moments. We have our answers, and Michael is an example of what happens when one makes the wrong choices and succumbs to rampant power.
Though "The Godfather Part II" may not be as good as "The Godfather," it is still an excellent film. If you're going to include a sequel on the list of greatest American films, it had better be this one.
Up Next #31 "The Maltese Falcon" (1941)
1 Year, 100 Movies #33 One Flew Over the Cuckoo's Nest (1975)
1 Year, 100 Movies #34 Snow White and the Seven Dwarfs (1937)
1 Year, 100 Movies #35 Annie Hall (1977)
1 Year, 100 Movies #36 The Bridge on the River Kwai (1957)
1 Year, 100 Movies #37 The Best Years of Our Lives (1946)
1 Year, 100 Movies #38 The Treasure of the Sierra Madre (1948)
1 Year, 100 Movies #39 Dr. Strangelove (1964)
For links to #40-49, click on 1 Year, 100 Movies #40 The Sound of Music (1965)
For links to #50-59, click on 1 Year, 100 Movies #50 The Lord of the Rings: Fellowship of the Ring (2001)
For links to #60 – 69, click on 1 Year, 100 Movies #60 Duck Soup (1933)
For links to #70 – 79, click on 1 Year, 100 Movies #70 A Clockwork Orange (1971)
For links to #80 – 89, click on 1 Year, 100 Movies #80 The Apartment (1960)
For links to #90 – 100, click on 1 Year, 100 Movies #90 Swing Time (1936)