For 1 Year, 100 Movies, contributor/filmmaker Trey Hock is watching all of AFI's 100 Years, 100 Movies list (compiled in 2007) in one year. His reactions to each film are recorded here twice a week until the year (and list) is up!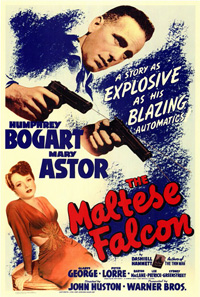 When you think of Humphrey Bogart's career, there are two, possibly three, performances that are defining moments. His role as Sam Spade in "The Maltese Falcon" is one of those performances. In addition to being a standout role for Bogart, it also opened the door to later opportunities. So Bogart, as we know him, may never have existed had it not been for "The Maltese Falcon."
The importance of this film doesn't begin and end with Humphrey Bogart. "The Maltese Falcon" may not be the first Film Noir, a genre defined by deep shadow and slashes of light, ambiguous even unlikable protagonists, and strong-willed dangerous women, but it was an early and important example of Noir. It was also the first film directed by John Houston, who would continue his off and on collaboration with Bogart which, would result in "The Treasure of the Sierra Madre" and "The African Queen."
But it all starts here at "The Maltese Falcon." This film like many Noirs is almost exclusively about tone and style. Sure there is a plot, but it floats on top of the deep shadows, snappy dialogue, and captivating characters like leaves on a stream. We can see the movements, know where we're going, and we just jump in not to get somewhere, but enjoy the ride.
From the very beginning Spade is a tough no-nonsense character concerned only with base content or the bottom line. He'll employ smooth or tough talk, and will even rough somebody up if it helps him get some answers. Early in "The Maltese Falcon" after the death of his partner, Miles Archer (Jerome Cowan), Spade questions his client, Brigid O'Shaughnessy (Mary Astor), a classic femme fatale. Never once is Spade persuaded by Brigid's ruse. (Sound starts at 9 seconds.)
Brigid tries a final time to elicit Spade's sympathy, but Spade just asks her for money. Though you could say that his lack of compassion or concern for anyone but himself makes him an unappealing character, I think that these illustrations of experience and even world weariness make him exactly the character we need to traverse the villain filled streets of "The Maltese Falcon." Spade must use the same tactics as the criminals he pursues.
His tactics become more aggressive and suspect when Joel Cairo (Peter Lorre) comes to Spade's office looking for a small black statue of a falcon.
Once Spade has Cairo disarmed, he still looms over him before striking him a final time. With Cairo unconscious, Spade doesn't call the police or worry about his own safety. Instead he rifles though the contents of Cairo's pockets and even takes inventory of the money in Cairo's wallet.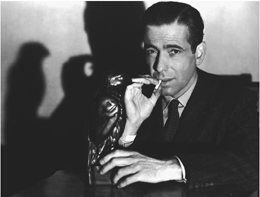 We have the introduction of the falcon. The falcon itself is a classic MacGuffin, an object that motivates the plot and is desired or feared by all characters within a story. For those not familiar with a MacGuffin just think of the briefcase in "Pulp Fiction." Alfred Hitchcock, who popularized the term, claimed that form of the MacGuffin doesn't matter. Whether it's a set of documents or a treasure chest, all that matters is that everyone wants it.
You can see how the use of a MacGuffin can lead to overly structural and clunky plot development. In the case of "The Maltese Falcon," the plot is so simple and apparent that it doesn't matter. The falcon just gives the characters something to chase after.
Spade tries to get more details about the falcon from Brigid, but again she shows herself to be a worthy, though transparent adversary.
A watchful figure outside in the shadows catches Spade's eye and interrupts their kiss. The man outside, Wilmer (Elisha Cook Jr.), is a heavy in the employ of a Mr. Gutman (Sydney Greenstreet). Gutman appears as the main pursuer of the falcon, and offers Spade a sizable reward for securing it. (Sound starts at 11 seconds.)
At this point all of the villains are in play, and you can see that each one is a distinct character type. Cairo is weak, effeminate and simpering. Gutman is arrogant and self-imporant; Wilmer is his lackey. Finally we have Brigid. Her emotional makeup is a shifting mix of sincerity and sinister intent. Even with her back against the wall, we never know how much of her story we can believe.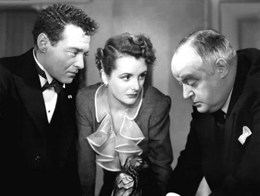 With characters that are so apparently flat, much is placed on the abilities of the actors to bring them to life. Greenstreet, Lorre, Astor, and Cook Jr. all do a marvelous job of rounding out their characters. Even though there is little change in any of them from beginning to end, we're still invested in them. The way they hold themselves, they way they speak, all this matters more than what is said.
Greenstreet was the only actor nominated for an Academy Award. He wouldn't win, but once we get much further up the list we'll see that 1941 may have been the most pronounced year for awarding the Oscar to the wrong film.
Another character that is often overshadowed by the others is Effie (Lee Patrick), Spade's secretary. (Sound starts at 12 seconds.)
Patrick is a perfect female character actress. She's charming, and makes Bogart shine. But there is more to Patrick's character of Effie. Often I feel that Effie knows exactly what's going on, and she may be better at sizing up others than Spade. Honestly even if we were just to watch the scene with Effie and Spade for the banter, it would be worth it.
For a banter filled film, perhaps the apex of incredible dialogue comes at the end, when Spade forces a confession from Brigid.
This is Noir. Here the good guys are almost indistinguishable from the bad. Brigid killed Spade's partner, but Spade seems to revel in his speech and his intent to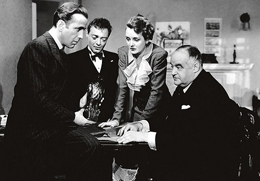 turn Brigid over to the police. Even when discussing the possibility of Brigid getting the death sentence, Spade is controlled and callous. He won't let a little thing like feelings get in the way of his survival. He's not going to play the sap for anyone.
This is the last time we'll see John Huston on AfI's list. "The Maltese Falcon" was his debut as a director and it remains his finest film. Not only did it establish Huston and Bogart, but paved the way for countless Noirs to follow. Now not only could we have a flawed protagonist, but "The Maltese Falcon" gives us one that's built entirely out of flaws. The hardboiled cop on the mean streets of the city may feel like a cliché now, but "The Maltese Falcon" still feels fresh and exciting. Here we can see the origins of cliché, not the cliché itself.
If you haven't seen it already, you really should check out this fantastic film.
Up next #30 "Apocalypse Now" (1979)
1 Year, 100 Movies #32 The Godfather Part II (1974)
1 Year, 100 Movies #33 One Flew Over the Cuckoo's Nest (1975)
1 Year, 100 Movies #34 Snow White and the Seven Dwarfs (1937)
1 Year, 100 Movies #35 Annie Hall (1977)
1 Year, 100 Movies #36 The Bridge on the River Kwai (1957)
1 Year, 100 Movies #37 The Best Years of Our Lives (1946)
1 Year, 100 Movies #38 The Treasure of the Sierra Madre (1948)
1 Year, 100 Movies #39 Dr. Strangelove (1964)
For links to #40-49, click on 1 Year, 100 Movies #40 The Sound of Music (1965)
For links to #50-59, click on 1 Year, 100 Movies #50 The Lord of the Rings: Fellowship of the Ring (2001)
For links to #60 – 69, click on 1 Year, 100 Movies #60 Duck Soup (1933)
For links to #70 – 79, click on 1 Year, 100 Movies #70 A Clockwork Orange (1971)
For links to #80 – 89, click on 1 Year, 100 Movies #80 The Apartment (1960)
For links to #90 – 100, click on 1 Year, 100 Movies #90 Swing Time (1936)