For 1 Year, 100 Movies, contributor/filmmaker Trey Hock is watching all of AFI's 100 Years, 100 Movies list (compiled in 2007) in one year. His reactions to each film are recorded here twice a week until the year (and list) is up!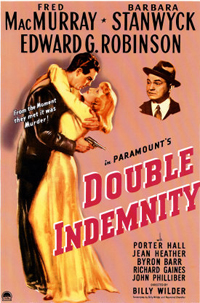 #29 on AFI's list is something of a stumbling block for me. "Double Indemnity," Billy Wilder's second film to appear on the list, is one of those films in which personal preference and legitimate respect for artistry clash inside my brain. I can see the intention and respect the undeniable beauty and craft of the piece, and yet the film just leaves me a little flat.
Wilder's foray into film noir comes with a whole lotta lightning fast dialogue and an equal helping of emotional malaise. Like most films noir, this one is all about tone and style. The story itself is simple with very few surprises. It's just there as an excuse to get these characters talking.
Perhaps that's it. "Double Indemnity" is super clever, maybe too clever, and its characters' motivations are ambiguous, perhaps a little too ambiguous. "Double Indemnity" feels more like a fascinating character study then a fully developed film, but perhaps I'm just being a grump.
It's not like "Double Indemnity" doesn't give us tons to talk about. Just check out the opening scene, in which Walter Neff (Fred MacMurray), shrouded in darkness, stumbles into his office.
Neff emerges out of the shadows to give us all the answers in the first scene.
This is cinematic Jeopardy, and now it's just a matter of figuring out the questions. This movie's not about twists or revelations, but instead it's about presence, style, tone. Instead of M. Knight Shyamalan's approach which becomes consumed with the who, what, when, where, and how, Wilder, by answering all of that in the first five minutes, gives the viewer nothing but why.
Why? Why does a strait-shooting, single, middle-aged, insurance salesman get mixed up in murder and insurance fraud? Why does Neff get involved?
Wilder holds out a tantalizing reason, and most people grab at it (her?) all too willingly. (Sound starts at 17 seconds.)
There may be a speed limit in this town, but neither Neff nor Phyllis Dietrichson (Barbara Stanwyck) seem particularly interested in either following or not following the rules.
From their stance to the way they speak, these two characters seemed consumed with their lack of emotion. They're just playing a game, playing out their parts. They are too cool to care. Apathetic and detached, Neff and Dietrichson are our proto-modern hipsters.
But if these two, and Neff in particular, just couldn't give a crap about anything, then why try to game the system? After discussing the possibility of setting up an accident policy on Dietrichson's husband, Neff gives us some insight. (Sound starts at 11 seconds.)
As Dietrichson cries softly on Neff's shoulder, Wilder finally gives just a glimpse of motivation. In this moment, with Neff in his office, we finally get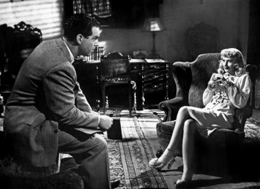 some real insight. Neff talks about how he could "crook the house, and do it smart." Here he lets the viewer know that, like any police officer, palace guard, or, in this case, insurance salesman, the privileged insider knowledge that comes with the job makes the idea of crooking the system all too tantalizing.
Many would claim that, in "Double Indemnity," Dietrichson plays Neff for the sucker, but I think that Neff is smarter than that. I think the real motivation for Neff's actions is boredom, and the opportunity to escape it.
This makes both Neff and Dietrichson impossibly difficult characters. They are modern Iagos pitted against each other in one film. And like Iago, we could argue about their motivation until we are breathless and weak from exhaustion.
The plan works for a while and Neff's boss, Barton Keyes (Edward G. Robinson), even breaks the unfortunate news to his boss that the company will have to pay out on the policy.
Though he is only in a supporting role, Robinson's performance as Keyes shines throughout the film. Keyes is vibrant and passionate. Wilder makes a clear distinction between the listless Neff and Dietrichson, and the anxious and driven Keyes.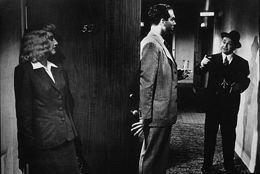 "Double Indemnity" continues on until its end meets up with its beginning. The conclusion is inevitable.
I can see how a thorough discussion of each of the main three characters would be exciting and fruitful. I can also see that Wilder gives a modern and complex film with fascinating characters. I just get stuck on the fact that there are so few clues as to the emotional truths behind Neff and Dietrichson, and that by pushing the ambiguity to such an extent, Wilder allows their motivation to be anything or nothing at all.
There are definitely aspects of "Double Indemnity" that are stunning and masterful, but I found that while watching it I fell into the same malaise that consumed Neff and Dietrichson. I guess I was too cool to care.
Up next #28 "All About Eve"(1950)
For links to #30-39, click on 1 Year, 100 Movies #30 Apocalypse Now (1979)
For links to #40-49, click on 1 Year, 100 Movies #40 The Sound of Music (1965)
For links to #50-59, click on 1 Year, 100 Movies #50 The Lord of the Rings: Fellowship of the Ring (2001)
For links to #60 – 69, click on 1 Year, 100 Movies #60 Duck Soup (1933)
For links to #70 – 79, click on 1 Year, 100 Movies #70 A Clockwork Orange (1971)
For links to #80 – 89, click on 1 Year, 100 Movies #80 The Apartment (1960)
For links to #90 – 100, click on 1 Year, 100 Movies #90 Swing Time (1936)