For 1 Year, 100 Movies, contributor/filmmaker Trey Hock is watching all of AFI's 100 Years, 100 Movies list (compiled in 2007) in one year. His reactions to each film are recorded here twice a week until the year (and list) is up!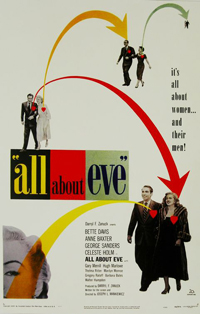 Great stories often come from writing what you know. So it is no wonder that there are a handful of films on AFI's list that deal with show biz. Films like "Tootsie," "Cabaret," or "Sullivan's Travels" each comment on the specific difficulties surrounding a life dedicated to performance, and the unique perspective that that life offers.
With #28 "All About Eve" we get a window into the world of the theater, and we follow the rise of an ambitious young actress, Eve Harrington (Anne Baxter), and the decline of an older established one, Margo Channing (Bette Davis).
It is a gripping story of aging within a profession that prizes youthfulness. "All About Eve" also shows us how the world of the theater rewards ruthless deception, and preys upon the goodwill of the more kind-hearted. In the end "All About Eve" is about both redemption and damnation, on and off the stage.
The story begins at an awards ceremony, and is then told as a series of remembrances. Chronologically the story begins when Karen (Celeste Holm), the wife of successful director Lloyd Richards (Hugh Marlowe), introduces the seemingly shy and meek Eve to Margo.
Eve is the ever-adoring fan with an all too sympathetic story of poverty and lost love. Margo takes Eve in and hires her as an assistant, but we quickly realize that Eve may be more ambitious than we previously suspected.
Eve's startled look betrays something sinister, but no one catches on as quickly as Birdie (Thelma Ritter), Margo's dressing room woman and personal assistant. (Sound starts at 7 seconds.)
Here Margo (and the viewers) begins to realize that Eve may not be the star-struck fan, but an interloper, who seeks to manipulate her way into the theater.
Margo's insecurities about her age and beauty come out during a birthday party for Margo's lover Bill (Gary Merrill), a successful theatre director, who is eight years Margo's junior. It is a party, which was conceived and organized by Eve, and is a moment that contains one of the most famous lines of dialogue in all of cinema.
The dialogue sizzles here and throughout "All About Eve," and at its center is Bette Davis. Her performance as Margo is stunning. There are a handful of performances that seem to change what we as viewers can expect from an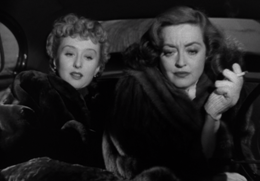 actor. We've already seen Marlon Brando as Stanley Kowalski, and a more contemporary example of game-changing brilliance is Daniel Day-Lewis' performance in "There Will Be Blood" (#3 on Eric's Top Ten Movies of the Decade 2000-10).
Bette Davis seems to strip herself bare for the role of Margo, and her own vulnerabilities make her shrewish and human at the same time. Never do we feel anything but sympathy for this character that is trapped by her own ambition, trapped by the choices she made in her youth.
Now we watch as Margo succumbs to the manipulation and relentless ambition of Eve. Bette Davis makes us care for a character, which could have been a caricature or an empty shell. Because of Davis' performance, Margo is full of life and longing, and is wonderful in her slow acceptance of age. Davis was 42 in 1950, and her own life offered a more than ample source of inspiration for Margo. Davis is open, vulnerable, and, at least in this film, a true genius.
Just watch as Margo confronts Bill and Lloyd upon the discovery that Eve has been hired as her understudy.
Again we see as Margo rages against the inevitable march of time. She lashes out at all around her, because she is unable to defeat her own mortality.
And Eve is there to take full advantage. After a night in which she played the lead role when Margo was unavailable, Eve approaches Bill. Eve has taken Margo's part, now she goes after Margo's lover.
Eve throws herself at Bill and he rejects her. This is only the first stumbling block on her rise to stardom. Addison DeWitt (George Sanders), a noted theater critic, stands outside and watches Eve's off stage performance. DeWitt is a predator, just like Eve, and when the opportunity comes to challenge her, he takes it.
Anne Baxter is great as the manipulative and scheming fan, but less convincing as an adversary and equal to Margo. Still this scene shows how Eve is now trapped by the very success that she strove so hard to achieve, and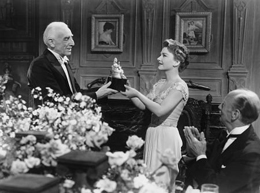 Baxter's performance was good enough to garner a nod from the Academy. Both she and Davis were nominated for Best Actress in a Lead Role, two of the fourteen nominations "All About Eve" received.
Writer/director Joseph L. Mankiewicz tells a fascinating and human story with "All About Eve." Mankiewicz took home Academy Awards for writing and directing for "All About Eve," and this film is a fantastic blend of excellence in writing, directing and casting. At its epicenter stands Bette Davis, in the best and most revealing performance of her career.
If you watch it for Davis alone, "All About Eve" is absolutely worth it.
Up Next #27 "High Noon" (1952)
1 Year, 100 Movies #29 Double Indemnity (1944)
For links to #30-39, click on 1 Year, 100 Movies #30 Apocalypse Now (1979)
For links to #40-49, click on 1 Year, 100 Movies #40 The Sound of Music (1965)
For links to #50-59, click on 1 Year, 100 Movies #50 The Lord of the Rings: Fellowship of the Ring (2001)
For links to #60 – 69, click on 1 Year, 100 Movies #60 Duck Soup (1933)
For links to #70 – 79, click on 1 Year, 100 Movies #70 A Clockwork Orange (1971)
For links to #80 – 89, click on 1 Year, 100 Movies #80 The Apartment (1960)
For links to #90 – 100, click on 1 Year, 100 Movies #90 Swing Time (1936)