For 1 Year, 100 Movies, contributor/filmmaker Trey Hock is watching all of AFI's 100 Years, 100 Movies list (compiled in 2007) in one year. His reactions to each film are recorded here twice a week until the year (and list) is up!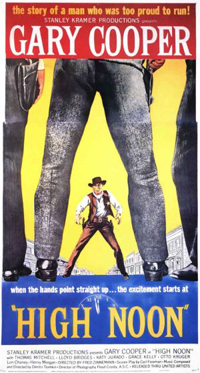 So far we have encountered four westerns on our journey through AFI's list. "The Wild Bunch," "Butch Cassidy and the Sundance Kid," "Unforgiven," and "Shane" were all about the transition from the open, lawless West to the fenced and farmed West. Each film focused on gunslingers that were caught as the world shifted around them.
In "High Noon" our main character, Marshall Will Kane (Gary Cooper), is stuck, but not by the shifting sensibilities of the era. Kane is trapped by his own sense of duty and the cowardice of the town he tries to protect.
"High Noon" does a couple of interesting things that a contemporary viewer may take for granted. The film itself is about an hour and a half long, and the events of the story take the same amount of time. It is 10:30 am in the story when "High Noon" begins, and it is just after noon when it concludes. The constant presence of clocks counting down in "real" time gives the viewer an additional level of suspense that would not exist if normal cinematic compression of time were employed.
Director Fred Zinnemann explores Kane's motivation for staying to protect the town. At the beginning of the film Kane marries Amy (Grace Kelly), and turns in his badge as marshal. Kane's replacement is due the next day. Before Kane and Amy can leave town, word comes that the notorious Frank Miller (Ian MacDonald) has been released from prison and will arrive on the noon train.
Those townspeople, who are in attendance at the wedding, encourage Kane and his wife to flee. Kane leaves with Amy, but not far out of town, he reconsiders and returns. Is it a sense of duty or obligation, or is it just the pride and bravado of a man that has grown used to the role of protector? Is it simply a stubborn man's refusal to let go? The question of why Will Kane returns and what motivates him drives the rest of the film.
Kane attempts to explain his sense of obligation to Amy.
Amy offers a compelling argument, but Kane cannot give up the badge, even if it means losing his new wife.
Kane tries to recruit special deputies, but it seems that the five years since Miller's imprisonment have dulled the courage of the town members. They are a complacent bunch, and talk lightly of the coming showdown between Kane and Miller.
We can see the growing turmoil that builds in Kane. He rushes in and punches the bartender, but then realizes that he has acted outside of his authority. Kane's voice cracks, and he looks wearied and troubled. Gary Cooper's performance is subtle and controlled, but there is magnificent depth to it also.
In spite of the fact that he finds no special deputies in the saloon, Kane holds tight to the responsibility of confronting Miller.
Since the saloon doesn't yield any help, Kane tries the church.
Even in the church Kane finds no help. The people of the town just stare at him as he looks to them for back up.
Kane leaves the church and goes in search of Martin (Lon Chaney Jr.), the previous marshal.
Martin is not surprised by the reactions of the townsfolk. The job of a marshal is dangerous and thankless. Martin encourages Kane to leave, but again Kane soldiers on. In spite of the cowardice of those around him, Kane's determination to face Frank Miller is steadfast and unbending.
Just as we are questioning why Kane is going to protect a town that wishes he would leave, Amy asks the question for us.
As Amy waits for the noon train, she discovers that Kane's former lover, Helen (Katy Jurado), lives upstairs. Amy struggles to understand why Kane must face Miller, and goes to Helen hoping for insight.
Amy's is righteous and willful, but her beliefs are in conflict with her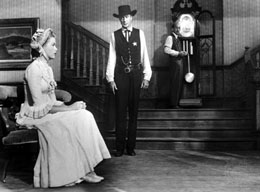 husband's. Her denial to help him doesn't come from cowardice, but the belief that there must be another way to handle the conflict.
Still we get no answers as to Kane's motivation. Helen dangles the possibility of an answer out, but then quickly pulls it away.
There is some speculation about "High Noon" as an allegory for the climate in Hollywood at the time of it's creation, specifically the practice of blacklisting and the investigations by the House Un-American Activities Committee (HUAC). Carl Foreman, writer and co-producer of "High Noon," was called before HUAC while writing the film, and I do think that tonally some of that experience bubbles up through the story. I also think that the allegory can be pushed too far, but one can hardly watch the scene before Kane faces Miller and not feel a threatening isolation. The cowardice of all those around him, has left Kane to face four armed men on his own.
The anticipation of gunfire that awaits Kane fills the empty street.
Miller finally shows, and Kane works his way through two of his men, before Kane is pinned down in one of the buildings in the town. Amy returns and helps her husband by shooting a third gunman, but she is taken hostage by Miller.
Amy's vow to her husband parallels Kane's commitment to the town. Both Amy's wedding ring and Kane's tin star are framed prominently on the right side of the screen in the shots in which Amy and Kane embrace.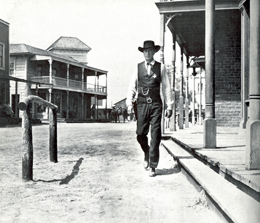 Now Kane can finally make a choice. There is no ceremony, because this town and these people don't deserve one. Kane just throws his badge in the dirt, and leaves to begin his life with Amy, the only person who stood by him.
Though Kane defeats his adversaries, there is a sense of loss. These people were not worth the struggle and their problems are still unresolved, but that's not Kane's problem not anymore.
A truly modern and complex film, "High Noon" explores what it means to be a leader of men, and a protector of a community. It is no wonder that this film has been the favorite of a number of American presidents from Ronald Reagan to Bill Clinton. Definitely worth (re)visiting.
Next on AFI's list #26 Mr. Smith Goes to Washington (1939)
1 Year, 100 Movies #28 All About Eve (1950)
1 Year, 100 Movies #29 Double Indemnity (1944)
For links to #30-39, click on 1 Year, 100 Movies #30 Apocalypse Now (1979)
For links to #40-49, click on 1 Year, 100 Movies #40 The Sound of Music (1965)
For links to #50-59, click on 1 Year, 100 Movies #50 The Lord of the Rings: Fellowship of the Ring (2001)
For links to #60 – 69, click on 1 Year, 100 Movies #60 Duck Soup (1933)
For links to #70 – 79, click on 1 Year, 100 Movies #70 A Clockwork Orange (1971)
For links to #80 – 89, click on 1 Year, 100 Movies #80 The Apartment (1960)
For links to #90 – 100, click on 1 Year, 100 Movies #90 Swing Time (1936)