For 1 Year, 100 Movies, contributor/filmmaker Trey Hock is watching all of AFI's 100 Years, 100 Movies list (compiled in 2007) in one year. His reactions to each film are recorded here twice a week until the year (and list) is up!
There are number of things that are great about Frank Capra's film "Mr. Smith Goes to Washington, and a few things that have worn a little thin. For those of you that are avoiding "Mr. Smith" because you fear it will be overly didactic and preachy, then put your fears to rest, at least a little bit.
"Mr. Smith" definitely has a point to make, but it is more about the power of the individual than it is about choosing one political party over another. In fact, not once are the terms Democrat or Republican used. Instead Capra offers a critique of the corruption of government, while giving us an example of the idealistic possibilities of our national institutions.
The film starts with the death of a senator in one of the Western states. The vacancy means that Governor Hubert Hopper (Guy Kibbee) must appoint a replacement, but Senator Paine (Claude Rains), the senior senator, and Jim Taylor (Edward Arnold), a wealthy business and newspaper man, need the right man, a man that will do as he's told. Taylor and Paine are working an inside deal that will mean huge kickbacks, and Taylor for one is not about to let the appointment ruin his payday.
Here we have the backroom fat cat and the governmental stooges that do his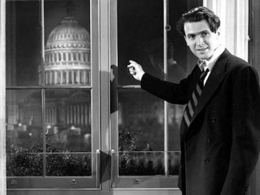 bidding. When Hopper announces Miller as the replacement, he meets huge opposition. Even Hopper's own children hate the idea of Miller. Hopper's kids suggest that he appoint Jefferson Smith (James Stewart), a local boys' club leader. Hopper decides to flip a coin and allows fate to decide. Fate is with Smith.
But Smith is naïve and unprepared for the realities of Washington. He greets the entire trip with wide-eyed enthusiasm, and a reverence that betrays his inexperience. When Smith arrives in Washington, instead of going to his office, he jumps aboard a tour bus and goes sightseeing.
Meanwhile Smith's secretary, Saunders (Jean Arthur), and her friend in the press, Diz Moore (Thomas Mitchell), await the junior senator's arrival.
This scene illustrates what's best and worst about "Mr. Smith." Stewart's "gee whiz" portrayal of Smith quickly moves from endearing to annoying. I saw him less as hopeful and more as unrealistic and dumb. Luckily his knocks come early and often, and he wises up soon enough.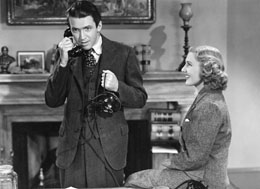 What's best about "Mr. Smith" is Jean Arthur. Her portrayal of Saunders, the whip smart secretary, is perfect. Arthur gives Saunders enough edge to make her believable and enough heart so that we accept her emerging affection for Smith.
Arthur's Saunders is arguably the smartest character in "Mr. Smith" and the one who is responsible for guiding Smith and ultimately defeating Paine and Taylor. Without Saunders, Smith remains a stooge for the corrupt. Saunders is easily one of the best female characters we've encountered so far on AFI's list, and even more remarkable because she pops up in 1939.
Just listen as Saunders explains the difficulties with pushing a bill through congress. (Sound starts at 8 seconds.)
This is a civic lesson to rival Schoolhouse Rocks. It could be dry and snore inducing, but with Arthur and Stewart bantering back and forth, we watch grinning as Saunders teaches us how a bill makes it through congress.
For the rest of the review, I'm going to focus almost entirely on Arthur and her portrayal of Saunders, in part because you can find plenty of Stewart's performance elsewhere, and also because I don't think Arthur gets the full recognition she deserves.
Paine's daughter, with Saunder's help, takes Smith out on the town to distract him from Paine's bill, which is in direct conflict to Smith's own bill. Saunders in a melancholic stupor complains to Diz about the situation.
Again we watch as Arthur walks the fine line between funny and sweet. Her punch lines don't hit hard and fast, but come in soft waves, subtle and immersive. It is almost impossible to watch a scene like this one without grinning, because Arthur's performance and the emotional content of the scene are warm and funny.
Saunders conscience gets the better of her, and she, in a moment of drunken spontaneity, reveals Paine's plan to Smith.
Here again you can see the importance of Saunders as the single motivating factor in "Mr. Smith." She helped Smith craft his bill, she helped Paine distract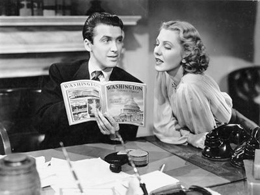 Smith from the Senate floor when Paine's bill about the dam was being presented, and now she reveals Paine and Taylor's plan to Smith. Without Saunders there is no conflict, and no story.
Smith confronts Paine and Taylor, who swiftly throw Smith under the bus. When Smith attempts to reveal the Paine's graft, Paine frames Smith for the very crime that he himself perpetrated, and brings a motion to remove Smith from the Senate.
Smith seems sunk, but again Saunders appears to change the scenario. With her expertise and Smith's hopeful belief in the power of good government, they may just be able to outdo Paine and Taylor, but Smith's gonna need a little pep talk first. (Sound starts at 16 seconds.)
We find out in the next scene that Saunders plan is for Smith to filibuster the Senate. Smith holds the chambers captive while he waits for the opinions of the senators to shift in his favor.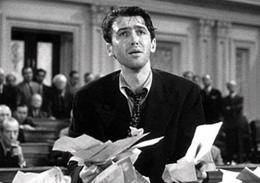 Capra definitely wants us all to learn a lesson about how government works, as well as the possibility of how it could work. Most of you have probably seen Smith, hoarse and exhausted on the floor of the Senate, berating the other senators for their complacency and willingness to accept the corruption around them. Capra is great at showing his love of American democracy, while critiquing the problems that come with its practice.
Capra's point is as valid today as it was then, although I would argue that the voice of the cynic has grown even stronger over the 70 some years since "Mr. Smith" was released. It is this cynicism that makes the hopeful message fall a little flat.
Still the very fact that Capra and screenwriter Sidney Buchman created a tight story with a strong and compelling female character in Saunders is still note worthy, even if the main message doesn't have it's original power.
If you've never seen "Mr. Smith Goes to Washington," you should give it a shot. Do it for Jean Arthur.
Up next #25 "To Kill a Mockingbird" (1962)
1 Year, 100 Movies #27 High Noon (1952)
1 Year, 100 Movies #28 All About Eve (1950)
1 Year, 100 Movies #29 Double Indemnity (1944)
For links to #30-39, click on 1 Year, 100 Movies #30 Apocalypse Now (1979)
For links to #40-49, click on 1 Year, 100 Movies #40 The Sound of Music (1965)
For links to #50-59, click on 1 Year, 100 Movies #50 The Lord of the Rings: Fellowship of the Ring (2001)
For links to #60 – 69, click on 1 Year, 100 Movies #60 Duck Soup (1933)
For links to #70 – 79, click on 1 Year, 100 Movies #70 A Clockwork Orange (1971)
For links to #80 – 89, click on 1 Year, 100 Movies #80 The Apartment (1960)
For links to #90 – 100, click on 1 Year, 100 Movies #90 Swing Time (1936)