For 1 Year, 100 Movies, contributor/filmmaker Trey Hock is watching all of AFI's 100 Years, 100 Movies list (compiled in 2007) in one year. His reactions to each film are recorded here twice a week until the year (and list) is up!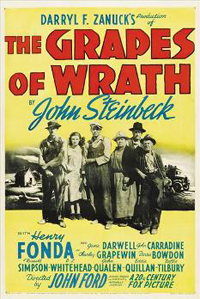 There are only a handful of filmmakers that can truly be called legendary, but our next film's director is a giant within American cinema and an undisputed legend of film. Before John Ford became a director in the silent era, he was an actor, who shows up as an extra in D.W. Griffith's "The Birth of a Nation." Once he started directing, he would helm over 100 films, many years he would direct three or more within a year, and was viewed as such a master that he would win four Best Director Academy Awards over three decades in a career that spanned seven decades.
His first of two films on AFI's list comes at #23. "The Grapes of Wrath" is the film adaptation of John Steinbeck's melodramatic tale of sharecroppers who head West when they are forced from their land during the Great Depression.
Tom Joad (Henry Fonda) returns to his family's farm after serving four years of a prison sentence for killing a man in a bar fight. As he walks toward the farm, he encounters Casy (John Carradine), a former preacher who has lost the spirit. The two continue on to the farm, but find it deserted except for Muley (John Qualen), a crazed fellow farmer.
This scene illustrates the power that this film still holds. The strength of this film doesn't come from the screenplay, which makes the best of its source material, but Steinbeck too often reduces the complexities of the Dust Bowl and the Great Depression down to overly simple terms. Pair that with dialogue that often feels so stiff that it seems cast in stone.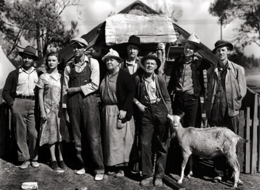 It isn't from the acting either. Most of the actors were type cast. Ma (Jane Darwell), Pa (Russell Simpson), Grandpa (Charley Grapewin) and Grandma (Zeffie Tilbury) all are flat and somewhat goofy stereotypes of the Okie sharecropper. Only Fonda's portrayal of Tom and Carradine's Casy are standout performances that give depth and life to Steinbeck's characters.
The true strength of this film comes from Ford's direction. His shot compositions and use of shadow and light are stunning. His collaboration with his cinematographer, Gregg Toland, would give him highly stylized lighting and great controlled depth of field that accentuates the intimacy and the starkness of emotion. Even the well-lit scenes seem aggressive and unforgiving. The story is told through the lens, the lighting and the direction.
Tom finally catches up to his family before they depart for California. His folks, uncle, cousins and Casy too crowd into their covered truck, but Grandpa has a change of heart at the last minute. He decides to stay on the land. The others spike his coffee with some "soothing syrup," load him into the truck, and leave just ahead of the bulldozers. Grandpa's will to stay overpowers him and he soon succumbs to his weariness. (Sound starts at 5 seconds.)
The preacher's monologue has beautiful and harsh brevity and again we can see the masterful use of shadows. Characters seem to emerge from the depths of the black screen. Ford and Toland together make visual the character's all but hopeless journey.
Though they have lost Grandpa, the first real blow to their morale will come as they talk to other travelers at a roadside camp.
Again you can see the weight of Fonda's performance, as he confronts the man who questions the handbills. His anger and concern come through his contained and subtle performance.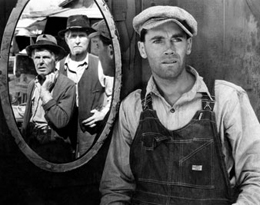 As we look at the rich and almost Noir-ish darkness of these scenes, it is fascinating to think that just a year after he helped create the murky and foreboding darkness in "The Grapes of Wrath," that Toland would help set the standard for deep focus with another pillar of American filmmaking, Orson Welles.
The Joads move on, and finally make it to California. They soon realize that it's not the land of milk and honey they were promised. When they enter a transient camp they discover that many of the other families haven't found steady work, and are going without food.
When a man arrives with the promise of work, we soon see that an inhumane amount of power rests in the hands of the landowners and their henchmen. (Sound starts at 6 seconds.)
Tom must hide, otherwise he could be taken in for breaking his parole, but both he and Casy have had their first taste of agitation.
The family moves on, and finally finds work harvesting peaches. Tom gets a funny feeling about the circumstances and decides to leave the small work camp. He wants to talk to some of the men, who were standing outside of the farm. (Sound starts at 12 seconds.)
The opening of this scene with its big single source of light, and Tom stepping out of the mist and up onto the roadway, this moment could have come straight out of F.W. Murnau's "Sunrise." It illustrates that Ford is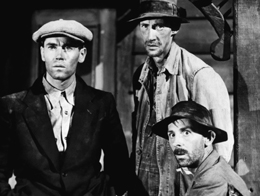 something of a fulcrum. He is a pivot point that moves us from the classic age of film into the modern era.
Tom doesn't join the strike, but when men come to breakup the camp, Casy gets an axe handle to the skull and is killed. Tom escapes, but kills one of the men and gets a nasty gash on his face. He stumbles back to camp, but his family must hide him. Soon officers come looking for Tom, and he and the rest of the Joads must flee.
They make it to a government camp. Things seem to be looking up, but the police continue their pursuit. Tom knows that he must leave his family, and all the while Casy's words about organizing the strike continue to rattle around in his brain. Before he sneaks away he says goodbye to Ma.
Tom's words don't feel natural. They feel like a speech given at town hall meeting, but Fonda makes the most of this moment.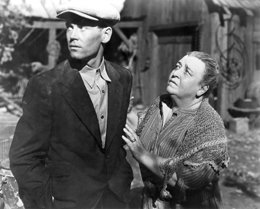 If you feel like you've seen compositions like Ford's in later films, well of course you have. He is one of the more referenced filmmakers. Directors from Welles to Spielberg would cite Ford as instrumental to their understanding of how to make a motion picture.
It is unfortunate that Ford's direction showcases a story, which has not aged well. The didactic nature of Steinbeck's writing is overt and somewhat off-putting. Now in a time when collective bargaining rights are being threatened in a number of states, we could use a smart tale about the power of the worker and the strength of a union, but the dreamy eyed Tom Joad doesn't have the bite or the cynicism to speak to a modern audience.
Regardless Ford deserves to be a presence high in AFI's list, and "The Grapes of Wrath" is just one of a handful of films that showcases his remarkable abilities as a director.
Next on AFI's list #22 "Some Like It Hot"(1959)
1 Year, 100 Movies #24 E.T. The Extra-Terrestrial (1982)
1 Year, 100 Movies #25 To Kill a Mockingbird (1962)
1 Year, 100 Movies #26 Mr. Smith Goes to Washington (1939)
1 Year, 100 Movies #27 High Noon (1952)
1 Year, 100 Movies #28 All About Eve (1950)
1 Year, 100 Movies #29 Double Indemnity (1944)
For links to #30-39, click on 1 Year, 100 Movies #30 Apocalypse Now (1979)
For links to #40-49, click on 1 Year, 100 Movies #40 The Sound of Music (1965)
For links to #50-59, click on 1 Year, 100 Movies #50 The Lord of the Rings: Fellowship of the Ring (2001)
For links to #60 – 69, click on 1 Year, 100 Movies #60 Duck Soup (1933)
For links to #70 – 79, click on 1 Year, 100 Movies #70 A Clockwork Orange (1971)
For links to #80 – 89, click on 1 Year, 100 Movies #80 The Apartment (1960)
For links to #90 – 100, click on 1 Year, 100 Movies #90 Swing Time (1936)