For 1 Year, 100 Movies, contributor/filmmaker Trey Hock is watching all of AFI's 100 Years, 100 Movies list (compiled in 2007) in one year. His reactions to each film are recorded here twice a week until the year (and list) is up!
On any long list of "great" American movies that represents different eras we will have moments of reference, homage, even apparent theft. One could look at "Raiders of the Lost Ark" and see echoes of "The Treasure of the Sierra Madre." We can see "Sunrise" in the deep shadows of "The Grapes of Wrath." Homage is nothing new, but rarely is a film so clearly a love letter from one director to another, as it is in #21 "Chinatown."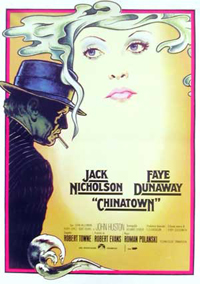 Roman Polansksi's neo-noir updates the style that was born in the 1940s. It pays homage, but also, like any great genre film, pushes the accepted boundaries for the genre. Polanski walks a fine line between adoration and parody at times, but his direction is so clear and so well executed that each scene comes off without a hitch.
The story subverts many of the classic noir character types that solidified throughout the 40s, but Polanski does this with such loving care that we see this more as a maturation of a genre than its deconstruction. He even casts John Huston, who is arguably the father of film noir as we know it, as Noah Cross, our maleficent antagonist. Polanski then takes it one step further and casts himself as a knife-wielding lackey. You'd be hard-pressed to find a more sincere show of respect for a fellow director.
Though "Chinatown" still has a lot of emphasis placed on tone and style, Polanski gives us a more compelling mystery than those offered in either "The Maltese Falcon" or "Double Indemnity." He also develops the stiff and largely emotionless hard-boiled detective, and makes him more vulnerable, and more compelling.
Jake Gittes (Jack Nicholson) thinks he's on a job trying to out Hollis Mulwray's (Darrell Zwerling) affair, but it soon turns out that there's a much deeper mystery. Mulwray works for the Los Angeles water department and in the midst of a drought someone's dumping water from the reservoir into the ocean.
It seems that Gittes is being used to get to Mulwary, so he decides to look into the matter further and heads to City Hall.
Nicholson's grin almost approaches smarmy, but usually settles between confident and charming. When Gittes mocks Mulvihill (Roy Jenson), we don't get the same sense of imperviousness that came from Humphrey Bogart's Sam Spade. Instead there is a real threat and a well-executed escape. Gittes won't always be so lucky.
The search continues for Mulwray, and leads to one of the local reservoirs.
With Mulwray dead, Gittes decides that something beyond marital problems and water rights issues must be going on. He continues to investigate, and while he's sneaking around one of the reservoirs, he receives one of cinema's more memorable injuries. (Sound starts at 4 seconds.)
Fred MacMurray, as Walter Neff, gets shot in the chest, but he still looks great. Humphrey Bogart, as Sam Spade, gets drugged and beaten up, but hardly a hair seems
out of place. Jake Gittes gets a nostril split by a short thug and must wear a bandage on his nose for the rest of the film.
This odd visual vulnerability is a huge gamble that keeps the viewer off balance. It's funny, endearing and a constant reminder of the pain inflicted in this one moment. Our main character can bleed. He can be injured. So for the rest of the film, we believe that any threat to his safety is real and severe.
Gittes doesn't believe that Mulwray's death was an accident. He meets with Mulwray's wife, Evelyn (Faye Dunaway), to discuss their relationship. When Gittes discovers that Evelyn knew about Mulwray's supposed affair, he questions her further. (Sound starts at 6 seconds.)
This scene is great on so many levels. It moves the story along in tiny subtle progressions, revealing only what is needed to keep the viewer interested and satisfied.
It also shows the sheer acting power of Jack Nicholson and Faye Dunaway. Nicholson has shown us that he can be the play the suited rebel, who smokes pot with Captain America in "Easy Rider." He has played the knit hat wearing anti-hero, who stands up to the emasculating nurses in "One Flew Over the Cuckoo's Nest."
Each of those roles helped to define what makes Jack Nicholson, Jack Nicholson, but I feel that Jake Gittes is perhaps Nicholson's most impressively complex and emotionally engaging role. The depth of character that he brings is remarkable, and it could have so easily drifted into parody or mimicry.
As for Dunaway, I find her early career hard to fathom. She would star in "Bonnie and Clyde," "Chinatown," and "Network" all within a decade of each other. Her performances in each were amazing. In "Chinatown" she is mysterious, vulnerable, and maybe even dangerous. Evelyn is a great character, brought to light by a great actress.
Gittes follows a lead to Noah Cross, Evelyn's father. There Cross questions Gittes' motivation for taking Evelyn's case.
Cross' smile and genial nature cover a deep evil. Even in this short scene one can feel his will bearing down on the moment. The casting was brilliant. Huston offers weight to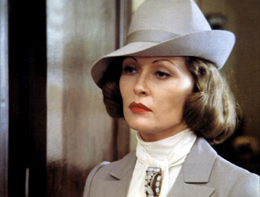 the role. Like his character says, "Of course I'm respectable. I'm old." It may be true of ugly buildings and whores, but it's also true of actor/directors, especially ones as talented as Huston.
The references to Gittes former job as a cop in Chinatown permeate the film. From small moment with his former partner at the reservoir, to the comment during his meal with Cross, little asides bubble into the dialogue. Though he's no longer in Chinatown, that former time follows him like a ghost.
One of the more revealing moments comes once Evelyn and Gittes have consummated their relationship. Again we see how Polanski continues to complicate the role of the hardboiled detective.
Again we see a masculine yet vulnerable character in Nicholson's performance as Gittes. His comment about Evelyn reveals that he doesn't understand or fully trust her. She is like Chinatown. You don't always know what's going on, but it is obvious that he is developing a deep emotional attachment. We can see that Gittes may be making the same mistakes all over again.
Gittes finds out that Evelyn has been hiding the other woman, Katherine (Belinda Palmer), and that Evelyn and Katherine are leaving town. (Sound starts at 12 seconds.)
This is one of the greatest moments in film. Gittes misguided frustration, fear for himself, and misunderstanding of the moment leads to his violent outburst. This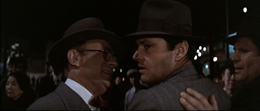 violence makes him seem smaller and makes it all the more damning when Evelyn reveals the truth about Katherine. As he did with the detective, we realize that Polanski has turned the femme fatale character upside down.
The mystery about water rights and the story of an incestuous father weave together in the final moments, and lead Gittes once again back to Chinatown. It is as inescapable as a rich, respectable old man getting exactly what he wants while breaking as many people as he has to along the way.
"Chinatown" is stark and desolate in its final moments. The only consolation is that we saw it coming. Perhaps Gittes will finally learn his lesson and not make the same mistake a third time.
Next up #20 "It's a Wonderful Life" (1946)
1 Year, 100 Movies #22 Some Like It Hot (1959)
1 Year, 100 Movies #23 The Grapes of Wrath (1940)
1 Year, 100 Movies #24 E.T. The Extra-Terrestrial (1982)
1 Year, 100 Movies #25 To Kill a Mockingbird (1962)
1 Year, 100 Movies #26 Mr. Smith Goes to Washington (1939)
1 Year, 100 Movies #27 High Noon (1952)
1 Year, 100 Movies #28 All About Eve (1950)
1 Year, 100 Movies #29 Double Indemnity (1944)
For links to #30-39, click on 1 Year, 100 Movies #30 Apocalypse Now (1979)
For links to #40-49, click on 1 Year, 100 Movies #40 The Sound of Music (1965)
For links to #50-59, click on 1 Year, 100 Movies #50 The Lord of the Rings: Fellowship of the Ring (2001)
For links to #60 – 69, click on 1 Year, 100 Movies #60 Duck Soup (1933)
For links to #70 – 79, click on 1 Year, 100 Movies #70 A Clockwork Orange (1971)
For links to #80 – 89, click on 1 Year, 100 Movies #80 The Apartment (1960)
For links to #90 – 100, click on 1 Year, 100 Movies #90 Swing Time (1936)