For 1 Year, 100 Movies, contributor/filmmaker Trey Hock is watching all of AFI's 100 Years, 100 Movies list (compiled in 2007) in one year. His reactions to each film are recorded here twice a week until the year (and list) is up!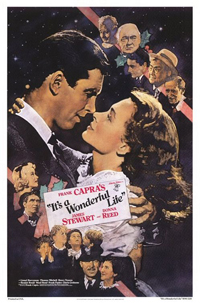 #20 on AFI's list may be one of the weirder holiday classics. Frank Capra never intended "It's a Wonderful Life" to be a Christmas film. Sure it is begins and ends on Christmas Eve, but it is more a tale of the power of a common hardworking man, whose self sacrifice helps others get out from under the curmudgeonly control of a wealthy banker.
Maybe "It's a Wonderful Life" was destined to become this odd holiday classic. It was an early precursor to the world of independent filmmakers. Capra, returning home from his years serving in WWII, wanted to have more control over his films. So he became a partner in a new production company, Liberty Films, which allowed him the final say on the script and the final cut on the motion picture. Rarely did a director have such control over his own work.
The fact that "It's a Wonderful Life" was owned by a smaller independent production company may have been a contributing factor in the films rise to holiday staple. "It's a Wonderful Life" would have probably been relegated to the same semi-obscure realm of Capra's other classics, such as "It Happened One Night" and "Mr. Smith Goes to Washington" had it been created at a larger studio.
Liberty Films was purchased by another studio, which sold the film. The new owners, through a clerical error, allowed the copyright to lapse. This meant that a television station programmer who had two and a half hours to fill now could show a classic American film for free. In the late 1970s and early 80s, it became an economical custom for stations to play "It's a Wonderful Life" around the holidays.
The company that had allowed the lapse in copyright to occur would later reclaim some of the rights in the 90s, but "It's a Wonderful Life," had secured it's place in the cultural landscape by then.
The film opens with a shot into the heavens where star angels discuss the fate of George Bailey (James Stewart). (Sound starts at 14 seconds.)
This opening with these omniscient beings looking into the life of George Bailey allows Capra to skip chronologically through the formative moments in George's life, and allows for motivated narration when necessary. It's a technique that could come off as ham-fisted, but the narration is so conversational, and easy that it fits in seamlessly with the story.
George saves his young brother, Harry (Todd Karns), from drowning, keeps the local pharmacist from accidentally poisoning a patient, and helps his father at the building and loan, which provides loans to at risk or low income clients. George is basically a selfless old soul, but he's finally saved enough to start college. During dinner with his father (Samuel S. Hinds), George expresses his frustration with Bedford Falls, and the building and loan.
George decides to go to Harry's high school graduation dance. There he meets up with Mary Hatch (Donna Reed), a young woman who is taken with George. This leads to one of the most warm, endearing and oft quoted moments in the film.
This shows Capra's ability to give us an exciting and heartfelt romance without delving too deeply into the sugary sweet. Capra offsets the sincerity of the moment with clever and funny dialogue. The neighbor on his porch voices the viewer's thoughts and breaks some of the tension that has built up. It is in some ways a precursor to what Woody Allen would do in a much more overt and apparently comedic way with "Annie Hall."
At the end of this scene, George discovers that his father has suffered a stroke. When his father dies, George must assist with the board meeting to decide the fate of the building and loan.
When reflecting on "It's a Wonderful Life" many seem to think only of the hopeful uplifting message, but I'm always struck by how disgruntled and pissed off George Bailey is. Even in this scene where he defends his father's character, George mocks the building and loan. The only reason he defends the existence of the building and loan is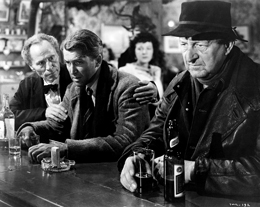 as an option other than the bank owned by the Scrooge-like Potter (Lionel Barrymore).
James Stewart's performance in "It's a Wonderful Life" is much more nuanced and developed than his role in "Mr. Smith Goes to Washington." Some of this depth may have come from experience. Stewart, like so many others at the time, had just recently returned from military service in WWII. Perhaps this shaded his portrayal, giving him more depth and world-weariness to endow in his character.
George Bailey is also a more complicated character. George wants to do the right thing, out of a sense of duty or conscience, but often his own personal desires come into conflict with this moral obligation. As this internal conflict builds, it causes him to lash out at the ones closest to him. One such instance occurs during his courtship with Mary.
In each instance, George seems to breakdown and accepts his choice to stay in Bedford Falls, work at the building and loan, and marry Mary Hatch, but inside the conflict remains. It boils within him. It makes George a real, multidimensional character. Without this turmoil, he would be too good and distinctly less interesting.
When Uncle Billy (Thomas Mitchell), George's partner at the building loan, loses an $8000 deposit at a time when the building and loan is undergoing an audit, George finally reaches his breaking point. Everything thing around him becomes a reminder of his perceived failures. He attempts to hold on to the people and things around him, but they only gall him into despair.
I always find it remarkable that, even in a moment of weakness, a character in such a popular, culturally important film could have such an outburst against his town, his home and even his children. Again Stewart's acting makes this moment believable, instead of an apparent setup for a redemptive ending.
Desperate to cover the shortage on the books, George crawls to Potter. (Sound starts at 16 seconds.)
Though there are small moments of joy that punctuate the last four clips, there is real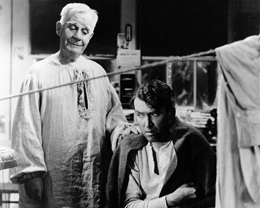 darkness in "It's a Wonderful Life." George decides to commit suicide, which brings the guardian angel, Clarence (Henry Travers), into the story to teach George a lesson and set things right. The parable ultimately shows us that each of us, through our everyday interactions with others, has the power to change our community and lives for the better.
This is the last time we will see Capra on the list. His place on the list as a populist filmmaker, who told stories of common people running into uncommon obstacles, is secure for sometime. He will be around for many years, if only for "It's a Wonderful Life," the Christmas movie that was never intended to be a Christmas movie.
Up Next #19 "On the Waterfront" (1954)
1 Year, 100 Movies #21 Chinatown (1974)
1 Year, 100 Movies #22 Some Like It Hot (1959)
1 Year, 100 Movies #23 The Grapes of Wrath (1940)
1 Year, 100 Movies #24 E.T. The Extra-Terrestrial (1982)
1 Year, 100 Movies #25 To Kill a Mockingbird (1962)
1 Year, 100 Movies #26 Mr. Smith Goes to Washington (1939)
1 Year, 100 Movies #27 High Noon (1952)
1 Year, 100 Movies #28 All About Eve (1950)
1 Year, 100 Movies #29 Double Indemnity (1944)
For links to #30-39, click on 1 Year, 100 Movies #30 Apocalypse Now (1979)
For links to #40-49, click on 1 Year, 100 Movies #40 The Sound of Music (1965)
For links to #50-59, click on 1 Year, 100 Movies #50 The Lord of the Rings: Fellowship of the Ring (2001)
For links to #60 – 69, click on 1 Year, 100 Movies #60 Duck Soup (1933)
For links to #70 – 79, click on 1 Year, 100 Movies #70 A Clockwork Orange (1971)
For links to #80 – 89, click on 1 Year, 100 Movies #80 The Apartment (1960)
For links to #90 – 100, click on 1 Year, 100 Movies #90 Swing Time (1936)