For 1 Year, 100 Movies, contributor/filmmaker Trey Hock is watching all of AFI's 100 Years, 100 Movies list (compiled in 2007) in one year. His reactions to each film are recorded here twice a week until the year (and list) is up!
Sometimes a film is a perfect storm of artistry and inspiration. When everything from acting to writing to directing comes together to form a devastating creative tornado, the landscape of cinema shows the marks of such an event for decades afterwards.
So it is with Elia Kazan's masterwork, "On the Waterfront." In the early 1950s, having just revealed a list of communist sympathizers in the ranks of the Hollywood elite to the House Un-American Activities Committee, Kazan was on the outs. Kazan's actions may be easy to condemn now that the HUAC is so clearly seen as a trumped up witch trial, but at the time Kazan saw himself as a noble informer attempting to fight the evil of communism. For his stance, his peers would shun him.
Kazan wanted to show that an informer could be heroic. With the help of screenwriter Budd Schulberg, Kazan crafted his artistic response to his critics.
The story is simple and well told. Kazan's direction is fantastic, but the creative arsenal isn't tapped out yet, there's also Rod Steiger, Karl Malden, Eva Marie Saint, Lee J. Cobb, and Marlon Brando. Rarely has there ever been such a magnificent ensemble cast, and the transcendence of Brando's performance is breathtaking and intangible.
"On the Waterfront" begins when Joey, a neighborhood kid, is pushed off the roof for passing information about the local mob boss to the police. Terry Malloy (Marlon Brando) told Johnny Friendly (Lee J. Cobb) where Joey would be, but Terry thought that Johnny was just going to pressure Joey, not kill him.
Since Johnny and his mob cronies run the local longshoremen's union, none of the dock workers speak up, when the police come to ask questions about Joey's death.
From his mumbling constricted vernacular to the fact that he only makes limited eye contact with either police officer, Brando's Terry is endearing, because we understand the difficult position he's in. Brando's portrayal has an ease, which makes the character of Terry immediately recognizable to the viewer.
Terry's psychological conflict continues to grow. His brother, Charlie (Rod Steiger), works for Johnny Friendly, and asks Terry to check out a meeting at the local church. It seems that the priest, Father Barry (Karl Malden), is trying to get the dockworkers to stand up for themselves and take back their union from the mob's control. (Sound starts at 19 seconds.)
Here Father Barry's speech reveals the moral of Kazan's narrative. "What's ratting to them is telling the truth for you." This nugget of wisdom is directly related to Kazan's own experience in front of HUAC, but within the confines of "On the Waterfront" it resonates with the viewer, and slowly goads our reluctant protagonist into action.
Edie (Eva Marie Saint), Joey's sister, continues to spur on our hero. When Terry invites her out for a beer, she continues the critique of Terry's apathy.
Eva Marie Saint has shown up on the list once before in "North by Northwest" opposite Cary Grant. In "On the Waterfront" she again illustrates her ability to craft a believable and complex character.
Opposite Brando's simple and brash Terry, Saint's Edie looks hopeful yet aware of the reality that surrounds them. In other hands the dialogue could seem stiff and crafted, but Saint and Brando handle it with a deftness that furthers the growing relationship between these two characters.
The situation on the docks continues to deteriorate, and when another longshoreman is killed to cover the mob's involvement in the union, Father Barry confronts the silent workers.
The speech from Barry is pretty didactic, but again we see great acting compensate for apparent and somewhat preachy dialogue. Malden shows some great control, and makes the speech stem from Barry's frustration over an intractable situation. The exchange of glances between Barry and Terry, and Terry's small outburst against the mob thug, give us the small hope that Terry is on the verge of turning against Johnny Friendly.
So far "On the Waterfront" seems like a parade of great acting, and it is that, but it is also an example of great direction and visual storytelling. When Terry finally decides to come clean about his unintentional involvement with Joey's death, Kazan makes the moment graphic and visual.
As Terry and Father Barry finish their conversation, the sounds of the shipyard mount until the steam whistle echoes Edie's pain. Kazan was smart enough to know that no dialogue would convey the turmoil of Edie or Terry the way their pained faces and the viewer's imagination would. Even Father Barry understands what each must be feeling as he turns away, and reaches for a bent cigarette.
Terry decides to testify against Johnny Friendly, but before Terry can get to the stand, Johnny sends Charlie to convince his brother not to talk. This leads to perhaps the most recognizable and quoted film moment of all time, but try if you can to just see two brothers on opposite sides of a moral struggle. (Sound starts at 7 seconds.)
Terry doesn't react with anger, but heartbreak and disappointment. As Brando softly pushes the gun away and then picks the lint off his pants, we can see the motivation for his famous speech, and when it comes it crashes on us and crushes us with the weight of a ruined relationship between two brothers.
Terry testifies and then goes to confront Johnny. Johnny and his men circle up and beat Terry, but the damage has been done. The longshoremen won't go to work unless Terry works.
The mixture of Terry's stumbling walk cut with the in-and-out-of-focus point of view shot bring this moment home. It's a great choice that puts the viewer into Terry's shoes for his final victory.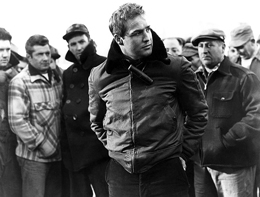 I find it striking that Kazan's testimony before HUAC, and his willingness to participate in the hysteria and fear mongering of the time, could inspire such a powerful film as "On the Waterfront." Though reviled by many in Hollywood, Kazan's film would win an impressive eight Academy Awards including Best Director. Perhaps Hollywood on occasion can make the distinction between the art and the artist.
A powerful film that again showcases the exceptional ability of a young Marlon Brando, "On the Waterfront" is well placed just inside the top twenty.
Up next #18 "The General" (1927)
For links to #20-29, click on 1 Year, 100 Movies #20 It's a Wonderful Life (1946)
For links to #30-39, click on 1 Year, 100 Movies #30 Apocalypse Now (1979)
For links to #40-49, click on 1 Year, 100 Movies #40 The Sound of Music (1965)
For links to #50-59, click on 1 Year, 100 Movies #50 The Lord of the Rings: Fellowship of the Ring (2001)
For links to #60 – 69, click on 1 Year, 100 Movies #60 Duck Soup (1933)
For links to #70 – 79, click on 1 Year, 100 Movies #70 A Clockwork Orange (1971)
For links to #80 – 89, click on 1 Year, 100 Movies #80 The Apartment (1960)
For links to #90 – 100, click on 1 Year, 100 Movies #90 Swing Time (1936)