For 1 Year, 100 Movies, contributor/filmmaker Trey Hock is watching all of AFI's 100 Years, 100 Movies list (compiled in 2007) in one year. His reactions to each film are recorded here twice a week until the year (and list) is up!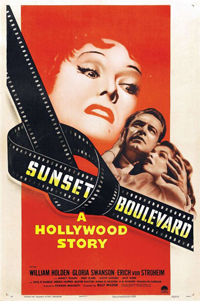 Most long-lived films have stories that are, at least in part, timeless. They can speak to people across generations, across socio-economic boundaries, across gender. This large accessibility doesn't mean that the story can't at the same time be specific, set in a time, place and cultural moment.
#16 on AFI's list is a stunning artistic achievement that shows the degradation of a former Hollywood star, and the opportunism of a young out-of-work writer. That's the story that still speaks to us today, but for Billy Wilder's "Sunset Blvd." to be as powerful as it is, there is only one historical moment in which it can be made.
The 1930s saw the rise of "talkies," films with sync sound and on screen dialogue. This of course gave filmmakers new opportunities to tell stories, but at the expense of a class of actors that had seen remarkable success in the silent era.
With sync sound, the overly dramatic and visual quality of the performances didn't hold with audiences. Add to that the ruthless valuation of youth in the Hollywood system and there were hundreds of actors and filmmakers who were left behind when the ground shifted away from silent films.
In the late 1940s Billy Wilder and Charles Brackett came up with a script about the movie industry. It followed a young writer, Joe Gillis (William Holden), as he becomes trapped by his desire for the comforts of wealth and the alluring Norma Desmond (Gloria Swanson), a fading star of silent films. The beauty of this particular historical moment, the late 1940s, was that there was a wealth of former silent stars to draw from.
The film begins after the death of our protagonist. Joe is found floating in the pool of one of the old Hollywood elite. (Sound starts at 13 seconds.)
Again Wilder employs heavy narration, but without the gritty tone used in "Double Indemnity." The subtle shift from third person to first person in the narration tells us that our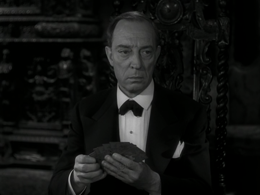 narrator is the young writer, and he's narrating from beyond the grave. The continued influence of "Sunset Blvd." is apparent in more recent films like "American Beauty," which came some fifty years later.
Wilder could not only tell a tale of lost actors, but could use the actual subjects, about whom he was writing. If he were to make this film even ten years later, he would not have had the same pool of talent to draw from. In the late forties he could cast Gloria Swanson, herself a former star of the silent era, as well as fill small roles with other recognizable silent giants such as Buster Keaton, H.B. Warner, Anna Q. Nilsson, and Cecil B. DeMille.
Joe meets Norma when the tire on his car blows and he pulls in the driveway of a seemingly abandoned house. Joe gets welcomed in, mistaken for an undertaker. It seems that Norma's pet chimp has passed away. Joe recognizes the former silent star, and we get Norma's critique of an industry that no longer needs her.
"Sunset Blvd." was Swanson's first film in eight years. She was 51 when it was released in 1950. So there is an added poignancy in her speech railing against the talk and the color of films. Swanson's theatricality always hovers near the edge of believability, but her remarkable control as an actor makes this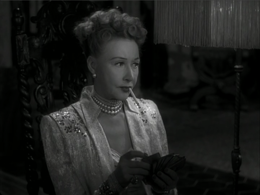 character trait stem from Norma's anxiety. She is desperate to hold onto her former glory. We always get the sense that Norma is about to break and give way to her growing paranoia and insanity.
Wilder was able to go a step further in blurring the line between fiction and reality. Since Swanson had been a successful actress earlier in life, Wilder was able to surround her with images and trinkets from her glory days, but that's not all Wilder does. Wilder gives the role of Max Von Mayerling, Norma's butler, former director and ex-husband, to Erich Von Stroheim, a silent film director, who had directed Swanson in "Queen Kelly" in 1932.
Thus Wilder surrounds Swanson with her own former life at the height of her early career, and out of these ashes, she builds Norma Desmond.
Norma is writing a script for her triumphant return to glory, and hires Joe to fix it. She moves him into the spare bedroom over the garage for the night, but he gets a surprise in the morning when he wakes. All of his belongings have been moved in for him.
He complains about Norma's presumption, but Joe stays and slowly becomes accustomed to Norma's generosity and affections. He is kept as a pet, often asked to fetch an ashtray or a drink, while Norma plays bridge with the "waxworks," the deliciously cruel name Joe gives Norma's silent film friends.
All of Norma's fawning control over Joe leads to an outburst on New Year's Eve. It seems that Joe hasn't fully embraced his role as kept man.
Most of the scenes, which have come to represent "Sunset Blvd.," show Norma at the apex of theatricality, but the moment on the couch shows us that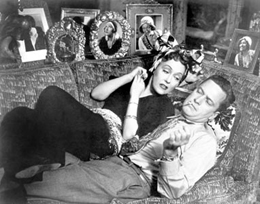 Swanson is a master. She is able to blend such a wonderful mix of arrogance, anger and sensitivity into the character of Norma, and she makes this bizarre has-been real. When she slaps Joe and rushes off, this moment of humanity breaks our ability to look at Norma as a laughable icon of the past. She's a woman who can be hurt, and we understand when Joe can't leave her.
Joe, Norma and Max visit the Paramount lot. It seems that Norma has been getting a number of calls from an assistant there. She assumes that it's about her script, so she rushes off to see Mr. DeMille. Unbeknownst to her, it was simply an executive who wants to rent her car for a picture.
While on the lot, Joe runs into Betty (Nancy Olson), a young reader who wants to rework one of Joe's scripts. Betty wants Joe's help with the rewrite, but Joe turns her down at first.
Betty is the fresh-faced youngster that distracts Joe, and underlines the stifling dreariness of his relationship with Norma. Olson's performance is solid, but it is not the caliber of either Holden or Swanson's.
Joe changes his mind, and begins writing with Betty in the evenings, when Norma has gone to bed. Soon Norma finds out about Joe's evening escapades. Frantic, Norma calls and threatens Betty. When Joe realizes that his affair with Norma has been exposed, he invites Betty over to Norma's house.
Joe explains his situation and his relationship with Norma. Betty pleads with him, but Joe has become accustomed to the trappings of wealth. He doesn't want to be noble, just comfortable. As he walks Betty to the door, Joe tells her that she and her fiancé can be noble together.
Holden owns this scene. He is able to show remorse for the choices he's made at the same time he claims his decision. There is softness in his delivery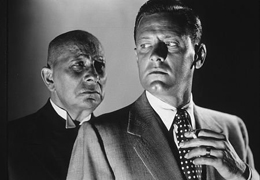 mixed with a sternness that will not be swayed by Betty's pleas. Swanson rightfully gets the lions share of praise in regards to the acting in "Sunset Blvd.," but Holden is a standout as well.
Joe, touched by Betty's youthfulness, decides to leave Norma. Consumed with passion, Norma cannot allow this and shoots Joe as he crosses the lawn. Fatally wounded, Joe falls into the pool.
Now Norma descends fully into madness. Surrounded by police and press, Norma believes that she is on the set of DeMille's new movie. Max offers her a little comfort by playing along with her delusion.
Her slow descent of the staircase is incredible. This scene works on so many levels, from Norma's assertion that this is her life, nothing else, and her reference to those "wonderful people out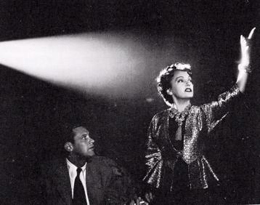 there in the dark" to Max's misty-eyed stare as he watches a woman, who he has loved for years, implode. This is not bald condemnation of Hollywood. This is more subtle, more human, and unquestionably more complex.
A movie about movies was nothing new in 1950. What makes "Sunset Blvd." so remarkable was Wilder's ability to use actual people, to reference recent stars and current directors within his story. It was his ability to cut so close to the grain that one could almost mistake his story as pseudo-documentary. That's why "Sunset Blvd." is so good, because in an only slightly different world Gloria Swanson could have been Norma Desmond.
Up Next #15 "2001: A Space Odyssey" (1968)
1 Year, 100 Movies #17 The Graduate (1967)
1 Year, 100 Movies #18 The General (1927)
1 Year, 100 Movies #19 On the Waterfront (1954)
For links to #20-29, click on 1 Year, 100 Movies #20 It's a Wonderful Life (1946)
For links to #30-39, click on 1 Year, 100 Movies #30 Apocalypse Now (1979)
For links to #40-49, click on 1 Year, 100 Movies #40 The Sound of Music (1965)
For links to #50-59, click on 1 Year, 100 Movies #50 The Lord of the Rings: Fellowship of the Ring (2001)
For links to #60 – 69, click on 1 Year, 100 Movies #60 Duck Soup (1933)
For links to #70 – 79, click on 1 Year, 100 Movies #70 A Clockwork Orange (1971)
For links to #80 – 89, click on 1 Year, 100 Movies #80 The Apartment (1960)
For links to #90 – 100, click on 1 Year, 100 Movies #90 Swing Time (1936)