For 1 Year, 100 Movies, contributor/filmmaker Trey Hock is watching all of AFI's 100 Years, 100 Movies list (compiled in 2007) in one year. His reactions to each film are recorded here twice a week until the year (and list) is up!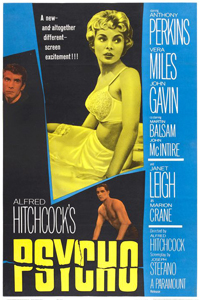 You are a charming man, Norman Bates. Your mild manner and meek demeanor are disarming and endearing. Of course we'd like to share a plate of sandwiches and some milk with you, and we're very sorry if we caused any conflict with your mother.
Alfred Hitchcock, one of the undisputed masters of cinema, is back on AFI's list for his third, but not final, time with his 1960s stunner "Psycho." For his earlier offerings check out posts for "North by Northwest" and "Rear Window."
I have seen "Psycho" in various settings, at different moments in my life, but what came through loud and clear this go round was just how brilliant Anthony Perkins' portrayal of oedipal shut-in, Norman Bates, is and just how much Hitchcock's direction disarms and misleads us.
Sure everyone intuitively knows that Perkins is great, that Norman is creepy, but for "Psycho" to be genuinely upsetting and thrilling, Norman must first be sweet, funny, and kind. Norman has so many facets that he could quickly descend into an oversimplified mess, but Perkins maintains complete control over of his character. He and Hitchcock slowly unwrap the truth behind Norman, and reveal the grim present that's at the heart of "Psycho."
The story doesn't begin with Norman. It starts in Phoenix, Arizona with Marion Crane (Janet Leigh), a middle-aged secretary at a real estate office. As the movie opens, Marion spends her lunch break in a hotel room with her lover Sam (John Gavin), a divorcee who is struggling financially.
When Marion returns to work, a wealthy businessman drops $40,000 on her desk, a cash payment for the house he's buying for his daughter's wedding present. Marion tells her boss that she's off to the bank then home. Instead she pockets the cash and leaves town on her way to Sam.
Up to this point, Hitchcock seems to be laying the groundwork for a detective thriller. Will Marion get away with it? Will she have a change of heart, or will the law catch up to her? She is even pursued by a police officer for a while, but while he turns off at another exit, Marion stops in for an evening with the friendly and kind Norman Bates.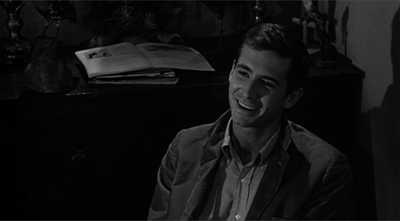 The Ever Charming Norman Bates
Marion exhausted from her drive and inhibited by the torrential rain, pulls off the main highway and stumbles upon the Bates Motel. Norman, not used to consistent traffic, hurries down to the office from the main house. Marion signs in for what she believes will be an uneventful night's sleep.
Norman offers a dinner of sandwiches and some pleasant company in the office parlor, which Marion gladly accepts.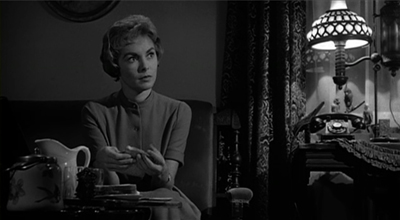 Marion Chats with Norman
A parlor full of stuffed birds greets Marion, and she sits down to eat her sandwiches. It seems that Norman has a penchant for taxidermy, but only birds. In his assessment, beasts never look quite right stuffed.
Hitchcock starts dropping subtle hints that something's not quite right, and as the conversation turns to Norman's mother, we begin to wonder whether Norman is trapped by a controlling invalid, or consumed with his own need to care for her. At Marion's suggestion that Norman put his mother in an institution, Norman snaps at her briefly.
This particular scene showcases two incredible performances. Leigh must shift Marion ever so slightly from paranoia and escape to remorse and reconsideration as she slowly decides to return the money. Perkins must give the viewer glimpses of a disturbed personality, while maintaining our belief that Norman, though desperately lonely, is harmless.
It is not until Marion has returned to her room and Norman is left in the parlor alone that we see that there may be some truly malevolent parts to his character.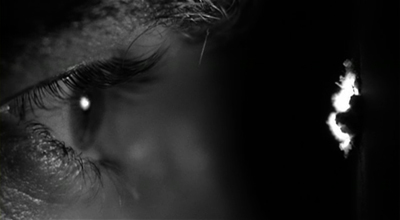 Norman Watches Marion Through the Wall
Even here, while Norman watches Marion undress through his peephole, his deviance could stem from a crippling loneliness and the knowledge that he cannot leave his ailing mother's side. Norman's actions may simply be a childish response to continued parental oppression.
It seems that his mother will have none of it. In her rage, the knife-wielding mother storms off to Marion's room. While Marion takes a shower, the mother descends upon her.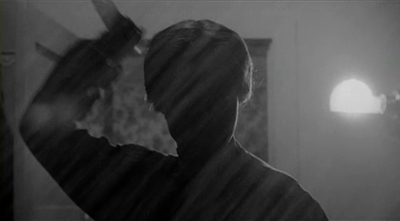 The Mother's Silhouette
A frightening image that ruined showers for a great many people. Hitchcock's use of loaded imagery made this moment vivid and indelible. The review Time Magazine ran in 1960 suggests that Hitchcock's camera shows "every twitch, gurgle, convulsion and hemorrhage in the process by which a living human becomes a corpse."
It has been discussed in many forums just how little Hitchcock actually shows. What he does show us plays in our imagination and creates a visual feedback loop with the onscreen images, which builds until we believe that what we saw was gruesome and gory. Hitchcock doesn't make his film gory; he makes it feel that way.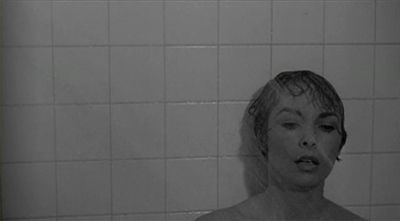 Marion Slides Down Shower Wall
What? We're less than halfway through the movie. How can our main character be dead?
Both "Psycho" and Jean Luc Godard's "Breathless," which was co-written by François Truffaut and also came out in 1960, employ this dangerous technique to shatter viewer expectations. From this moment in film history on any character, even the ones we are most attached to, is fair game.
Norman, acting as the ever-dutiful son, cleans up after the mother and sinks Marion's car and body in the nearby swamp. Marion's disappearance doesn't go unnoticed for long. Soon Detective Arbogast (Martin Balsam) is snooping around, and the body count grows by one.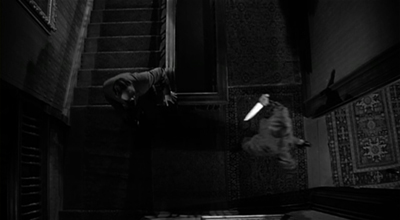 Mother Surprises Arbogast
Again Hitchcock employs his disorienting camera angles to build tension and increase the threat to his characters. The overhead shot of the mother running out to meet Arbogast on the landing and the composite shot of Arbogast falling down the stairs are two instantly recognizable classic shots from American film.
There are a number of twists and turns, but finally the less-friendly-than-we-once-thought Norman (and his mother?) is taken into custody. As we listen to the criminal psychologist and the local sheriff, Hitchcock reveals what's really going on behind the story.
While they talk Norman sits silently in his cell. He is determined to show everyone how docile and harmless he is, that he wouldn't even hurt a fly.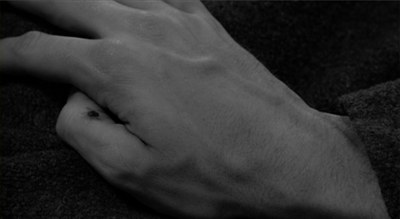 Norman and the Fly
Norman's psychosis lies deep within his docile exterior, and though it may lie dormant at times, it is always bubbling just beneath the surface. He smiles into the camera, at the audience, and Hitchcock makes this inner character visual by superimposing the death's head visage over Norman's.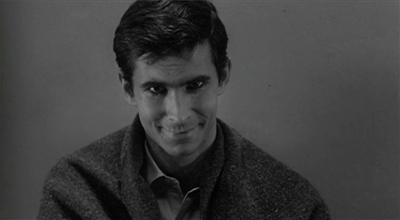 Norman Bates Death's Head
There are so many moments in "Psycho" that would become classic horror movie tropes. The slow turn and reveal, a victim's shocked stare as they get stabbed, but the most powerful one was removing the viewer's sense of security surrounding a story's main characters. Wes Craven would famously kill off a star early in "Scream," but it takes a true genius to do it first.
It is no wonder that Hitchcock, during the film's initial release, was so stringent about audience members not gaining admittance into the theater after "Psycho" had begun. When you're changing the rules of the film game, it's necessary to be a stickler about how we watch a film.
An important film historically, a cultural giant, and a thoroughly watchable and game-changing thriller, "Psycho" is welled placed towards the top of AFI's list.
Up next #13 "Star Wars" (1977)
1 Year, 100 Movies #15 2001: A Space Odyssey (1968)
1 Year, 100 Movies #16 Sunset Blvd. (1950)
1 Year, 100 Movies #17 The Graduate (1967)
1 Year, 100 Movies #18 The General (1927)
1 Year, 100 Movies #19 On the Waterfront (1954)
For links to #20-29, click on 1 Year, 100 Movies #20 It's a Wonderful Life (1946)
For links to #30-39, click on 1 Year, 100 Movies #30 Apocalypse Now (1979)
For links to #40-49, click on 1 Year, 100 Movies #40 The Sound of Music (1965)
For links to #50-59, click on 1 Year, 100 Movies #50 The Lord of the Rings: Fellowship of the Ring (2001)
For links to #60 – 69, click on 1 Year, 100 Movies #60 Duck Soup (1933)
For links to #70 – 79, click on 1 Year, 100 Movies #70 A Clockwork Orange (1971)
For links to #80 – 89, click on 1 Year, 100 Movies #80 The Apartment (1960)
For links to #90 – 100, click on 1 Year, 100 Movies #90 Swing Time (1936)