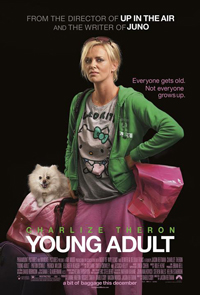 We asked Scene-Stealers readers to send in their worst high school photo and tell us what high school clique or group they belonged to for free passes to see YOUNG ADULT, starring Charlize Theron and Patton Oswalt, and directed by Jason Reitman. (Read my review of the movie!)
We also have a badass YOUNG ADULT prize pack for the lucky winner with the best photo and best answer to our uncomfortable high school question!
The winner not only gets passes to one of the funniest films of the year, but also a prize pack containing a shot glass, t-shirt, poster, and YOUNG ADULT coaster for the bitter, overgrown teenager in your life.
Below are the Top 5 winning photos, along with the caption they submitted.
Names have been omitted to protect the innocent.
First, the runners up:
Straightforward enough. Tough guy.
Yeah, right. This guy looks about as tough as the lead singer for Maroon 5.
Me too! I had a knee-slappin' good time in high school.
…and the WINNER is:
Congrats to you, Chad! (I can name you since your photo contained a caption–ha!) That deserves a shot glass and a coaster for sure! Email me your t-shirt size and we'll get you your YOUNG ADULT prize pack!
Thanks to everyone for playing — you all rock. Enjoy the movie!