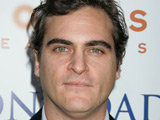 2/12 UPDATE post with more video here— Phoenix on Letterman, rap performance
OK, I don't know if the little amount of text I'm actually going to write for this blog justifies its own entry, but this is just too bizarre.
You read the headline correctly. Casey Affleck is directing a documentary that follows Joaquin Phoenix's self-imposed retirement from acting to pursue a career as a rapper. Today in Las Vegas, Phoenix is making his debut performance as a rap singer. Affleck's cameras sart rolling today. Sean "Diddy" Combs will reportedly produce the documentary.
What I can't tell is if this is a joke or not. It could be the most elaborate put-on in the short history of the mockumentary genre. If Phoenix played a rapper like Sacha Baron Cohen plays Borat, everybody would recognize him and know it's a joke. But if the actor plays himself pretending to want to be a rapper, everyone is forced to believe it and the illusion can then be successfully mined for laughs. It could be an Andy Kaufman-style hoax; one that Phoenix has been working on since he announced his retirement back in October.
[youtube 7z-kzE1eHls nolink]
Even in this video where he announces his retirement, it kinda looks like Affleck and Phoenix are acting for the camera. The interviewer doesn't even believe him. Could be a set-up for the movie!
[youtube kv73yzYuE_M nolink]
Andy Kaufman's wrestling antics were all pre-planned hoaxes. See him on "Letterman" above.
It has to be a hoax for the sake of a funny movie, because otherwise why would Affleck think that this is anything worth filming? If it is for real, and it's a disaster (and Affleck is counting on this for his movie), then he's going to mine Phoenix's misery, and that wouldn't be cool for two friends. (Casey is married to Joaquin's sister Summer Phoenix.)
Then, there is the other possibility: Joaquin Phoenix, the man who earned an Oscar nomination playing Johnny Cash (and singing his songs in the movie), is a bad-ass, talented rap artist. It's just that nobody knows it yet. Wow. Really?
[youtube 7F_Ikksg40U nolink]
UPDATE: Here is video of Phoenix's performance in Vegas, which seems to confirm my suspicions. You heard it here. I called it first! Not sure what they were thinking; it's too hard to get away with hoaxes like this if you're also using your celebrity. That's why Sacha Baron Cohen is in disguise. Kaufman did it, I suppose, but his stuff was slightly more in character for what people expected of him than Phoenix rapping. Also, media was not nearly as advanced and immediate in the 80s.