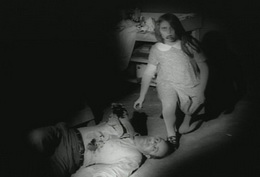 Two months ago, Scene-Stealers sitegoer Aaron Hale submitted his Top 10 Zombie Movie list. Rather than do a list of my favorite zombie movies, which would be very similar to his, I thought I'd write about something that gets to the very heart of why we love zombie movies so much, even though sometimes we don't even know it: The zombie metaphor.
Horror genres are known to go in and out of fashion. The slasher movie, for instance, is fading a bit right now, while (thanks to HBO's "True Blood" and the upcoming "Twilight" movie) vampires seem to be having a bit of resurgence of late. One genre, however, that never seems to go away is the zombie movie. The reason is simple. Zombies are easy stand-ins for our lesser selves. Essentially, zombies are reflections of who we are at our worst. Or best, depending on what glass you are viewing the metaphor through.
George Romero is the undisputed king of the zombie flicks. A political filmmaker at heart, he is pigeonholed as a horror director because his zombie movies are full of such prescient social commentary. The original "Night of the Living Dead" (1968) was made for $114,000, and its doom-laden atmosphere and breaching of several taboo subjects have caused its legions of fans to perceive it as many different things. It's a metaphor for homosexual repression, the civil rights movement, feminism, the counterculture, or an unwinnable war in Vietnam, depending on who you talk to.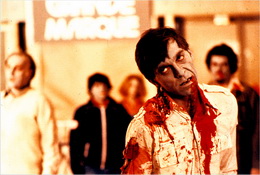 However you choose to view it, there is no doubt that its budget limitations only lent more authority to the stark situations that it presents its protagonists with. As zombies overtake the land and nobody is able to stop them, an unfit society's ultimate fate is to be devoured by, in essence, itself.
By the time Romero finally filmed a sequel, 1978's "Dawn of the Dead," he had turned his sights on rampant American consumerism. While stopping to outrun the ever-widening plague, Romero's characters hole up in the one place they feel safe—the mall. A wickedly funny critique of the nature of consumerism, "Dawn" has its main characters not only taking refuge in a mall, but fighting each other for possessions and territory that is completely meaningless considering the apocalyptic situation outside. The humans celebrate what they think to be their final victory in ridding the mall of zombies with a festive orgy of meaningless "purchase power." More zombies are soon discovered surrounding the mall, clawing helplessly at the glass and looking in on the humans. It is then that one of the partygoers has the astute observation, "They're us!" while his companion shivers and pulls up the collar on her new fur coat.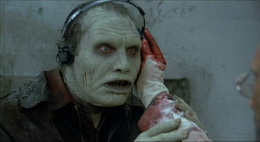 Zombies are the lowest examples of the lower class. They shuffle forward in a hideous lurch; their brains are turned to mush; they moan and groan, producing no intelligible speech; and are driven by one simple, base desire—to eat human flesh. Nevertheless, they seem to overpower their faster, supposedly smarter foes in the human race due to their sheer numbers alone. In Romero's "Day of the Dead" (1985), this class warfare is more evident than ever before.
"Day" takes place mostly in a military installation, where a sadistic and volatile Army commander—a satire that's devoid of any subtlety whatsoever—lords with glee over captured zombies. His increasingly psychopathic behavior becomes a problem for scientists trying to study one the living dad to try to figure out how to stop them. Like any good classic horror film (see "Frankenstein," "Freaks," etc.), pity grows for the monster, and as military and science turn on each other, it's the zombies we end up rooting for.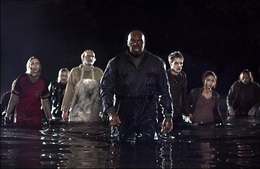 Rich humans are holed up in an indoor oasis and the poor humans must fend for themselves on the zombie-infested outside in Romero's satire of Bush-era America, 2005's "Land of the Dead." One significant change from his past films, besides a bigger budget and some "name" actors like Dennis Hopper and John Leguizamo, is that zombies are evolving. They begin to remember elements of their past human lives, and start to learn from their experiences. Of course, it is a disgruntled human who threatens the encased city with exposure, and when the zombies do eventually overrun, the humans discover—irony of all ironies— that the electric fence that previously kept the zombies out has become a wall that now prevents their own escape.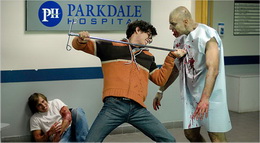 Rather than continue his continuing narrative, Romero re-imagined his zombie plague from a different perspective with this year's ill-conceived "Diary of the Dead," which attempted to address the current user-driven YouTube revolution and general societal mistrust of the government and its fear-mongering. There are some great ideas buried somewhere within, but the movie is too in love with its own out-of-touch, 60s-era sloganeering.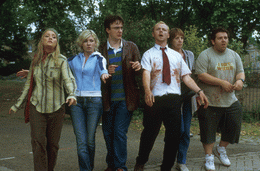 Famous directors like Peter Jackson ("Braindead" aka "Dead Alive"), Sam Raimi ("The Evil Dead" series), and Lucio Fulci ("Zombi 2") have also put their distinctive marks on the genre, but it was Edgar Wright's loving send-up/tribute "Shaun of the Dead" (2004) that ventured most closely into the metaphorical by presenting an appliance salesman who stands in for all of sleepy Great Britain. The scene where he goes down the block for ice cream, oblivious to the fact that his street has been turned into a zombie hell is a perfect metaphor for the way we can sometimes plow through our own daily routine with blinders on. Shaun eventually wakes up and fights to save his family and his relationship with his girlfriend—did I mention it was a comedy? The movie is now considered a cult classic and is partly responsible (along with "28 Days Later" and the "Dawn of the Dead" remake) for the recent resurgence in zombie films.
Which may explain why the King of Zombies, George Romero, is back in production again, this time on "Island of the Living Dead," due out in 2009.