Next week, on September 18, The Weinstein Company begins their long quest to make their money back on the much-hyped Quentin Tarantino-Robert Rodriguez box office failure "Grindhouse." Despite being one of the funniest and most exciting cinematic experiences of the year, the 3-hour 11-minute double feature proved to be the most expensive inside joke ever (Christopher Guest's niche mockumentaries don't cost nearly that much!), coming in with a reported $67 million budget.
In their first genius move (all sarcasm intended), the Weinsteins opened the uber-violet dark comedy on Easter weekend, where it grossed a paltry $11 million. The focus on box office being what it is, "Grindhouse" was branded a failure in three short days, and was forever doomed in the minds of much of the theater-going public. Eventually it passed the $25 million mark, but just barely.
All this was during the unlikely success story of the equally violent and pretentiously serious "300," a movie that grossed $210 million. The message was clear:
We Americans take our violence seriously, and we have no sense of humor about it. We want it to be simple, morally righteous and look like a videogame. Satire and irony should not interfere with our bloodlust.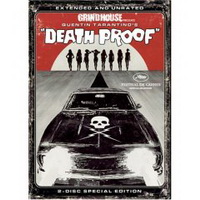 Somebody should have told this to the makers of "Shoot 'Em Up," which tallied a paltry $5 million this past opening weekend.Anyway, enough of my bitching at moviegoers who didn't "get" the brilliance of "Grindhouse," or were scared away by the prospect of seeing a film where the heroine has a machine gun for a leg. (I don't know how many times I heard the words "That looks stupid" from people I talked to about the movie. Isn't that the point?) What I am here to really bitch about is the way the studio has chosen to release the DVDs.
The two halves of the double feature are coming out separately; opposite from the order they appeared in the theatrical "Grindhouse." Tarantino's "Death Proof" is first, arriving in a Two-Disc Extended and Unrated version on September 18. Rodriguez's "Planet Terror" will follow on October 16 in the same format. According to Wikipedia, Best Buy will also release exclusive steelbook copies of both, each containing a bonus disc of unknown features.
Part of the fun of "Grindhouse" was the fact that it paid tribute to the 1970s exploitation film experience by including fake trailers (directed by Rodriguez, Rob Zombie, Edgar Wright and Eli Roth), 70s-style ads (for a "local" Mexican dive restaurant, among others) and vintage concession inserts. The "Death Proof" DVD will contain none of this, and the "Planet Terror" DVD looks like it will contain only the Rodriguez-directed "Machete" trailer.
It really stinks for the viewer that we will be unable to replicate the theater experience at home, although I assume that after they raise enough money from two separate DVDs, they will eventually do a 3 or 4-Disc Super Secret Special Theatrical Cut plus Extended Unrated Cuts version as well. The special features for "Death Proof" seem like they barely justify a second disc at all. Here's the lineup:
Grindhouse Presents Death Proof – Extended and Unrated (Two-Disc Special Edition) (2007)
Special features:
*) Never-before-seen footage including the "missing reel" (containing Vanessa Ferlito's unseen lap-dance sequence) as well as a black-and-white segment in the film's second act
*) Finding Quentin's Gals featurette
*) The Guys of Death Proof featurette
*) Kurt Russell as Stuntman Mike featurette
*) Introducing Zoe Bell featurette
*) Quentin's Greatest Collaborator: Editor Sally Menke featurette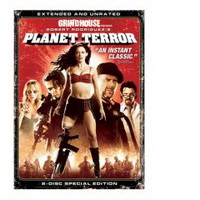 The good thing about this is that the extended cut of the film is the one shown at Cannes and across Europe. The possible bad thing about this is that the extended cut of the film is the one shown at Cannes and across Europe. European critics did not greet this version with much enthusiasm. In my view,
"Death Proof"
is proof positive that QT knows how to set up and then defy audience expectations. It feels just right at the theatrical length, and as much as I'd like to see the deleted scenes, I'd like to see the US theatrical cut again and own it on DVD.They'll probably pull a
"Lord of the Rings"
on us and release both the extended and theatrical cuts in a year. If that is the case, they would also have to delete just enough special features from the first version, and include some new stuff to make them just slightly different enough that obsessed fans will have to have both.Although the details of the
"Planet Terror"
DVD have not been officially released, Wikipedia claims it will have an extended cut, audio commentary with Rodriguez, deleted scenes, behind-the-scenes featurettes, trailers (including the faux trailer for
"Machete"
), and as with previous Rodriguez DVDs, 10-Minute Cooking and Film Schools. This should be taken with a grain of salt, however, because the site also reports that the "missing reel" of
"Planet Terror"
will be included in its extended cut. From what I know of the film, this is impossible because it was never even filmed.
"Grindhouse"
was a unique cinematic experience that will never be replicated at home. But then again, so was my first KISS concert. That didn't stop me from buying loads of KISS DVDs so that I could look back on my experience and remember it fondly. The original theatrical experience of
"Grindhouse"
should (and probably will, in a year or two) be released together so that fans of the movie can remember their theatrical experience at home too.Extended cuts are cool. These upcoming DVD versions may be even better than the original films. I don't know because I haven't seen them yet. But sometimes I'm not in the mood for longer versions of my fave films. Sometimes I'd rather watch the original
"Lord of the Rings"
cuts and not Peter Jackson's extended cuts. Hell, sometimes I barely have enough time to watch the theatrical cuts. (I haven't watched any versions of the "LOTR" trilogy in years.)Regardless, the only way to properly serve the cult fanbase of
"Grindhouse"
would be to ensure that all versions are available in one package, not spread out over two $22 padded double-disc sets and some inevitable hulking 4-disc version with slightly different special features a year or two down the line That is what Dimension did with Rodriguez's
"Sin City."
You can watch all the stories within the film as longer, separate entities or you can watch the shorter theatrical cut with everything cleverly thrown together.That said, they're probably going to get some of my money soon. I won't buy either of these 2-disc versions, but I may have to rent them just to see the extended cuts, unless I can borrow them from some other sucker. But I'll be waiting patiently for the big fat edition with my fingers crossed. The fact that the fake trailers (whom many critics and fans—myself included—mentioned as big highlights) are not scheduled for release yet tells me that they have something up their sleeve for later. They are counting on us not being patient and spending our money on
"Grindhouse"
three times.After waiting this long for the old school
"Blade Runner"
cuts, I believe they have underestimated my patience.
*** It won't do any good now, but here's some links to petitions that are against splitting the movie up:
A Petition against the Region 1 split of Grindhouse
The Split of GRINDHOUSE petition(UK theatrical)
Rebuild the Grindhouse in the UK
***And a petition for "Machete" to be made into a full-length feature. (Not sure if this is a good idea)