Back in the Dark Ages before VHS entertainment was affordable enough to be in every home in America, you had to actually go to the theater to see your favorite movie more than once. So that's just what I did. Being dropped off at the mall meant that while other kids were hanging out and "being cool," I was at the movie theater trying to cram as many movies in as I could before Mom picked me up.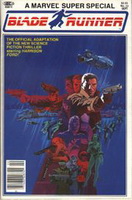 There was another, cheaper way to have a similar "movie" experience, though. If you wanted to remember everything that happened in the film and see an artist's approximation of the world of that particular movie, you could always buy the comic adaptation. The Marvel Comics Super Special, as it was often called, had been my favorite series of adaptations, ever since the first two KISS comic books.
When I was 11 years old, I was a huge fan of comic book movie/TV adaptations. I had the comic books for "Raiders of the Lost Ark," "The Empire Strikes Back," "Battlestar Galactica," even "Dragonslayer"– a comic so crappy that, to this date, I've never seen the movie! Sometimes the movie versions of comic books would actually beat the film's release date and you could read the book BEFORE seeing the actual film.
"Blade Runner" was kind of an anomaly among comic adaptations, though, because it wasn't your typical good guy trying to save the world or long quest for some mythical object. The journey itself was not an action/adventure, but more an inner journey that Harrison Ford's replicant chaser Rick Deckard had to take. Introspection was not something I was used to reading at age 11, and I remember thinking "What happened to Han Solo and Indiana Jones? This Deckard guy is kind of a loser."
Another thing–  it was rated-R. It felt pretty cool to have a comic version of a rated-R movie at my age. I remember a scene at a strip club with maybe a risque panel or two, but that was about it for what I would normally consider "adult" material. I figured it must be cleaned up a bit. Regardless, that was the only version of the movie I had known in 1982. I wasn't quite old enough or adept enough at sneaking in to R-rated movies yet.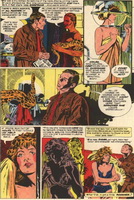 Little did I know, but some of the changes that were made for the comic came from the fact that they were working off of the shooting script! In effect, this makes the Marvel Super Special like a different cut of the movie. (That would be version #6, if you're counting, which I will be doing later in this article.)
I remember the movie being a flop, but I was still intrigued to see it because the comic was so weird. After my family finally got a VCR some time after 1984, I was able to rent "Blade Runner" from Popingo Video, which was a mere bike ride away. That was my go-to place for renting rated-R movies. They didn't care one way or another how old you were as long as you returned everything on time. So I rented "Blade Runner" on my parents' video card and watched it when they weren't around.
The movie's visual sense blew me away right away, as did the "futuristic" synth score by Vangelis (of "Chariots of Fire" fame). I wasn't quite sure I got everything out of it that I was supposed to, but I knew I'd never seen anything like it before. As I got older and wiser about the movies I loved, I kept renting it to watch again and again.
It turns out I wasn't the only one who was drawn into this strange future-noir, and director Ridley Scott was given a chance to right the wrongs that he felt the studio had done to him by releasing a Director's Cut that was supposedly closer to his original vision. It omits the happy ending and Ford's voice-over narration. By 1992, when this new version was released, I was old enough to know what a film noir was. I love voice-over narration noir-style,  and I loved it in "Blade Runner." I was sad to see it go, but happy to see a new version of the ending (especially one that seemed to suggest that Deckard may himself be the thing he was chasing– a replicant!).
Since then, the version I originally fell in love with has gone out of print, and I've gotten used to the Director's Cut. It looked like that was going to be the final word on "Blade Runner," and that was a shame. (see the restored Orson Welles cut of "Touch of Evil," which removes Henry Mancini's theme music from the legendary long opening shot! Blasphemy!)
Well, thanks to the explosion of DVD sales and the re-appreciation of older films in the mainstream marketplace, we are finally getting all the versions of "Blade Runner" in one place!
Kind of.
It turns out that I've never seen the Theatrical Cut! The version I saw growing up on VHS was the International Version– available to home video, laserdisc and cable TV. Warner Brothers is remedying the entire situation by releasing many different DVD sets that contain up to five– count 'em, five! — total cuts of "Blade Runner." I can finally see the original Theatrical Version I've never seen (even thought it basically amounts to a little less action scenes), the International Version I originally fell in love with, and director Ridley Scott has gone into post-production AGAIN and issued what he says this time is the Final Version. Along with the Director's Cut, you can find all of these on a 4-Disc Collector's Edition coming out in December.
But wait, there's more! A fifth Workprint Edition is also available, supposedly a radically different version that was pasted together before the final edit in 1982. Of course, this 5-Disc Ultimate Collector's Edition costs 40 bucks more than the 4-Disc version because it includes a bunch of "collectible" crap like a briefcase, photos, a little toy, and a signed certificate of you being a sucker from Ridley Scott.
I suppose I have 5 months to decide whether I need to see a "workprint" of "Blade Runner" for 40 more bucks. One thing I do know is that you can get the sixth cut of "Blade Runner"–the Marvel Super Special version (as one graphic novel or a 2-part comic set) on Ebay for about 10 bucks or so. Or, you can click here to read the entire thing online for free. God, I love the internet.
If you can't afford to be good to yourself, maybe Santa will be good to you. Here are all the gory details on the DVD editions coming out December 18 on DVD, from TheDigitalBits.com:
DETAILS OF BLADE RUNNER EDITIONSBLADE RUNNER: THE FINAL CUT SPECIAL EDITION (2-DISC)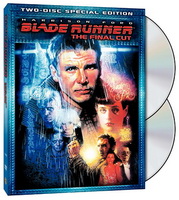 Disc One
RIDLEY SCOTT'S ALL-NEW "FINAL CUT" VERSION OF THE FILMRestored and remastered with added & extended scenes, added lines, new and cleaner special effects and all new 5.1 Dolby Digital Audio. Also includes:- Commentary by Ridley Scott

– Commentary by Executive Producer/ Co-Screenwriter Hampton Fancher and Co-Screenwriter David Peoples; Producer Michael Deely and production executive Katherine Haber

– Commentaries by visual futurist Syd Mead; production designer Lawrence G. Paull, art director David L. Snyder and special photographic effects supervisors Douglas Trumbull, Richard Yuricich and David Dryer

Disc Two
DOCUMENTARY – DANGEROUS DAYS: MAKING BLADE RUNNER

A feature-length authoritative documentary revealing all the elements that shaped this hugely influential cinema landmark. Cast, crew, critics and colleagues give a behind-the-scenes, in-depth look at the film — from its literary roots and inception through casting, production, visuals and special effects to its controversial legacy and place in Hollywood history.
BLADE RUNNER: COLLECTOR'S EDITION (4-DISC)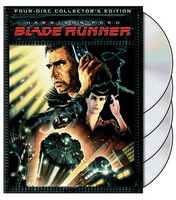 The Four-Disc Collector's Edition includes everything from the 2-Disc Special Edition plus three additional versions of the film, as well as an "Enhancement Archive" bonus disc of enhanced content that includes 90 minutes of deleted footage and rare or never-before-seen items in featurettes and galleries that cover the film's amazing history, production teams, special effects, impact on society, promotional trailers, TV spots, and much more.Disc Three
1982 THEATRICAL VERSIONThis is the version that introduced U.S. movie-going audiences to a revolutionary film with a new and excitingly provocative vision of the near-future. It contains Deckard/Harrison Ford's character narration and has Deckard and Rachel's (Sean Young) "happy ending" escape scene.

1982 INTERNATIONAL VERSION

Also used on U.S. home video, laserdisc and cable releases up to 1992. This version is not rated, and contains some extended action scenes in contrast to the Theatrical Version.

1992 DIRECTOR'S CUT

The Director's Cut omits Deckard's voiceover narration and removes the "happy ending" finale. It adds the famously-controversial "unicorn" sequence, a vision that Deckard has which suggests that he, too, may be a replicant.

Disc Four
BONUS DISC – "Enhancement Archive"

– Featurette The Electric Dreamer: Remembering Philip K. Dick
– Featurette Sacrificial Sheep: The Novel vs. The Film
– Philip K. Dick: The Blade Runner Interviews (Audio)
– Do Androids Dream of Electric Sheep Cover Gallery (Images)
– The Art of Blade Runner (Image Galleries)
– Featurette Signs of the Times: Graphic Design
– Featurette Fashion Forward: Wardrobe & Styling
– Screen Tests: Rachel & Pris
– Featurette The Light That Burns: Remembering Jordan Cronenweth
– Unit Photography Gallery
– Deleted & Alternate Scenes
– 1982 Promotional Featurettes
– Trailers & TV Spots
– Featurette Promoting Dystopia: Rendering the Poster Art
– Marketing & Merchandise Gallery (Images)
– Featurette Deck-A-Rep: The True Nature of Rick Deckard
– Featurette Nexus Generation: Fans & Filmmakers
BLADE RUNNER: ULTIMATE COLLECTOR'S EDITION (5-DISC)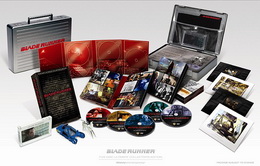 The 5-Disc Ultimate Collector's Edition includes everything from the previously described 4-Disc Edition, plus the ultra-rare, near-legendary WORKPRINT version of the film, newly remastered. The Ultimate Collector's Edition will be presented in a unique 5-disc digi-package with handle which is a stylish version of Rick Deckard's own briefcase, in addition each briefcase will be individually numbered and in limited supply. Included is a lenticular motion film clip from the original feature, miniature origami unicorn figurine, miniature replica spinner car, collector's photographs as well as a signed personal letter from Sir Ridley Scott.

Disc Five
WORKPRINT VERSION

This rare version of the film is considered by some to be the most radically different of all the Blade Runner cuts. It includes an altered opening scene, no Deckard narration until the final scenes, no "unicorn" sequence, no Deckard/Rachel "happy ending," altered lines between Batty (Rutger Hauer) and his creator Tyrell (Joe Turkell), alternate music and much more.

Also includes:

– Commentary by Paul M. Sammon, author of Future Noir: The Making of Blade Runner
– Featurette All Our Variant Futures: From Workprint to Final Cut