We had a contest to win passes to "No Strings Attached" and I asked our readers to tell us who their "no strings attached" hookup would be and why. Thanks to everybody who entered and the winners have all been emailed!
Our winner (who gets the prize pack too) shall go unnamed, for obvious reasons. She wrote:
"I want my sons teacher really bad and I would promise not to get attached and have no strings attached even though he is married and so am I. I think he needs to give me a private parent/teacher conference because the parents involvement in our kids education is what its all about, is it not?"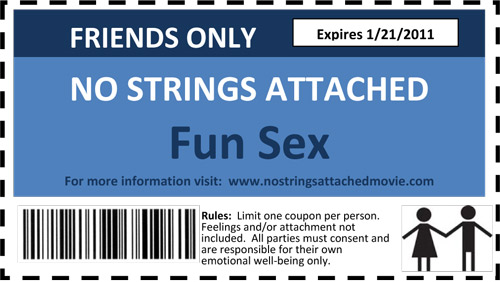 Some of our runners up, who all also won tickets to the screening:
My NSA partner would be one of my good friends. We're both in college and we've been really good friends since elementary school. We've both seen each other break up with our partners and more. I know that she's my friend, but I know she doesn't like the boyfriend stuff, which seems to ruin pretty much everyone's relationships because of jealousy and egos. It's just a nice stress reliever and worry-free way to just have sex with someone whenever you want without any emotional feelings. It makes it fun to have that someone on the side just in case.
Megan Fox. She's a stunner.
Well back in the day i was single i had fun sex with a guy name steve. we agree it was just sex he was just got a bad marriage and i just got out bad breakup; we just wanted to have fun.
My hand.
"Who: Vince Vaughn!
Why: Why not?!?!?!?!"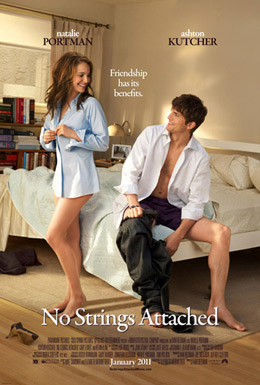 Joe Manganiello, because he is hot.
the dog
"I already have a NSA partner, but I'll never tell who ;).
My friend's wife. We have always flirted with one another from time-to-time. Just for fun. no strings attached, we could see what it would be like to take it to the next level.
Fred Durst- Just think he is sexy and love the tattoos
My ex wife. Although she's well beyond child bearing, she is still attractive and loves the single life which includes freely spending her share of my retirement.
An ex, because you would know exactly where you stand.
My best friends mom. Then, I could ask him, "Who's your daddy?" with no monetary obligation.
My ex-husband since we couldn't live together and we are far better people being apart but with lots of benefits. he is so much more sexier this way.
Halle Berry, because she is Halle Berry.
My best friend who I can confide in. We have already had the 'no strings' talk long ago and it is still working.
I would choose my single best female friend for a NSA partner because she's fun.
The hot guy from the gym… Not too smart, but could be fun
Betty White! She is HILARIOUS!
Tom Cruise, Because hes married!! Duh!!
Ryan Reynolds – obvious reasons 😉
My great friend — we have known each since the 7th grade and we are going on 25 now… we have great chemistry and love each other to pieces, and know that it would be better to be nsa partners and keep as friends then it is to date and go anywhere in any further relationship… and she has a great rack and i cant ever get over that!!
My friend. If we were both single, of course 🙂 He and I could always chill and never ever had any romantic attraction to worry about. As for keeping it that way…not so sure once sex is involved. I'm a cuddler lol
Timothy Olyphant – he's hot, he's funny, and he's on my 'list' so my husband can't be TOO upset!
Brad Pitt because he's so dreamy!!!
Eric Northman from trueblood- sexy man
Catherine Bell. Why? You're kidding right?
My roommate. Because it's cheaper than going out on a date and I can still wake up in my own house in the morning.
Who: John Cusack
Why: Why not!
[name removed] because she is one person I can always count on to be there for me no matter what is going on in her life.
John Mayer. Let's face it, the guy's attractive, he can sing AND play guitar, but the guy's not exactly 'relationship material' Just meet up, get the job done, move on.
My first thought would be a hot musician, but I am far too involved in that industry and would risk running into him again at some point. Aaaawkward. Of course, now that I think about my hot actor answer… well, he's in a band, but the chance of that band ever coming here? Nil. So, I'll say Michael Pitt. I've had a strange crush on him since Hedwig and the Angry Inch. There's something about skinny, awkward boys that gets me, I have to say.
Oprah. Because I'd want my illegitimate love child to be president and she could, at the very least, fund the campaign.
If I had to pick someone other than my partner it would be Milla Jovovich because there is nothing hotter than a chick with a gun
Elin Nordegren because i'd rather not be bludgeoned with a 9 iron if it didn't work out.
Jennifer Connelly. Shes Beautiful.
It would be my neighbor. We have been friends since I moved into the neighborhood back in 1998. She has a fantastic body and huge breasts. One day she came over to help with a party and saw my porn collection. Who would've known she was a freak. She would be a perfect match for the NSA because she doesnt want to get married and is dating 2 guys right now. So I know going into this it would be strictly freaky sex.
My best friend (who would also be my date to this movie). We've been friends since high school and I am completely comfortable around him, like I am with family members. And he's gay, so I think we'd be pretty safe as far as emotional boundaries go. Because of his sexuality, this awesome partnership won't happen, but it would be sweet if it did!
It would be one of my brothers friends because to them commitment is the last thing on there mind it would be easy to have a wild romance with out having to worry that the other person is going to get attached and clingy. It would run it's course and there would be no sitting on the couch eating comfort food because you're sad instead you had satisfying sex without having a relationship and move on to the next conquest or adventure. Meaningless sex is not a bad thing it can relieve stress and if the other person is okay with it what so bad about being in a no strings attached relationship and using each other for sex.
Paul Rudd, because he's a hott SOB that deserves a night of good lovin'! 'Slappa da bass!!'
I would pick Paul Giamatti I think he is cute and funny and would make a fun time.
Robert Pattinson, purely because he's hot and I prefer my men not to talk!
My good friend! He's handsome beyond belief with the body of a GOD!! I'm not exaggerating at all! We have always had this sexual energy and chemistry for as long as we've been friends. We hooked up on new years (it was AMAZING) this year and 11yrs before in high school. We always flirt but he said last year that, he is scared that he would fall in love with me. Which, I totally don't want because I just see him as a friend with some benefits! I just want the goods at no cost. Handsome he may be, but no strings is all I need! I just need that great hook up every once in a while! He handles himself VERY VERY well in the DRIVERS seat but if he could keep those feeling in check he'd be the perfect candidate!
Dated a man with a great body and the sex was just as good but a complete tool!!!! I guess it would be him…
Mila Kunis. Did you see Black Swan?
Erin Gray. Have you seen the DVDs of the TV series Buck Rogers?!?
I would choose Jake Gyllenhaal because he is super hot and funny.
An escort in Australia who knows exactly what to do and definitely does it very well. Almost no one here knows about her past, so I wouldn't mind marrying her if it became love against my original intention.