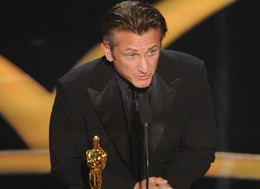 I told you it would be predictable, and it was. So much so that I predicted every major category correctly a month ago. For a complete list of the winners of last night's Academy Awards, click here.
The two categories that hung me up were Best Sound Mixing (which went to "Slumdog Millionaire," even though "The Dark Knight" won Best Sound Editing! wtf?) and Best Foreign Language Film. At least one of these could have been picked better had I read this interesting post over at Tom O'Neil's Gold Derby.
About the royally-screwed up Foreign Film category, Tom writes: "There are only a few hundred Oscars voters in this category, which is not listed on the main ballot. Only academy members who attend screenings of the five nominated films may pick the winner. For some bizarre reason, it's not OK to vote in this category based upon viewing DVD screeners. But that's fine in all other feature-film races." He knew "Waltz with Bashir" wouldn't win, and even knew "The Class" wouldn't upset it! Nice going, Tom!
We'd like to thank the thousands who entered our 2009 Oscar Pick 'Em challenge this year, and I wanted to let you know that we are hard at work tabulating all the scores. We will announce very soon who the winner of the 6-mo. Netflix subscription is.
Well, there was a lot of singing and dancing (though none of it by Peter Gabriel or Bruce Springsteen) during the telecast last night, and I have to say the set designs were pretty damned amazing. What did you think of either the winners or the telecast? Here's your chance to sound off right here.