Our guest review today comes from Scene-Stealers reader Jake Yadrich from Shawnee, KS, who was one of the 50 winners who saw an advance screening of the new Michael Bay-produced franchise reboot last Monday night. He is a big fan of the series, and brings all the insight that can only come from someone who owns the "Friday the 13th" DVD box set. Soon, everybody will be able to share quick quotes and reviews with our upcoming Scene-Stealers redesign, so thanks to Jake for sending in this review, and thanks to everybody else for their great comments!
Here's Jake: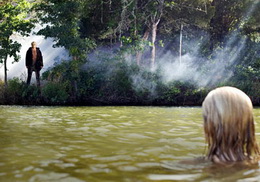 To say that "skeptical" was my feeling leading up to the screening of "Friday the 13th" would be an understatement. Anyone with an appreciation of horror will tell you that a majority of the remakes in recent years pay little homage to their predecessors (anyone remember "House of Wax"?) However, I was pleased with director Marcus Nispel's resuscitation of one of horror's classic characters.
This new "Friday the 13th" spends little time rehashing the story most of us already know:
1. Jason drowned.
2. Mom is pissed.
3. Counselors die.
4. Mom loses head.
5. Jason is pissed.
Within minutes, it is present day, and hormonal campers are already settling down for a weekend at beautiful Crystal Lake, a place where nothing bad EVER happens. Cue the hockey mask!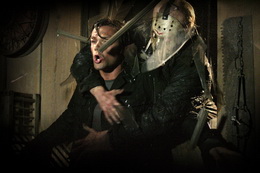 From then on, the film weaves homicides, inexplicable nudity, and comedic dialogue in a manner that would make Betsy Ross proud. And unlike the last few chapters in the series, there are no telepathic nail shots, Times Square beat-boxers, or androids with machine guns … just simple, homicidal tendencies carried out by an angry masked man.
But what makes this installment of "Friday the 13th" more appealing is Jason Voorhees' rebirth as a somewhat cunning/methodical psychopath. No longer the man who "walks down" his victims, we now see Jason using tunnels, tripwires, and homemade alarms to track his victims. Seeing Jason actually running down a few of these kids provided some of the more intense moments of the movie. And of course, our co-eds meet their demise in a variety of ways. Some are rather simple, some are more creative (it wouldn't be Jason otherwise).
Rather than tread the waters of backstory like Rob Zombie's "Halloween" or Nispel's previous remake, "The Texas Chainsaw Massacre," "Friday the 13th" lays out a simple storyline. Despite a few minor plot twists here and there, the film stays on target and will entertain both horror fans and the curious alike. By taking a few aspects from the original film(s), and adding current elements to the characters, "Friday the 13th" delivers on its purpose: to reintroduce a horror icon to the modern world and maintain credibility among the horror faithful.
The franchise is based on a series of toys from what toy company?