Fox Searchlight Pictures is offering a new Wes Anderson-directed short film (starring Jason Schwartzman and Natalie Portman) as a free download today at iTunes.com.  It is also being shown in bigger cities at the shiny white Apple retail stores, if you want to huddle uncomfortably around a video screen with a bunch of people who are looking for iPhones and waiting for one specific steamy scene.
"Hotel Chevalier" (reported to be somewhere between 13 and 17 minutes, depending on which site you're on) is a prologue to his new road trip comedy "The Darjeeling Limited," starring Schwartzman, Adrien Brody and Owen Wilson.
Originally it was reported that "Hotel Chevalier" would appear before "The Darjeeling Limited" in theaters, but it seems as though Fox has now decided against that. The short was envisioned as an introduction to the feature, kind of like a short story.
In fact, he shot "Chevalier" in late 2005 — around the time he had begun drafting the "Darjeeling" screenplay with Jason Schwartzman and his cousin Roman Coppola and nearly a year before that movie went into production — making the shorter film a kind of working draft for the feature.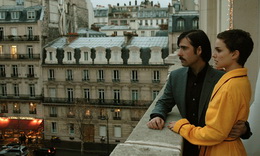 Boo to Fox for not putting this before the feature film in the theaters. If they are worried it would be too weird or too long to have this and the full-length movie in the same showing, they need to consider that "The Darjeeling Limited" has, ahem, limited appeal anyway. Nobody is going to wander in off the streets to see a movie about three brothers travelling through India trying to rekindle their relationship except for people that know its a Wes Anderson ("The Life Aquatic," "The Royal Tenenbaums," "Rushmore") movie. So if Wes Anderson fans are the only ones who will see the pic, why not bend over backwards to please them and give them more Wes Anderson filmage for their buck?
In the fantasy world that I sometimes choose to reside in, your local theater would eliminate all the trailers and 10 minutes of crappy ads from Axe Body Spray and "Coke Fresh Filmmakers" and actually do something special for the audience. What a wonderful world…
I wonder if this is partly some post-"Grindhouse" fallout as well? Maybe Fox thought it was a good idea up until the highly-touted Tarantino/Rodriguez double feature bombed.  For more on the DVD/theatrical debacle that is "Grindhouse," click here. Anyway, I'm sure it will make a fantastic DVD feature. (If they release "Hotel Chevalier" separately, I will chew my own leg off.)
Until then, I'm off to iTunes to watch something that is–no doubt– beautifully and deliberately shot in sumptuous widesceen images and meant to be projected on the big screen. (Another pet peeve of mine– watching movies on computers. Ugh.)
There is also the small matter of the much talked about love scene in "Hotel" in which Portman is supposedly nude. I'm not going to go into this much except to say this: If so many people's prurient interests are aroused by this prospect (and how will they exhibit that scene at Apple retail stores?), then it is double stupid that Fox would give it away for free rather than put it before the film in theaters! Arrgh. Dumb dumb dumb.
It is hilarious to think about this: The kind of person who would go see "Hotel"/"Darjeeling" just to see Natalie Portman naked would then actually be subjected to something as odd as a Wes Anderson film. They probably wouldn't know what hit 'em.