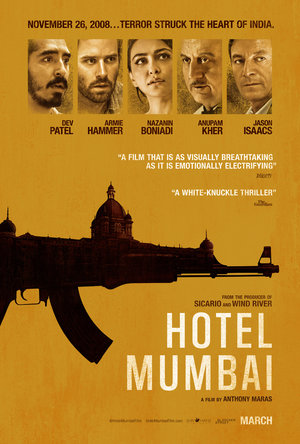 [Rating: Rock Fist Way Up]
As a parent, I'm forced to watch most of my movies at night. That's usually not that big of a deal, unless I watch something like Hotel Mumbai, a film that kept me up for hours after watching it because of how riveting this story of survival is told.
There's a saying at the Taj Hotel that the "guest is God." That was evident in November 2008, when terrorists attacked the hotel, killing 31 people. It's estimated that 250 people were rescued, and the film shows that number would not have been so high if it weren't for the bravery of the hotel's staff.
Among the dedicated hotel staff is renowned chef Hemant Oberoi (Anupam Kher) and a member of his wait staff, Arjun (Dev Patel) who both chose to risk their lives to protect their guests.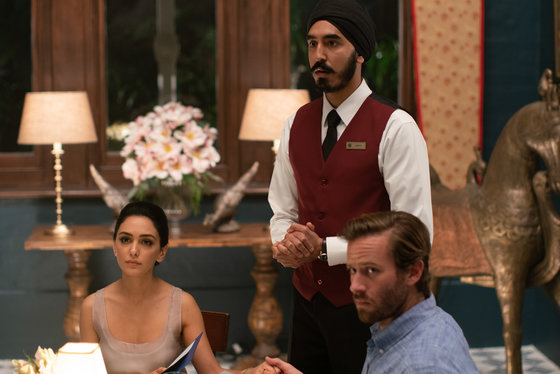 This hotel was targeted because of the clientele of its guests. We follow David, Zahra, their newborn and their nanny, Sally (Armie Hammer and Nazanin Boniadi, and Tilda Cobham-Hervey, respectively) as they begin their honeymoon in paradise and watch it end in hell. David and Zahra are at dinner when the terrorist attach begins. Not knowing what is happening with his child, David leaves his wife in order to make sure their newborn is safe.
After killing everyone in the hotel lobby, the terrorists go room to room, floor by floor, shooting and killing guests. I'm going to reference being a parent again real quick because as Sally is protecting the newborn, and hiding with him in the closet, praying he doesn't start to cry, I was on the edge of my seat, my heart racing, hoping nothing bad would happen to them. Director Anthony Maras was able to create one of the most intense scenes I've seen in a movie in the past five years.
Let's revisit that phrase uttered by the hotel staff for a second. "The guest is God." The staff of the hotel are all Indian, the guests are people of power and wealth. When we first meet Arjun, he's getting ready for work in a shack of a home. He would never be able to stay at the hotel. Once the terrorist attacks are underway, some of the guests appear visibly agitated and scared. They don't know the difference between Arjun's beliefs and what the terrorists believe, they just see skin color.
While hiding in a secluded area of the hotel, an older white woman asks chef Oberoi if he could get Arjun remove his turban. She doesn't know the significance behind the turban, just that it reminds her of the bad people. Arjun doesn't get upset. No, he calmly walks up to the woman and peacefully describes why he wears a turban and the importance of it to his people. But, he says, if she wishes, he'll remove it. The guest is God and the staff went to go great lengths for them to see that.
Reviewing movies allows me the pleasure of watching all kinds of films and somehow this week, I was able to watch Dev Patel in two different roles, The Wedding Guest being the second film. I'll admit, neither of these movies would be my first choice if I'm going to the theater. But I'm glad I was able to watch these two movies, especially Hotel Mumbai. The beauty of the Taj Hotel and the bravery of the staff juxtaposed with the horror of the terrorist attack equals an amazing story that needed to be told.