I woke up this morning to discover that a sequel to Joss Whedon's much-beloved cult classic "Serenity" may be in the works again!
I've heard these rumors before, but Moviehole.net had an interview this morning with Alan Tudyk, who played Wash in the movie (and the cancelled Fox TV series "Firefly" that it was based on), and according to a comment by his interviewer on FirstShowing.net:
"No, he wasn't taken out of context – Tudyk's pretty certain SERENITY 2 is on the books again."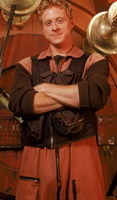 Here are some excerpts from the original interview:
"They had to put [the new DVD] out because they've been selling out of the other one and so Universal's like 'So, let's do another one'. And now… there's now a chance there's going to be another movie."
"Everybody in the Firefly crew – and that includes the ones who died in the movie – are excited about the prospect of doing another."
"Serenity" holds a special place in our hearts here at Scene-Stealers. Much has been written on the film and even more said in a three-part on-camera movie review (extended due to an heated, ongoing unresolved argument between J.D. and myself).
You may recall in my original print review, I said that it had re-invigorated the sci-fi genre and put George Lucas' new "Star Wars" trilogy to shame. I gave it a rock fist way up and hoped that it would turn into a franchise. Later that year, it appeared at number six on my list of the Ten Best Movies of 2005.
Alas, after our theatrical screening of the movie, J.D. did not feel the same way. In his print review, he was less than excited about "Serenity,"  although he gave it a very minor rock fist up. We filmed our on-camera review and got into it (and out of it, spending much time debating the merits of "Star Trek," among other things) over three separate installments.
Part One (video)      Part Two (video)     Part Three (video)
But then something happened.
After renting the movie on DVD, J.D. has an epiphany. He got it. He was hooked. I'll let him tell you in his own words, but he liked "Serenity" so much that he ended up buying the entire "Firefly" TV series on DVD! He felt so bad about his original review that he issued a retraction called "In Defense of Watching Something More Than Once." Later that year, "Serenity" turned up as a runner-up on his Top 10 list of Overlooked Movies. Two days ago, the film appeared at number nine on his Top 10 Directorial Debuts.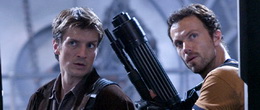 Anyway, it looks like Universal is pretty interested in making another installment. In the original article, Tudyk mentions that a straight-to-DVD movie would be a possibility too. I'm totally fine with this, as creator Joss Whedon ("Buffy the Vampire Slayer") is used to working with a tiny budget from all his TV work. But I can't help but want them to give him another crack at a theatrical release.
Lead actor Nathan Fillion was terrific in "Waitress" earlier this year, and that movie is also poised to become a cult hit on DVD soon, so maybe his stock will rise enough  to elevate the movie to a theatrical release. Ultimately, if the two versions of the movie on DVD and the "Firefly" TV series continue to sell well, I would think it would be impossible to ignore.
After all, getting people to see it is the big battle. Or, in J.D.'s case, getting them to see it twice. If you know someone out there who didn't like it the first time, try again. Then tell them to buy their own copy and maybe we'll all get lucky and receive one more adventure from Mal Reynolds and the crew.