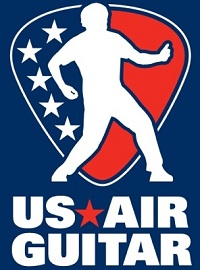 Those of you who may only know me as a movie critic or a musician may not also know my other hobby — and sincere passion (especially in the face of upturned noses and pure hate):
Spreading the gospel of competitive air guitar.
Ever since I saw the brilliant and funny 2006 documentary Air Guitar Nation in 2009 (what took me so long?), I have been hooked on this ever-growing sport of champions.
The ultimate goal, of course, of any competitive air guitarist is to win the World Championships in Oulu, Finland, but those of us who practice the air arts hold a deep appreciation for our contemporaries.
That's how this list was born:
This Friday, I'll be defending my title as Kansas City Regional US Air Guitar Champion at The Beaumont Club in Westport.
In honor of Friday's show and the 2012 US Air Guitar season, I present to you the Top 10 U.S. Air Guitarists of All-Time. This Top 10 list was written before the start of the 2010 season and it might have some changes on it if I re-did it today, but I don't have time for that because I'm frantically working on my new routine for Friday.
There's a video for each air guitarist, so check it out and see if you don't catch the fever for one of the most ridiculously fun pastimes the world has ever created. And of course, nobody does it like America!
Read and watch the Top 10 U.S. Air Guitarists of All-Time.