The Twilight Saga: Breaking Dawn opens today–as millions of Twilight fans flock to get their fix of Edward, Bella and Jacob. I offer my personal picks for the Top 5 Twilight Spoofs on the web in honor of Breaking Dawn.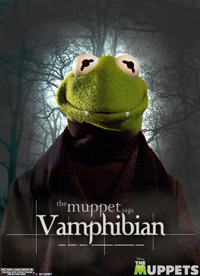 I'm a card carrying Twilight fan (don't judge me).  However, I see the humor in the frenzy that surrounds Twilight. Enjoy my picks for the Top 5 Twilight Spoofs on the Web.  It doesn't matter if you're Team Edward, Team Jacob or Team Get Those Twihards Away from Me–you'll love this list!
#1-The Muppets Do Twilight – The Muppets make fun of Twilight via movie posters!  Posters of Miss Piggy as Bella Swine, Kermit the Frog as Vamphibian, and Rowlf as WereRowlf were unleashed this week.  Even the most diehard Twilight fans can't resist Kermit and Miss Piggy.
 #2-SNL "Firelight" Parody – The Saturday Night Live parody of Twilight starring Taylor Swift is classic!  The SNL Digital Short Firelight is still funny!
#3-Twilight SomeECards
– If you don't like
Twilight Someecards
then there is something wrong with you. This sick and twisted card company carries some of the funniest stuff on the web about
Twilight
and the Twihard fan base.  Check out the new line of
Twilight Breaking Dawn SomeECards
, you won't be sorry.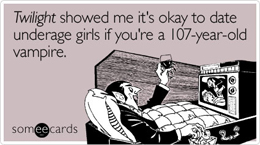 #4-How Twilight Works by The Oatmeal – The Oatmeal is one of my favorite online destinations when I'm in the mood for quirky humor.  See the entire explanation of How Twilight Works at the end of the post.  Do not pass GO. Do not collect $200.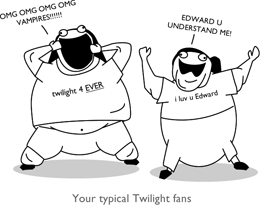 #5 -Twilight The Puppet Saga – Twilight is a guilty pleasure but Twilight + Puppets is over-the-top fun.  It's wrong yet so right! I am torn because I AM one of the Twilight-obsessed but this puppet parody rules!

Okay I lied. I couldn't get the download at The Oatmeal to work, but here's the link to How Twilight Works.