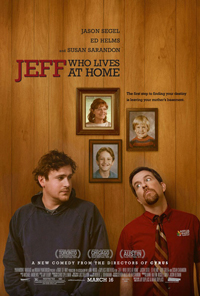 Why the Top 10 Movie Brothers, you may ask?
The new movie Jeff, Who Lives at Home, directed by the Duplass brothers and coming out this weekend, stars Jason Segel and Ed Helms.
Not only is it directed by two brothers, but it's about two brothers — one a 30 year-old still living in his parents' basement (Segel), and the other (Helms) struggling with a failed marriage.
That made me think of a great Top 10 list from New York-based contributor Sean O'Connell called Top 10 Movie Brothers.
In order to qualify for this list, the Top 10 Movie Brothers had to be established as brothers early on in the movie.
There can be no secret revelation at the end of the film—for instance, at the end of Goldmember when it's revealed that Austin Powers and Dr. Evil are brothers.
Similarly, Christian Slater revealing to Kevin Costner that he is the one and only brother of Robin Hood in Robin Hood: Prince of Thieves is also disqualified from this list. (For that and many other reasons as well.)
So until Quentin Tarantino makes the long overdue Vincent & Vic Vega film, here are the Top 10 Movie Brothers of all time.