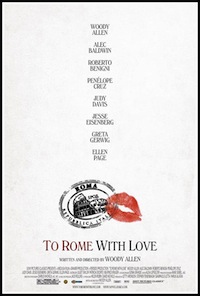 For newcomers to Woody Allen's work, who only know him for his recent success Midnight in Paris, To Rome with Love will come as a surprise, but to those who know more of Allen's films, especially his lighter more absurd pieces like Every Thing You Always Wanted to Know About Sex * But Were Afraid to Ask or Zelig, To Rome with Love will feel welcome and familiar.
Comprised of four unrelated short stories, all run the length of the film and are intercut with each other, To Rome with Love allows Allen to follow his whimsy and explore ideas that may not foster a feature length story, but offer a good laugh or a bit of introspection. Each story is independent of the others, except that they all occur in Rome under the watchful eye of a traffic policeman.
This form does not allow for a single cohesive narrative to develop, but does allow Allen the flexibility to examine a number of different situations and the questions and consternations that arise from them.
In the first story Allen introduces, young Michelangelo (Flavio Parenti) and Hayley (Alison Pill) who are engaged to be married. All that remains is for their parents to meet.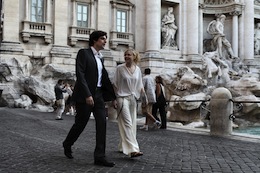 Hayley's parents are flying in from New York. Her father, Jerry (Allen), a former A&R man for various classical artists, discovers that Michelangelo's father, Giancarlo (Fabio Armiliato), has a beautiful singing voice and wants to set up an audition. The only problem, Giancarlo can't sing anywhere, but in the shower.
In the other developed story, John (Alec Baldwin), a successful architect vacationing in Rome, runs into a younger version of himself, Jack (Jesse Eisenberg), who must decide between his feelings for his girlfriend Sally (Greta Gerwig) and her more exotic and flighty friend Monica (Ellen Page).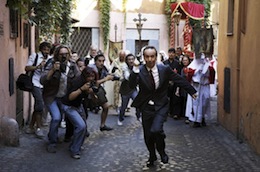 Allen uses these short stories to explore the tangled mess that develops when families are combined through the marriage of adult children, or as with John and Jack's story, allows age to speak directly to youth in the form of an onscreen narrator.
With the other two stories in To Rome with Love, Allen allows a couple honeymooning in Rome to meet their objet de désir to test the bonds that brought them together. Finally Leopoldo (Roberto Benigni), a boring middle class Italian nobody, finds himself unexpectedly famous and must deal with the pressures of his fame.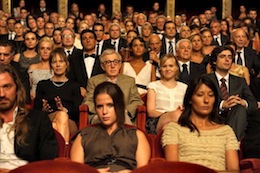 These themes, which Allen has explored more thoroughly in other films, here unfold, reveal themselves, and then disappear into the ether. Some moments work better than others (and some work very well indeed), but each moment moves quickly to the next, and we're never left in the quieter moments for very long.
The overall result of Allen's collection of cinematic short stories is a funny film whose contrivances make no excuses for themselves, and whose jokes have a substance that a viewer could ponder for sometime after leaving the theatre.