I got this email the other day from a publicist regarding the impending release of the new Joe Wright ("Atonement," Pride & Prejudice") movie "The Soloist," starring Robert Downey Jr. and Jamie Foxx. At first I thought the film had won some film festival or something, but after a little looking around, I realized that the Truly Moving Picture award was something bestowed by a charity group (with an .org URL) that calls itself Heartland Truly Moving Pictures. Their goal, as quoted on their website, is to "influence the making of more films with positive messages." Read this insidious crap below: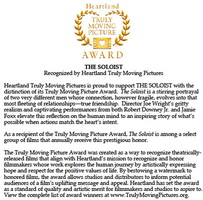 Everything about this offends me. What we really need as a society is for a group of people to mount their moral high horse and start telling the rest of us what is "truly moving." What's really sad is that Hollywood pictures covet this designation because it helps sell tickets to their movies. You get the approval and recognition of the nonprofit organization Heartland Truly Moving Pictures, and you're instantly guaranteed some kind of ticket sales.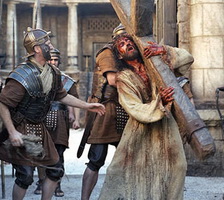 Do you remember when Mel Gibson's grisly and violent (and R-rated!) "The Passion of the Christ" came out and religious groups bussed in huge amounts of people to see the film? I saw the movie on opening weekend and there were little children in the theater screaming in the aisles because their parents refused to let them leave the theater. Apparently the incredibly graphic torture scenes (you mean the entire film?) were "required viewing" in the eyes of their parents. That was more disturbing than anything I saw onscreen that night.
Well, TrulyMoving Pictures.org has a list of Truly Moving Pictures and guess what's on it? Big surprise: "The Passion of the Christ"! I wonder what this group would think if they knew that their "truly moving film" was in part responsible for a huge surge in anti-Semitic crimes?
So who decides what films are "truly moving"? If you register on the website, you can become a member and "vote in polls." I don't think those polls determine officially recognized films, though, because "The Soloist" isn't even out yet and its already a certified winner. The site says the list is "constantly growing," though, so who's voting?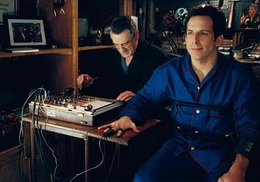 You can be a part of this group for the low, low price of $35. (As long as you're a student, senior, or educator. For everybody else, a donation of anywhere from $50 – $9,999 is needed to join the group's Circle of Friends, which makes it way easier than getting into Robert De Niro's scary Circle of Trust.) But does that guarantee you a vote?
The "About Us" page has a little more information: "By bestowing a watermark to honored films, the award allows studios and distributors to inform potential audiences of a film's uplifting message and appeal. Submissions are received directly from studios and producers for consideration. The award is given prior to the film's release with the goal of encouraging moviegoers to support the film, especially on opening weekend."
Wow.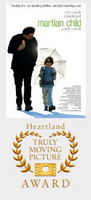 Well, it still doesn't say who or how many people are voting, but their endgame is right there, plainly stated. They want to influence box office receipts on opening weekend so that everyone else will see how successful a "truly moving picture" is and go out and see it for themselves. How'd that work for ya, "Martian Child"?
My biggest problem here is that this group, which sponsors the Heartland Film Festival in Indianapolis every year, is purporting to have the "be all/end all" list of inspiring movies. Every page on their website has a link to "The List." What's the difference between this list and the AFI Top 100, you may ask? Or my own personal Top 10 of the year?
Well, first off, I don't have a strictly defined moral agenda and neither does the AFI. Every single one of the films on my 2008 list moved, challenged, or inspired me, and I guarantee you that the AFI list does the same thing for its wide variety of polled individuals. The people who read the AFI list are looking for movies with any kind of cultural significance rather than some simplified, cliched moral highmindedness.
"Slumdog Millionaire" somehow didn't make the Heartland list, yet millions of people worldwide watched this little movie come out of nowhere and delight and inspire them all the way to a Best Picture win and over $311 in global box office. How is that movie not "inspiring" enough? Why is it not on the "approved" list?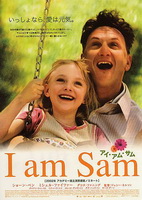 Did Fox Searchlight overlook this potential audience and forget to submit it? Did it lose out on moral endorsement from Truly Moving Pictures because it was screened too early, before anybody ever thought it was going to make so much as a dent? Was it because its warts-and-all portrayal of a pumped-up Dubai culture was too morally complicated for the group to digest? Or was it something as simple and "offensive" as the main character falling into a giant pit of human excrement?
Whatever the reason, the Truly Moving Picture list seems to celebrate movies that subscribe to their particular worldview. I think "Dr. Strangelove" is a truly moving film. I need to be able to laugh at the power of the military-industrial complex. That's how I deal with my growing, nagging fear of it. Stanley Kubrick parodied this problem back in 1964 and its still relevant today. Just because it doesn't give me warm fuzzies at the end like Truly Moving Picture "I Am Sam" doesn't make it less moving, only less manipulative.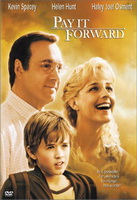 I can't imagine what a limiting world the members of this organization live in. Should the moral intentions of a film be singled out over its artistry or lack thereof? Are "moving" films not allowed the moral ambiguity that makes our world such a fascinating place to live in? I'm sure Mimi Leder wanted to make a film that inspired people to do good deeds when she directed the alarming Truly Moving Picture "Pay it Forward," but shouldn't she also be taken to task for insulting every member of the audience with the movie's cheap tactics, arrogance, and triteness?
How insane is this? This group is a nonprofit, collecting money from donors so they can tell more people to go see movies they like! Sounds fun.
I hereby announce the formation of my own group of moral movie crusaders. We are here to save the world from overwrought, condescending, self-righteous claptrap and will support the films that we like by talking about them incessantly on the Internet and going to see them if we get around to it. If not, we'll rent them on DVD or download them if that comes first. We are a complicated and diverse people and we like our movies to reflect that. In fact, we can't agree on anything. We are also way less motivated and couldn't muster up a busload of movie watchers if our life depended on it.
We are the tax-deductible nonprofit group known as the Scene-Stealers, and we are now taking donations. Put your money where your morality is. Email your intended amount of donation to eric@scene-stealers.com today and we can make our own "inspring" movie posters that feature characters gazing upward with blissful, saintly looks on their faces.