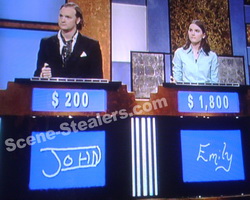 Wow. I've been on my fair share of game shows, but this is something special. He may not have won the game, but John certainly made an impression this afternoon on "Jeopardy."
It's not just his attention-grabbing sparkly new scarf either. Check out the way he wrote his name.
Well played, sir.
It kind of reminds me of the end of "Mallrats," only way more subversive. Way to go, John!