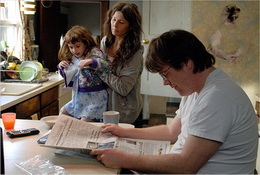 The most adventurous script of the year comes from–and this is no big surprise–the man who brought us "Eternal Sunshine of the Spotless Mind" and "Adaptation." Charlie Kaufman's directorial debut, however, "Synecdoche, New York," has been met with even more love it/hate it fervor than those previous two works. Now, with the publication of an article by New York Times movie critic Manohla Dargis, I think it's time for people to quit whining about it and start thinking about it.
The movie presents terminally depressed theater director Caden Cotard's (Philip Seymour Hoffman) life starting around the moment that his wife and kid pick up and leave for Berlin. (Read my initial review of the movie, which landed at #2 on my Top 10 of 2008 list.) After this event, his life becomes the grand theater production he's never had the guts to put on; his big artistic statement to the world. (SPOILER ALERT!!!) Dargis' theory is that most of the movie takes place in one minute, between 7:44 a.m. and 7:45 a.m. That minute, she says, occurs right before his death as he dreams. She writes:
"The curtain rises on his production, as it were, with a fade up to a digital clock reading 7:44 a.m. The film cuts to a shot of a man we soon come to know as Caden lying in bed, except that it's not him, but his mirrored reflection. (Of course the man is really Mr. Hoffman, but let's avoid that rabbit hole.) As he sits up, there is another cut, this time to a wider shot that shows his entire body framed (and slumped) inside the mirror, where he sits listening to a woman on the radio with a German accent talking about autumn as "the beginning of the end." The radio host has announced that it's Sept. 22, "the first day of fall."

It's also the first day of Caden's fall, the day his life begins to collapse, or, depending on how you read the signs, the day he dies. (Another clue: Cotard is the term for a delusion of people who believe that they are dead.) Near the close of the story, after Caden has grown old and stooped and people he loves have died, Mr. Kaufman suggests that the entire film has been a dream upon dying. As Caden totters around the enormous theater set that he has spent half his life creating, there's a shot of a clock with its hands set to 7:45. A woman says in voice-over: "Now you are here, it's 7:43. Now you are here, it's 7:44. Now you are" — there's a pause — "gone." And then he is."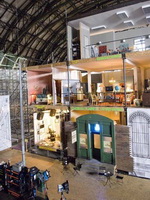 The first thing I thought of when I read that was that this theory is a lot like what I purport to have happened in David Lynch's "Mulholland Dr." The fantastic thing about both films is that there are layers upon layers to peel back and reveal. Unfortunately, I didn't get a screener DVD of "Synecdoche" (which shows the studio's lack of support for an Oscar campaign), so I haven't had a chance to view the film multiple times. Well, because i didn't get a screener and the fact that I had to cram a hundred other movies into my skull last month for awards consideration.
Roger Ebert, another critic who adored the film, has his own theories as well. I was pleased to see Ebert carrying on in his journal about what I always say to people who don't like movies where they don't understand exactly what has happened. As I wrote in my review:
"There is no way to dissect 'Synecdoche, New York' in order to find out 'what really happened'; no surefire method to construct a realist narrative. But when the screen went white at the end, I felt as if I'd viewed a very intimate and somehow complete snapshot of one man's life and how he saw the players in his story as they weaved their way in and out. Kaufman has succeeded in portraying an unflinchingly honest and deep examination of the soul of a person without jumping through traditional hoops of "this happened here, this happened next.'"
Though he hails it as a "masterpiece," Ebert himself admits frustration the first time he watched "Synecdoche." But he has resigned himself to a certain amount of narrative confusion. If we are to see Caden's life through his eyes, then shouldn't we be as disoriented as he? When the movie comes out on DVD, I suppose there will be all kinds of people out there looking for clues that point to the answers. I'm sure I'll do it as well. My point is: It's that journey of discovery that makes movies like "Synecdoche" what they are. If we figured out what we wanted to know then we wouldn't "want" anymore.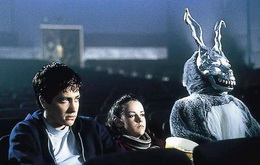 A perfect example is "Donnie Darko." I watched Richard Kelly's time-traveling teen angst flick over and over again after my first viewing in a theater to try to figure out its mysteries. Each time it ended, I felt a little closer to the film, but never too much closer to exactly what was going on in a realist way. Unluckily, Kelly recut the film and explained virtually everything that he intended on a Director's Cut DVD. I haven't watched it since. I didn't even buy the director's cut. I refuse to watch it again.
His idea of a comic-book construction and feel didn't jibe at all with the way I had framed the film. Kelly even suggested that the entire film might have been a dream in one single moment like Dargis suggests for "Synecdoche" and I look at "Mulholland Dr." In "Darko," that doesn't work for me, though. I prefer to take the wormhole in time stuff a little more literally (maybe it's my inherent love for idea-driven sci-fi) and the teenage drama as a metaphor.
Anyway, movies are all about interpretation and they don't have to mean one thing. They should mean different things to different people. As Perry Farrell once sang in "The Mountain Song," "Everybody has their own opinion." (Of course he also sang "Jumping out of my flesh and I say 'ahhhhhh'!" but that's another story.) Ebert put it best in his long-winded rant:
"Last Year at Marienbad" (1961) [w]as another example of obscure obfuscation. How clearly I remember seeing that film in the early 1960s at the University of Illinois. My reaction was precisely the same as the one I felt after seeing "Synecdoche." I watched it the first time and sensed it might be a great film, and that I had not mastered it." We all met with Gunther Marx, a professor of German. We sat over coffee in the Illini Union, late on that rainy night in Urbana. "I will explain it all for you," he said. "It is a working out of the anthropological archetypes of Claude Levi-Strauss. We have the lover, the loved one, and the authority figure. The movie proposes that the lovers had an affair, that they didn't, that they met before, that they didn't, that the authority figure knew it, that he didn't, that he killed her, that he didn't. Any questions?"
Finally, Ebert says about "Synecdoche, New York":
"What happens is not the whole point. The movie is about how and why the stuff that happens–happens. Might as well try to describe the plot of Ulysses in 800 words or less. All you can do is try to find a key."
Perfect.