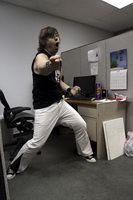 This is really, really cool.
In anticipation of competing in the U.S. Air Guitar Championship in Washington, D.C. Friday night, The Pitch's Justin Kendall has written an awesome  coverstory on my past movie/TV/rock exploits and air guitar future.
Click here to read the entire thing (5 pages!) or click here to see a video I made in 1990 that proves I've been air guitaring for a long, long time. (It's really funny and I have some pretty great late 80s/early 90s metal/grunge hair.)
Justin interviewed me several times and came out to watch me practice my routine at my house. He got it seriously right. Then I did a photo shoot with staff photographer Emily Henson that was really fun. The shot of me air guitaring in the produce section while a grocery store employee loads cantaloupe is one of my faves.
Here's an excerpt from the article and I've embedded the video from 1990 below because I have no shame:
From Eric "Mean" Melin is a real musician — but it's air guitar that might make him a star:
There's a giant hole in the crotch of Mean Melin's pants.
Seconds ago, he hoisted an imaginary guitar over and behind his head, strumming the invisible strings to Motorhead's frantic metal anthem "Ace of Spades." Then he dropped to his knees — and this became a bust-out performance.
He's the last one onstage at the Kansas City regional air guitar finals June 9 at the Record Bar. He's tonight's favorite, although he faces stiff competition from Hammerin' Cock And Thunderin' Ballz, Longbottom Leaf, Banana Man, Dirk Tickler and Satanica.
And he's already banged up. He bruised his foot practicing and could barely walk last night, but now adrenaline, tape and a few beers have numbed the pain. He keeps playing despite the rip in his pants. His head bangs, whipping sweat from his floppy dark hair. His fingers slide up and down the neck of his air guitar. He windmills and hammers on the imaginary chords. His fist pumps.
He spots a beer cup sitting on the edge of the stage and punts it into the crowd, then executes a flying elbow drop to end his set.
The crowd erupts. Longbottom Leaf jumps onstage and bows to him. Another fan dives onstage just to touch his red Chuck Taylors.
A goofy smile crosses Mean Melin's face.
Air Guitar World Champion Hot Lixx Hulahan — the host of tonight's battle — gazes down at Melin's crotch.
"A testimony to his rock," Hulahan says, getting an eyeful of Melin's manhood. "Is that a fucking moose knuckle?"
This is exactly why Hulahan and air-guitar hall-of-famer Björn Türoque hopped on a bus for a 25-city tour of air-guitar competitions. They've been looking for new talent just like Mean Melin.
Now it's time for the judging.
"I was going to give you less than what I was going to give you, but then you kicked that fucking cup," says judge Charlie Burt, who DJs around town.
"Yeah, he did!" a woman screams.
Burt raises a satanic score of 666.
"I think it was the behind-the-head that convinced me," says judge Lacey Storer, a former reporter for the St. Joseph News. "You are ready to play with the big boys." She raises a perfect 6.0.
"Goddamn right!" a woman yells.
Impressing the last judge, Türoque, isn't going to be easy. Türoque knows air and he knows "Ace of Spades." That much is clear from the opening moments of the 2006 documentary Air Guitar Nation, which shows the genesis of competitive air guitar in the United States and follows Türoque's heated rivalry with C-Diddy to become the first American to compete in the World Championships.
"I don't know, dude," Türoque says. "You guys thought that was all right?"
"Fuck, yes!" someone yells.
Türoque raises a 6.0.
"Mean Melin. Mean Melin. Mean Melin," the crowd chants.
They're cheering for a guy who just pretended to play guitar — and rocked their fucking faces off.
Mean Melin throws up the devil horns. He's going to the U.S. Air Guitar Championships in Washington, D.C., on August 7. Read more>>