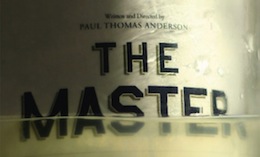 The Master opens with a gorgeous shot of boiling sea off the bow of a large ship. The ocean rolls and froths in the wake. It entrances us with its beauty and terrifies us with its depth. Very quickly questions arise about what lies below this beautiful surface, but all we get is a subtle tilt of the camera to reveal the continued expanse, unbroken by land. The camera continues to tilt up until sea and sky merge, their blues, reflections of one another, and we can see now that the water goes on forever, unbroken.
With his latest film, Paul Thomas Anderson confirms an assertion I made when I left the theater after viewing There Will Be Blood, that his 2007 film was a turning point. No longer were we dealing with early P.T. Anderson films, the late, mature work had arrived.
That's not to say that Anderson didn't start out strong. Even his first feature, Hard Eight, had him putting the camera so close to the line of action that Phillip Baker Hall talks directly to us. This type of risky aggressive framing choice, which he has become known for, as well as his ability to control and direct his actors, illustrated a clear vision. A young gun of contemporary cinema was born.
But Hard Eight and Boogie Nights could have been exciting works from a young cinephile, and little more than well crafted homages to Melville's Bob le Flambeur, Altman's Nashville, Scorsese's Raging Bull. There were no guarantees we'd get The Master.
Then frogs fell from the sky.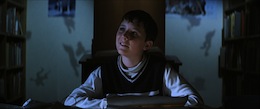 Magnolia showed Anderson continuing to develop his Altman-like affinities for large casts and no easy answers, but now we also had overt visual metaphor like nothing he had shown us before. Or maybe these were really just frogs from the sky, a modern day plague sent to punish the arrogance and excesses of the people of Los Angeles.
A violent car crash would replace the frogs in his next film, Punch Drunk Love. Did it happen? Was it real? Anderson was drawing a line in the sand, and critical viewers were split. Was this the work of a brilliant cineaste, or a fumbling mess from a wannabe?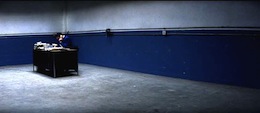 The truth was that, though both Punch Drunk Love and Magnolia were fantastic works in there own right, we were witnessing Anderson's cinematic growing pains, the on screen experimentation that would payoff so brilliantly just five years after the release of Punch Drunk Love.
Anderson was becoming his own director with a unique understanding and mastery of his craft. His apprenticeship was almost over. In 2006, Anderson worked alongside Robert Altman on A Prairie Home Companion as a stand-by director, just in case the aging Altman passed away before filming concluded. Altman made it, and Anderson had work of his own to do.
Late in 2007, There Will Be Blood was released, and critics almost unanimously hailed it as a force to be reckoned with. They were right in doing so. It is an unrelenting, unforgiving (both to the character and viewer) character study of Daniel Plainview, a man consumed and warped by greed and ambition. Every frame of There Will Be Blood is a skilled work of art and with a stunning performance from Daniel Day-Lewis, Anderson had transcended any doubts about his passion, his ability, or his creative brilliance.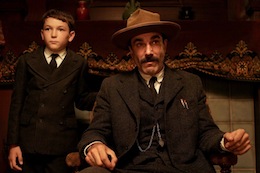 He had also done something else. Anderson had quieted a storm that had raged in all of his films that came before There Will Be Blood. From the huge ensemble casts to his constant experimentation, his earlier work was always energetic, passionate and impactful, but sometimes this excitement felt scattered as well. With There Will Be Blood, instead of carpet-bombing us, Anderson would launch a surgical strike that would shock and awe his viewer.
But he still wasn't to The Master, yet.
There Will Be Blood relies on a indefatigable central character. Daniel Plainview begins the film and we are not through until he is finished. Day-Lewis' profound performance also reinforces the fact that this is a character study. Anderson creates a character with unceasing ambition and appetite for power and wealth, and then releases them on the other characters. The central obelisk of Daniel Plainview makes There Will Be Blood and also holds it back.
Now we come to The Master.
This is not a repeat of There Will Be Blood otherwise we would begin and end with the charismatic Lancaster Dodd (Philip Seymour Hoffman), but Anderson is about to get all Great Gatsby on you.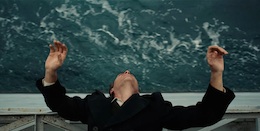 We begin with Freddie Quell (Joaquin Phoenix), and though he may not be like us, he is a man consumed by regret, driven by vice and incapable of shaking all that haunts him. He is far more pitiable and easy to relate to than either Lancaster Dodd or Daniel Plainview. This is what makes The Master such a stunning film and one that will cause mixed reactions among film aficionados.
Who is the main character of The Master, and what is this story about?
We have three contenders.
Freddie Quell the drunk who flounders his way into a circle of followers of the Cause, a religious philosophy proposed by Dodd. Dodd himself as the mentor and guide to Freddie might be our central character, or it could be Dodd's wife, Peggy (Amy Adams), the one behind Dodd who often has this rising religious leader literally by the balls. Though it does not matter which of the three characters you choose, making any of the three the central figure shifts the emphasis of the story as well as the questions and the possible conclusions at which one might arrive.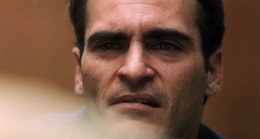 I will propose that Freddie is our main character, but if that's the case we have a quandary before the first 70mm reel runs through the projector. If the film's titled The Master, who's the master? It can't be the floundering drunkard. If it's not our main character then why is our movie named that?
You can see that Anderson is concerned with posing questions that we may never be able to answer. Turning his camera on to Hoffman, Phoenix, and Adams, he forces us to look deep into the eyes of a lion, which is beautiful but could devour us.
The acting is superb, but one of the reasons that these three powerhouse actors give such incredible performances is Anderson's direction. He loads so much information into every single shot that with almost no introduction, we already feel as if we know these characters.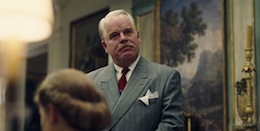 To give you an example, in the first few shots of the film we see Freddie in a close up poised behind a grey wall and wearing a grey helmet. His eyes are bracketed by the monochromatic world around them. Just over his right eye, there is the beginning of a bruise; tiny broken vessels that we know will soon turn a deep purple. It's not a bruise yet, but it speaks to recent violence and recent injury beyond that of the war Freddie is stuck in.
These minute details make every frame of The Master, a delightful chore. Endless information can be unpacked from every moment, and its beauty and elegant psychological complexity demand multiple viewings.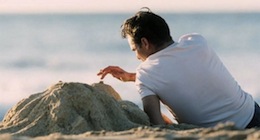 Much will be written about the meaning of The Master, and my offering would be little more than exploration of ambition, vice, regret, and what makes a man continue on when he so clearly despises himself. I urge you to see The Master, it is clearly one of the most important films in the last year, probably the last few years. It's ability to start deep debates about humanity or filmmaking look to be profound.
If Paul Thomas Anderson only creates a film every five years for the rest of his professional life then that gives us roughly six more films to look forward to.
I for one can't wait, but until then we have an already impressive catalog with a remarkable new edition.
Read Eric or Trevan's take of The Master.