Truth on the Loose is a new column by Warren Cantrell here at Scene-Stealers where he spreads his brand of cinematic truth. 
With the movie season's first official blockbuster stamped and certified double platinum, it would appear that the industry's most productive quarter has begun, albeit a few months early.  It's a well-known fact that summertime is happy time in Hollywood, for this is when the kids are out of school, and adults traditionally have more time and money to burn.  According to boxofficemojo, The Hunger Games cleared a record-breaking $155 million this last weekend, and will probably rake in ten times that number once the world-wide take is tallied in a few months. This doesn't account for the next two installments LionsGate will get to milk, which, if the preliminary take is any indication, will be a couple of fat cows indeed.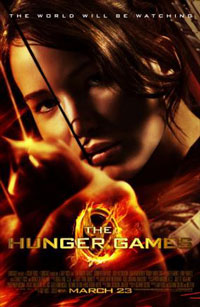 Yet the launch of this franchise in March, at Spring's earliest hour, is somewhat curious.  Hollywood usually divides the year into four quarters.  There's winter films (shit), spring films (slightly-improved shit), summer (blockbuster happy time), and fall (Oscar bait). That The Hunger Games has fallen upon audiences now is more a sign of the sagging financial climate within the industry biosphere than anything else, for in the past, a studio would have never rolled out their biggest gun in the second fiscal quarter.  No, back in the days before high-resolution home media, there was plenty of juice to go around: the summer trough a long and generous one.
Nowadays, studios like LionsGate know better than to screw around with a good thing, however.  No, they can't risk their best shot at some black ink against the risk of running hard up against a powerhouse like The Avengers, or some out-of-left-field cannonball like last year's Bridesmaids.  Indeed, the picture becomes a bit more clear when one takes a look at what LionsGate has in the hopper for the summer season, for their best hopes rely on What to Expect When You're Expecting (out May 18) and The Expendables 2 (out August 17).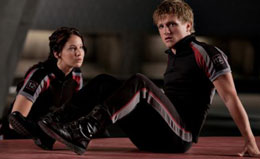 And The Hunger Games isn't the only bigger hitter out right now, for Disney also rolled out John Carter a couple weeks ago, almost certainly because that studio also wanted no part of this summer's movie-gauntlet.  Unfortunately, the strategy didn't pay off quite so well for Disney and its overambitious mess, John Carter.  Last week, thewrap.com reported an expected loss of anywhere between $120-200 million for the studio, a painful kick to the balls that the studio will almost certainly ameliorate with the truck-loads of money the aforementioned Avengers is sure to sally forth.
As for The Hunger Games, and LionsGate's early-spring gamble, things might just work out. The kiddies and adults with middle school reading levels are apparently turning out in droves, and have proven those wily execs at LionsGate correct. Thus, while spring has only just taken the air, the first signs of summer-living have crept onto the scene, starting with the cinemas.
Funny thing about Hollywood; whereas in the rest of the world, California included, summer is indicative of heat and abject, sweat-soaked despair; in Hollywood, summer is the season when people try to make it rain.  Indeed, in Hollywood, the studio brass are the true rainmakers.  Respect.