Pauline Kael was a movie critic who climbed to the top of the hill, planted her flag in the sand, and taunted all comers. She was passionate about film, and the new collection The Age of Movies: Selected Writings of Pauline Kael illustrates that beautifully.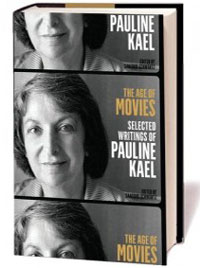 Kael wrote about movies like they were important pieces of art. She recognized them as more than Friday evening diversions and that we should demand more of films than different variations of the same crowd-pleasing formula. She knew that they were cultural reflections of ourselves and her reviews weren't just sprinkled with societal commentary, they were riddled with them.
Library of America and editor Sanford Schwartz have selected almost 800 pages of Kael's writing from 10 different books, as well as including her 1956 piece "Movies, the Desperate Art,"where she elucidated the not-often-talked-about Catch-22 of Hollywood:
"From the beginning, American filmmakers have been crippled by business financing and the ideology it imposed: They were told that they had an obligation to entertain the general public, that this was a democratic function and a higher obligation than to give their best to a few hundred or a few million people."
Public taste is a bitch. What do directors owe to their audience and what do they owe themselves as artists? If you don't think this question is more pertinent than ever today, you're not really paying attention, are you? Kael was, and disagree with her or not, I dare you not to be persuaded. She loved a good argument.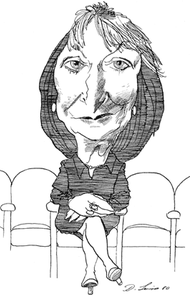 The 1970s have often been called the Golden Age of Film, and Kael was right there stoking the fires of change and challenging the accepted ways of determining value in the movies we digest.
There was more to her enjoyment of a movie than the mere fact that it worked on some base level, and reading these essays, it's easy to get caught up in the prose. Her writing works on its own, apart from the films or filmic trends she was writing about.
Her 1975 New Yorker essay "Coming: Nashville" starts like this:
"Is there such a thing as an orgy for movie-lovers — but an orgy without excess? At Robert Altman's new, almost three-hour film, Nashville, you don't get drunk on images, you're not overpowered — you get elated."
It is a famous essay for sure, one that you could most certainly categorize as a rave, but her take on the film is intoxicating. She says that Nashville is about what makes an artist, not how they achieved recognition — and that deserves some attention, dammit. She also says its also about "the insanity of a fundamentalist culture in which practically the whole population has been turned into groupies," which I love.
It may be obvious from the last two excerpts, but Kael didn't write in blurbs or soundbites. I wonder how she would react to the quote-whore critics who send lists of marketing-friendly catchphrases directly to the studios for use in their ads and home video packaging.
Some really famous essays are included, such as her championing of Bonnie and Clyde in 1967 when Warner Brothers had all but abandoned it. [Read it in its entirety as it originally appeared: "Bonnie and Clyde"]
But I also enjoyed reading her takedown of Werner Herzog's Fitzcarraldo, even though I think she had too much trouble separating the movie from the director and the myth.
I might also add that this book makes fantastic nighttime reading, although you may have trouble getting the movie out of your head long enough to sleep. An essay a night from Ms. Kael had my mind reeling.
Here she is laughing outright at Sidney Lumet's Prince of the City and stating that Lumet "embalmed" Paul Newman in The Verdict. She goes right on to accuse editors of some of the most important papers of the time of influencing their critic's reviews. Wow.