Well, Friday is here and no new review from myself and J.D. Despite the big comedy showdown happening this weekend between Mike Myers and Steve Carell, we could not see either of them this week. However, we did give away a ton of free advance screening passes to both movies! In other words, we haven't seen 'em but you have. Why not use this post as an opportunity to talk about them?
I told Cameron, the singer/guitarist from my band, that if he was so moved, he should write something for the site about "Get Smart." He ended up going a tad overboard and writing a lot. At first, I was like, "Well, the site is just J.D. and I, so I have nowhere to put this." But I thought better of that. We've been getting tons of great feedback from you all (the Scene-Stealers Army as I like to call you), and just because we didn't see a movie doesn't mean that you're not curious as to what other sitegoers thought of it! So why not give you a page to talk about the movie(s), even if we couldn't screen them this week?
Here's your chance. Post away. Tell us what you thought about "The Love Guru" and "Get Smart." After all, we're all movieholics, and I want to know. Post away below!!! To get you started, here's Cameron Hawk's review of "Get Smart":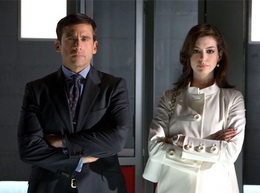 Any preview for a movie with Steve Carell these days is going to spark some hope in comedy lovers everywhere. Unfortunately, from early on in Get Smart, it becomes clear that the standard of the material does not match Carell's comedic potential.
Control Analyst Maxwell Smart (Carell) harbors the lifelong dream of becoming a secret agent, and even though his test scores prove he would be an excellent one, the Chief of his division (an underused Alan Arkin) refuses to promote him simply because Max is too good at his current job. But after Control is broken into and ransacked (a situation that is barely explained and makes hardly any sense), the Chief all of a sudden decides to promote Max and sends him on his first mission with hottie Agent 99 (Hathaway).
This all happens in the first 20 minutes, and it's the only real plot we get. The rest of the film relies mostly on bodily function-based gags, one-liners, fat jokes, and a few fun action sequences. The sad part is, it didn't have to be this way. Right in the beginning, we get what would potentially be a great overall theme for the movie–that bad guys are bad guys because of what they do, not necessarily because of who they are. In other words, people may do bad things, but deep down they are still human beings. The theme is explored somewhat in a couple of scenes, including a fairly funny one with real-life giant Dalip Singh in which Max defeats evil not with weapons, but with compassion and understanding. It just seems sort of thrown in at the last minute, as if it became apparent way too late that the film was lacking in depth.
With that said, the film is not completely lacking in laughs. Carell, for the most part, shines–he sells Max's deadpan, humble straightforwardness and has a way of making even the most obvious jokes laughable. Arkin too, when he is given the chance, is hilarious, and actually steals the show in the end with just one line. Though the two are funny, they can't save the predictability of most of the humor and the lazily conceived supporting characters. For instance, Dwayne Johnson (as Agent 23) is just kind of there because, you know, he's Dwayne Johnson (whatever you do, don't call him the Rock!!), and he does well at looking good and fighting with people, both of which are played to the maximum. Office nerds Bruce (Heroes' Masi Oka) and Lloyd (Nate Torrence) are typical comic relief, and though each of them get a couple good belly laughs going, there's nothing that distinguishes them as very important. The biggest disappointment is Agent 99, though. Hathaway, who is a good actress in her own right, just doesn't have that much to do other than to look really, really hot. Even when it is attempted to develop her character, it is too little too late, and she never becomes more than a walking centerfold. Plus, the chemistry between Hathaway and Carell just isn't there. I found myself laughing at their attempted romantic moments, perhaps because of my inability to laugh more often elsewhere.
If a little more time were spent on developing the characters, tightening the humor and creating a more original and unpredictable scenario, Get Smart could have been right up there with the Naked Gun movies. If the themes had been expanded upon and woven into the script with more care, it might have been even better. However, in the end, it all feels quite a bit rushed–something that happens very often in Hollywood, unfortunately.
Recommended Scene-Stealers rating: a minor rock fist down
What did you think of this or "The Love Guru"? Who will win the much-heralded comedy box office showdown this weekend? Post below!