SXSW 2011 is underway and contributor George Hickman is filing his reports each day as the festival and its several world premiere movie events and panels continue. Here are a couple mini-reviews of new films at SXSW this year.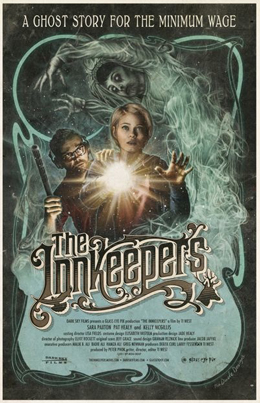 The Innkeepers (solid rock fist up)
Ti West hit a home run with "House of the Devil" in 2009, which successfully crafted a classic horror movie that felt like it was shot in the early 80s in the tension-building style of early DePalma and Polanski.
With "The Innkeepers," he also employs a measured pace and scenes built on slice-of-life humor, but this time he abandons any sort of conceit over the supposed origins of the film itself. The resulting ghost story is both sublimely funny and deeply unsettling.
It follows two flirtatious and unmotivated co-workers (Sara Paxton and Pat Healy) with an interest in paranormal research as they work in a once great Yankee Pedlar Inn on its final weekend of operation. The dearth of guests grants them time to thoroughly explore the hotel, as they try to record encounters with its infamous ghost.
Thankfully, the film is much closer to classic haunting films, with its emphasis on building character and atmosphere over hitting specific horror beats or fulfilling a body count. It further proves West's worth and talent as a filmmaker.
But as weird as I feel saying this, I will be truly disappointed if his next film also follows yet another ridiculously adorable girl who spends most of the running time getting the crap scared out of her.
West is one of the most exciting directors working in the horror genre, and I hope his ambition will grow along with his experience. I'm really looking forward to seeing what else he has in store.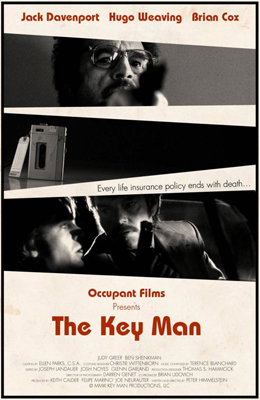 The Key Man (rock fist way down)
Filmed in 2007, "The Key Man" languished in post production despite featuring performances from Hugo Weaving, Brian Cox, Judy Greer, Jack Davenport and Carol Kane.
Unfortunately, time could not solve its fundamental problems. Set in 1975, the film follows a downtrodden insurance salesman (Davenport) whose desire to provide for his family draws him into a sinister plot involving fraud and murder.
Clearly, the film wants to evoke the style of 1970s cinema, but its score and editing are over the top to the point of distraction. The music is more cheesy porno than taut thriller, and the editing involves every type of wipe used that decade. Individually, the choices border on being cute or clever, but they also completely undermine the gravity of a story whose best shot at relevance is emphasizing the tragedy.
I'm not completely sure what it wants to be, and I'm not sure its creative team knows either. It's not much of a con movie; nearly all its mechanics are telegraphed from the beginning. It's also not a caper film or gritty crime drama, two other staples of 70s cinema.
There's an alarming lack of tension or suspense, and it never engages the way it needs to. It's a shame, because the performances are mostly of a high caliber, with complex and conflicted portrayals from both Cox and Weaving. I wanted to root for this film, but I guess it wasn't meant to be.
They say projects are never completed, only abandoned. "The Key Man" should have been put to sleep.