SXSW 2011 has wrapped but contributor George Hickman is still filing his reports from all the movies he saw. Here are a couple more mini-reviews of new films at SXSW this year.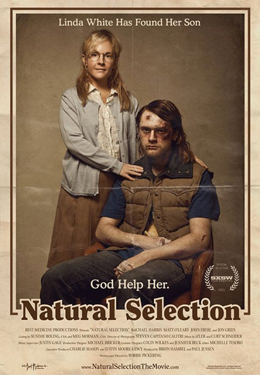 Natural Selection (solid rock fist up)

One of the biggest stories coming out of SXSW 2011 was of the film "Natural Selection" and how many awards it won and how many times it screened thanks to those awards. I believe it may have set a record for most times screened at any SXSW. Thankfully, I was able to catch the very last screening on the very last day of the festival, and I'm glad I did.
"Natural Selection" is a deceptively simple road comedy about a sheltered, religious woman Linda (Rachel Harris) whose world comes crashing down once her husband Abe (John Diehl) slips into a coma after suffering a heart attack. Honest and trusting almost to a fault, Linda finds herself struggling with some of the secrets her husband's condition has uncovered. After an almost indecipherable bedside conversation with Abe, Linda hits the road, determined to find his biological son Raymond (Matt O'Leary). Once she gets to his home in Florida, Linda finds her world view seriously challenged by the abrasive, foul-mouthed junkie Raymond.
The undeniable chemistry between the leads carries the film and defines most of its comedy. Harris is remarkable as Linda; think half Marge Gunderson from "Fargo" and half Kitty Farmer from "Donnie Darko." She strikes the right balance of sweetness and naivety to make even the least believable situations work. O'Leary, best know for turns in "Frailty," "Brick," and "Spy Kids 2," gives a knockout performance as the sleazy, intellectually limited but repentant Raymond. Rounding out the cast is the indispensable work of Jon Gries as Peter, a man holding a candle for Linda so tightly it's in danger of burning his house down.
"Natural Selection" is an ambitious debut for first-time writer/director Robbie Pickering. While the story may seem small, it's a perceptive film impeccably told about two people adrift, whose brief encounter changes them both for the better and proves that you're never too old to come of age.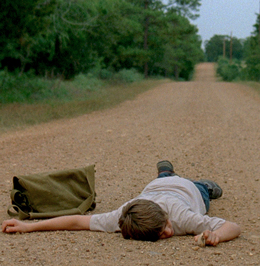 Five Time Champion (rock fist way up)
"Five Time Champion" is a film that has interesting things in common with "Natural Selection." Both feature actor Jon Gries, both were filmed in part in Smithville, TX (where Terence Malick's upcoming "Tree of Life" was also filmed), and both mark the feature debuts of writer/directors.
While "Natural Selection" is a coming of age story of a middle aged woman, "Five Time Champion" is a bit more traditional in that regard by focusing on Julius (Ryan Akin), a pubescent boy struggling with doubts about his dysfunctional family, his budding love life, and his slightly odd academic pursuits.
Julius' mother Danielle ("Fletch" and "Friday Night Light'"s Dana Wheeler-Nicholson) runs a faltering taxidermy shop while aimlessly dating Melvin (Gries), the principal of Julius' school and coach of the baseball team. Julius resents Melvin, but recognizes the financial stability marriage would bring to his stressed mother. He also strikes up a friendship with the adorable but simple-minded Levi (Justin Arnold), a man hopelessly infatuated with Julius' mother, age difference be damned. Also in the mix is the complex relationship between Julius' grandparents and the now dying woman his grandfather once loved and has been sneaking around to spend time with.
"Five Time Champion" does so much right, but one thing it absolutely nails is the uncertainty of youth and the way good people can be truly horrible when they don't realize their own power. Julius' story is a funny and touching one, but he is not perfect and the film is wise enough to let him fail. It also is bursting with winning performances, from the wonderful Wheeler-Nicholson, to Gries' note-perfect small town principal, to Arnold's positively glowing turn as Levi.
But enough can't be said about the child actors in this film, and Akin in particular. I'm not sure how writer/director Berndt Mader did it, but he has captured some of the most truthful performances from children actually playing their own age that I have ever seen. It definitely goes a long way to make the film that much more affecting.
Like all great coming-of-age stories, "Five Time Champion" is tonally diverse but structurally familiar. It is sad and funny, heartbreaking and heartwarming, and eulogic without being overly sentimental. "Five Time Champion" is a true winner.