SXSW 2011 has wrapped but contributor George Hickman is still filing his reports from all the movies he saw. Here are a couple more mini-reviews of new films at SXSW this year.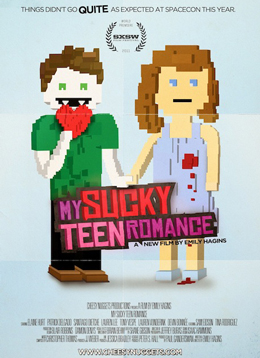 My Sucky Teen Romance (minor rock fist up)
Emily Hagins has been the darling of the Austin film community since 2006, when at age 13 she wrote and directed "Pathogen," a feature-length zombie film. The making of that film was even chronicled in the documentary "Zombie Girl." Now at the age of 18, Emily premiered her third feature, the vampire comedy "My Sucky Teen Romance" to a very receptive audience at SXSW.
The first thing that should be noted is that many members of the audience (myself included), donated time or money to help get "My Sucky Teen Romance" made. However, I can separate both that goodwill and the small sum I gave and objectively state that Hagins has made a very sweet, funny, and confident film that effectively uses every cent of its very modest budget.
This film tells the story of a group of friends attending a comic, film, and science-fiction convention called SpaceCon, which is turned into a buffet for vampires who find some of the more "Twilight"-obsessed teens easy targets.
When the shy, nerdy Kate (Elaine Hurt) is accidentally turned by a novice vampire, can she and her friends find a way to reverse the vampiric transformation? Or is her life over before she's even graduated high school?
"My Sucky Teen Romance" is a largely dialogue-driven film. Normally this spells trouble for often groan-inducing no-budget movies, but this film sidesteps that with consistently witty dialogue, excellent pacing, and remarkable chemistry between the young actors. It was actually quite encouraging to experience the film with hundreds of people and watch just how well it worked the room, drawing laughs at all the right spots.
The ultimate question is, will an audience who doesn't know anything about the filmmaker or her story like the film? I think so. I think younger people in particularly who enjoy mostly innocent and goofy humor will especially appreciate it. "My Sucky Teen Romance" is a family-friendly film with so much heart you won't want to drive a stake through it.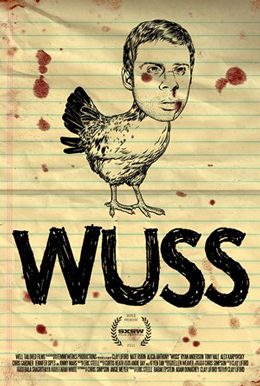 Wuss (minor rock fist up)
While not as young or as adorable as Hagins, filmmaker and Texas resident Clay Liford also saw his third feature "Wuss" premiere at SXSW. The high-school set comedy follows the titular wuss Mitch (Nate Rubin) as he becomes a permanent substitute teacher at his old high school. Unfortunately, the shorter-than-average young man finds himself dwarfed by his aggressive and physically imposing students, who beat him unmercifully after he stands up to them in class.
Determined to not go to the police out of a misplaced sense of pride, Mitch is drawn into the personal lives of his students, which involves almost amateur-level gun running and/or drug dealing. Looking out for him in these misadventures is his student Maddie (Alicia Anthony), a sweet and intelligent girl in an unfortunate family and branded with an even less fortunate nickname. Mitch appreciates the help and tries to reciprocate once he's tipped off at an upcoming raid at the school may endanger Maddie.
"Wuss" is comprised mostly of moments that find comedy in uncomfortable situations, as Mitch struggles for the respect of his verbally abusive family, his dismissive students, his cynical Dungeons and Dragons-playing friends, and himself.
Despite being somewhat pathetic, Mitch is a very likable if flawed protagonist thrust into one untenable situation after another. The borderline inappropriate relationship between him and Maddie is probably the best element of the film as the actors have great rapport, and newcomer Anthony gives a very believable and vulnerable performance as a wounded girl who acts tough because she has to.
In some ways, the low-budget "Wuss" comes off as the antithesis of films like "Dangerous Minds," "Stand and Deliver," and to a lesser extent "Half Nelson." It's not that Mitch doesn't care about making a difference, it's just that it's hard enough simply making it through the day.
It's a funny film which excels at intimate character moments and explosive confrontations but falters a bit when it comes to resolving the plot. But considering its strengths, that is certainly forgivable.