SXSW 2011 has wrapped but contributor George Hickman is still filing his reports from all the movies he saw. Here are a couple more mini-reviews of new films at SXSW this year.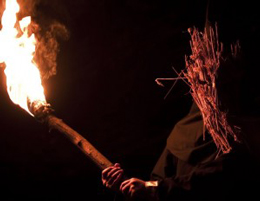 Kill List (solid rock fist up)

I previously saw Ben Wheatley's directorial debut "Down Terrace" at Fantastic Fest 2009 and was slightly underwhelmed. The largely improvised comedy about a dysfunctional British crime family was a little too loose and acerbic for me. Despite this, I gave Wheatley's second feature "Kill List" a shot. Similar in tone to "Down Terrace," this film begins as a somewhat generic improvisational comedy about two hitmen who are also close friends, Jay (Neil Maskell) and Gal (Michael Smiley).
Jay has a wife and a young child, but the closest thing the elder Gal has to a family is his new, slightly odd girlfriend. When Jay and Gal are hired by a mysterious client to take out a series of targets, they start to feel a strain both on their relationship and their ability to control their emotions while performing their job. The deeper they get, the more they risk their own sanity and the safety of those they hold dear.
Aside from the slightly plodding first act, "Kill List" really takes off and hits its stride once the hit men hit the road.
It's clear this film is most influenced by early 70s horror such as "The Wicker Man" and by the work of directors William Friedkin and John Boorman. The loose, fly-on-a-wall dialogu I found mildly grating in "Down Terrace" is very effective at building atmosphere and an impending sense of dread here.
The practical gore effects along with some truly creepy music, sound design, and cinematography all combine for a film unlike any we've seen since that bygone era. It's a very adult horror film, and far removed from the splatterfests Craven and Cunningham inspired or the glossy Platinum Dunes remakes currently infecting cinema.
It's great to see Wheatley be so ambitious with his second film. It improves upon or renders moot most of what I didn't like about his first and it makes be much more enthusiastic about seeing his third.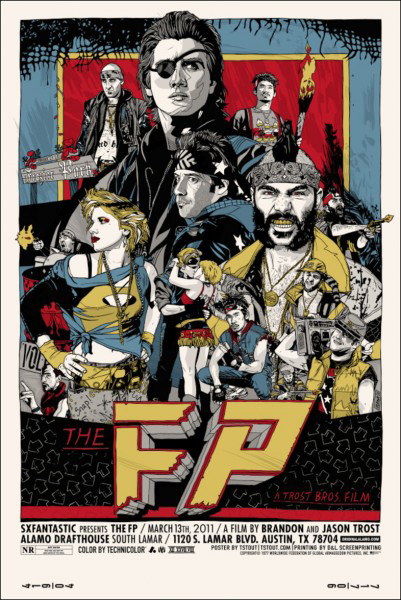 The FP (minor rock fist down)
"The FP" is a film which on paper I expected to love; after all it's a comedy set in a white trash future where turf battles are fought on arcade dancing games. What's not to love? Well, a lot, apparently. Yes, it's exactly as goofy as I was hoping, but the purposefully cookie-cutter plot isn't enough to sustain what feels like a hilarious trailer unbearably stretched to the 80-minute mark.
The film opens with JTRO (co-writer/co-director Jason Trost) and his mentor BTRO (Brandon Barrera) battling L Dubba E (Lee Valmassy) for supremacy and turf by playing Beat Beat Revelation (an obvious stand in for Konami's Dance Dance Revolution). When BTRO dies, JTRO vows to never dance again and leaves the neighborhood known as the FP for good.
Months later however, KCDC (Art Hsu) tracks JTRO down and begs him to come back and save the FP as L Dubba E has taken over everything and must be stopped before there are no more ducks (don't ask). Of course JTRO agrees, and he finally faces the death of BTRO and trains for the ultimate dancing showdown.
The movie's most inspired moments come from its loving satirizing of 80s action films. Many of the scenes in this film directly parallel those of "Rocky IV," among other Stallone and Schwarzenegger vehicles. Unfortunately, many of those types of scenes also feel obligatory and redundant as the characters spin their wheels waiting for the plot to advance.
Where the film does work is in some of its more absurd dialogue. KCDC's speech about the ducks had me laughing so hard I almost want to recommend the film just for that scene alone.
The low-rent look of the film and costume design also mostly works. While it's never explained where or when this film takes place, it seems reasonable the characters live in a poverty-stricken area within what is otherwise a slightly idyllic future. Just like certain parts of this country are several years behind technology-wise today, so are the characters who live in the FP in the future.
I do think there is an audience who will love this film, and that those are the people who will stumble upon it almost by accident. There may be enough good here to be endearing, but only if you go in with little to no expectations.