SXSW 2011 has wrapped but contributor George Hickman is still filing his reports from all the movies he saw. Here are a couple more mini-reviews of new films at SXSW this year.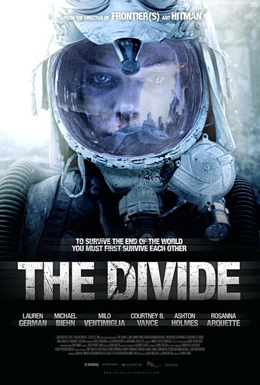 The Divide (minor rock fist up)
French director Xavier Gens' English-language debut was the poorly received video game adaptation "Hitman." His second feature is the post-apocalyptic horror film "The Divide," a slick but harrowing story of a group of survivors trapped in a fallout shelter after some sort of unexplained attack.
The attack unfolds in a brilliantly staged opening as the survivors worm their way into the shelter of Mickey (Michael Biehn), a cigar chomping former firefighter and the building's superintendent. Mickey is not pleased about the intrusion, but has at least enough food and water to last a few weeks and doesn't mind the company, at least at first.
Among the survivors is Eva (Laura German), a bookish young woman in a mostly loveless relationship with the feeble lawyer Sam (Iván González). They are joined by a mother and young daughter, two brothers and their aggressive friend, and a former security guard. Considering the tensions almost immediately erupt, it's very predictable that the horror will be coming less from external forces and more from the internal struggles of a group of desperate and terrified people in a confined space with limited supplies rationed by the domineering Mickey.
What "The Divide" does very well is pit these people against each other in a way that is believable given the circumstances. Once these characters start to lose their grip (some more willingly then others), it gets very, very ugly. The film gets very horrific and bleak, and even when its characters go off the rails the film still feels grounded somehow.
Cynical films like "The Divide" can feel a little rote, but this one is so well crafted that I respect it. Yes, man is the greatest terror of all. Got it. You can do a lot worse than be trapped with "The Divide" for 100 minutes.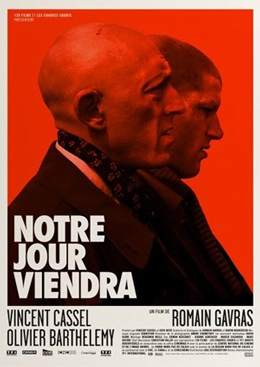 Our Day Will Come a.k.a. Notre Jour Viendra (rock fist way up)
Compared to how familiar "The Divide" feels, Romain Gavras' "Our Day Will Come" seems positively revolutionary. It tells the story of Rémy (Olivier Barthelemy), a red-haired teenage loser who has been persecuted all his life, and of Patrick ("Black Swan"'s Vincent Cassel), the red-haired older man who mentors him as they take an impromptu road trip across France. As Patrick explains, "Gingers have suffered the most! No country! No language! No army!"
There's an exhilarating and anarchic sense of adventure as the unlikely duo get into trouble and indulge their darker impulses. Patrick has an undeniable charm and it's understandable that Rémy gravitates towards him and imitates him. While the relationship starts as sweet, it quickly takes a darker turn as Rémy's newfound assertiveness leads him to make bizarre demands, such as the purchase of a crossbow.
It's a very assured feature debut from Romain Gavras, son of Costa-Gavras (director of "Z" and "Missing"), and I am highly anticipating future films from him. The seemingly random turns the characters take keep the film feeling loose, spontaneous, and dangerous. It also makes the film breeze by.
By its end, I wasn't completely sure what I had just seen but I knew it was definitely filled with madness and brilliance and I knew I wanted to immediately watch it again.
As bizarre and fun and unpleasant as the film can be in turns, there is definitely an underlying emotional truth behind the seemingly erratic behavior of the leads.
If I'm not completely sure what the message of "Our Day Will Come" is, it's because the characters aren't either. They're flailing against a society that has rejected them based on the color of their hair. If that's not a revolutionary act, it at least feels like one.