SXSW 2011 is underway and contributor George Hickman is filing his reports each day as the festival and its several world premiere movie events and panels continue. Here are a couple mini-reviews of new films at SXSW this year.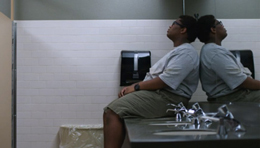 Blacktino (minor rock fist down)
"Blacktino" is a local Austin production and was the debut feature of 26 year-old Aaron Burns, who wrote, directed, and edited the irreverent comedy, while also contributing in other areas. It's no coincidence that Burns follows the lead of fellow Austinite and multitasking filmmaker Robert Rodriguez, as Burns cut his teeth creating visual effects on some of Rodriguez's films. Burns is also aided by several Rodriguez regulars, including Danny Trejo and Jeff Fahey, who buttress a cast of unknowns by filling supporting and cameo roles.
The film follows Stefan (Austin Marshall), a half-black, half-Hispanic teenager who struggles with his identity and finds acceptance in a theater class populated by other social outcasts. His absentee parents attempt to reconcile with him after a death in the family, but he's too stubborn to accept or admit he needs help. Stefan has a lot on his mind, and so does the movie. While it is admirable that Burns contributed as much as he did, the finished product suggests he should have collaborated more. Perhaps then some cringe-worthy dialogue, clunky dramatic beats, and obvious cliches could have been ironed out.
I don't want to pick on the film too much. Its heart is in the right place, and it does have some genuinely clever ideas and a few witty lines. Is it really so bad if it can't fully support the weight of its ambitions? The cast performs admirably overall, and in particular newcomer Devyn Ray delivers a charming, emotionally complex performance. Despite its flaws, there is an audience for "Blacktino." Teenagers, particularly ones more forgiving than jaded film critics, are likely to enjoy it.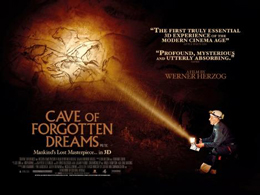 Cave of Forgotten Dreams (minor rock fist up)
While most 3D films use the most cutting edge technology available, the consumer-level equipment Werner Herzog used to shoot his new documentary "Cave of Forgotten Dreams" produces photography that looks as washed out and jittery as video captured by high-end cell phones. Fortunately, the subject of the documentary lends itself to 3D so well that you quickly stop noticing how much it resembles your personal vacation footage.
The film takes us inside Chauvet Cave, which is located in France and contains the earliest known cave paintings, dated over 30,000 years old. The documentary shows how tightly controlled the site is, and Herzog explains the camera equipment was chosen for its portability, not its image quality. While you can easily look up still photographs of these paintings, you can't fully appreciate the structure of the rocks and how they make the images more dynamic without that extra dimension. You really feel immersed in the cave, to the point that even footage of calcium deposits is beautiful.
As usual, Herzog's only partially sane narration is the biggest incentive to see the movie, if the subject alone is not enough of a draw. He does a commendable job of exploring different facets of the site and the culture of those responsible for the drawings, but the film still feels like it runs out of steam and repeats itself over and over.
"Cave of Forgotten Dreams" is definitely worth seeing, but only in 3D. How many movies can you really say that about?