This is the fifth and last in a series of reports from the SXSW Film/Interactive Festival in Austin, TX. Scene-Stealers hosted the Bacon-Flavored Interactive Afterparty, the Harpoon Happy Hour, and the free SenoReality screening, all of which were held at the coolest bar in town, Red 7. While we were down there, Dustin (our executive producer) and I attended several screenings and did lots of cool interviews with the directors and stars as we could. Enjoy!
Monday, March 16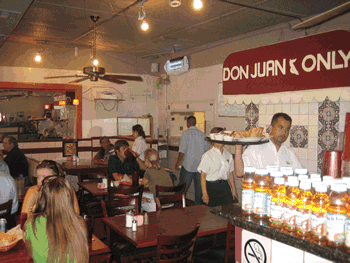 I felt very bad for Bacon Shoe. Their flight left at six in the morning or something like that, so when we got back to the hotel room we were sharing (sleeping on the floor just like touring in the old days), they were bleary-eyed and saggy tailed, ready to catch a cab to the airport. We went to sleep after they left and didn't wake up 'til late. We had just enough time to return the rented PA gear, grab some Don Juan tacos at the famous Juan in a Million restaurant, and head back to the Convention Center.
The panel I was there to see was called Robert Rodriguez and Henry Selick: A Conversation From the Third Dimension, and featured the groundbreaking filmmakers discussing past experiments with and the future of 3D in cinema. It's pretty obvious that the advancements in technology and the growing home market that 3D will continue to be a good way to get people's asses into theaters. It's not going anywhere. That said, Selick's "Coraline" is the perfect example of a 3D movie that uses the stereoscopic imagery in service of the story. (See our video review here.)
On the panel, Rodriguez said his original idea was to use 3D on the second half of his vampire-nightmare flick "From Dusk Till Dawn." He said that once Clooney, Tarantino, Keitel and family enter the lair of vampires, the audience would then put their 3D glasses on and watch the rest of the film that way. Ironically, even though he didn't use it, he shot the movie as if it were 3D anyway. I suppose they could always go back and re-format the film later if it was shot with that in mind. (Suggestion: It should start just before Salma Hayek shows up.)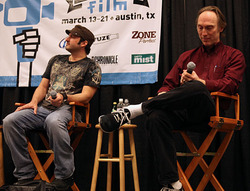 Rodriguez's experience with 3D comes mainly from "Spy Kids 3D: Game Over" and "The Adventures of Sharkboy and Lavagirl in 3D." He commented that shooting a film in 3D these days will guarantee its longevity in the marketplace, and that the format will be around a lot longer these days than it was in its golden era in the mid-1950s and revival in the early 1980.
Selick explained how "Coraline" did more than make objects jump out of the screen at its audience, using the technology to "transform space" in his stop-motion world, arranging some perspectives of Coraline's nightmare world for maximum uncomfortability.The goal was to envelop the audience, not merely trick them. Selick is also assured of the eventual death of the film projector, noting that doors will open for 3D, since that makes it an easy "add-on." To shoot in 3D, Selick says, adds only $5 million to a film's budget.
In other Rodriguez news, when asked about the date "Sin City 2" will finally go into production, he says: "It's right around the corner. But it could be a very long corner." About "Machete," the trailer that played before his half of "Grindhouse," he says: "We are making 'Machete.' The script is done, and [Danny] Trejo is ready to go." He's also wrapped on "Shorts," a kid's movie due later this year starring Kat Dennings, William H. Macy, Leslie Mann, and James Spader. The next Rodriguez movie to go in production, however, is called "Nerveracker," and it starts filming in June. He sold the name to the Weinsteins 10 years ago, and has finally finished writing the screenplay. About "Nerveracker": "It's kind of like 'Blade Runner,' but that was 'Blade Walker.' This is 'Blade Runner.'""Nerveracker" is set in a perfect future where a man must fight crime, so the set-up is similar, but if Rodriguez just does a straight action take on the philosophical sci-fi classic, it could end up more like "Total Recall."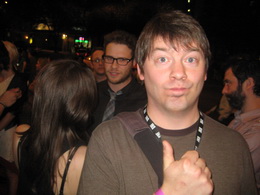 I also caught the tail end of a discussion with IMDb founder Col Needham where he reiterated the long term goal of the hugely popular website: "A play button on every page."
Wow. He certainly thinks big. The site is already on its way with a small collection of movies and more TV shows, but that is scary … and probably also the very near future. Short term goals? To help new feature NewsDesk grow, and international expansion.
Lastly, Dustin and I sped off to the red carpet premiere of "Observe and Report," Jody Hill's second movie, following "The Foot Fist Way." Standing on the red carpet, we got a couple really quick interviews with  writer/director Hill, stars Seth Rogen, Anna Faris, Michael Peña, and the Yuan brothers. I can't talk about the movie until it opens on April 10, but let's just say this: If you are expecting a funny-ha-ha cute mall cop movie, you are in for a surprise. If you've seen"Foot Fist," you'll know more to expect. When I interviewed Rogen the next afternoon, he said he and Hill watched Scorsese's "Taxi Driver" and "The King of Comedy"to get in the right frame of mind. Heavy. And I'm not just talking about his Rogen's weight in the film (which he has shed most of to get ready for the "Green Hornet")!
All those interviews will be coming up soon. Stay tuned!